Hunter Dekkers encouraged by gutsy performance after rivalry win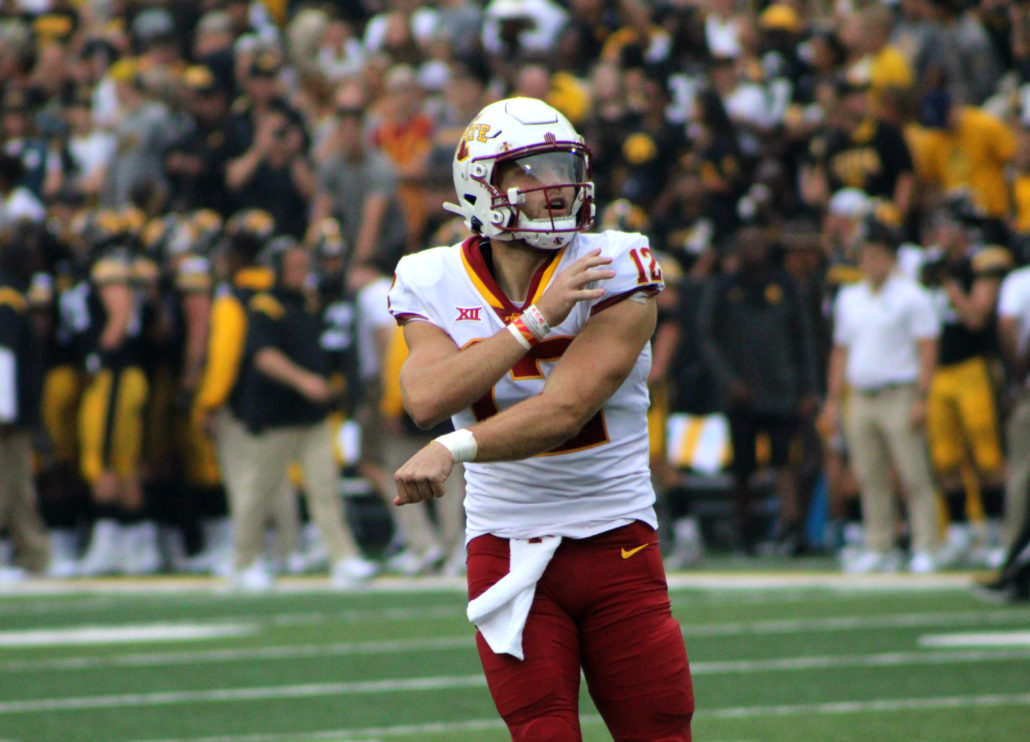 IOWA CITY, Ia. — Iowa State's sophomore quarterback is coming off an impressive outing on the road, and looking forward to carrying that momentum into game three.
Hunter Dekkers accomplished what Brock Purdy couldn't as a Cyclone. He beat the hated Hawkeyes, and Dekkers did it in dramatic fashion to give his team bragging rights for a year. Most importantly, Dekkers' responded to adversity, persevered through the mistakes and delivered for Iowa State in the clutch.
Coach Matt Campbell watched as the gunslinger orchestrated a 99-yard touchdown drive in the fourth quarter that gave the Cyclones the lead for good. He was impressed with Dekkers' moxie in the pocket, leadership in the huddle, among other positive moves Dekkers made.
"I think great growth from Hunter today," Campbell said. "We'll find out when the bullets fly, you're in front of the lights and the lights come on."
Dekkers had a short term memory after throwing two costly interceptions. He shrugged it off and continued leading the offense, despite the setbacks. Great quarterbacks makes others around them better. And the rest of the offense fed off Dekkers' energy as the game continued.
The former four-star prospect completed 25 of his 38 passes for 184 yards. Dekkers also displayed great chemistry with All-Big 12 wideout Xavier Hutchinson. The two connected 11 times, including an eight-yard touchdown midway through the fourth quarter. Dekkers emphasized how having Hutchinson in his arsenal gives him confidence.
Dekkers believes the Cyclones' 99-yard touchdown was them cracking the surface of their potential this fall.
"I think that just shows the type of offense we can be," he said. "We can play fast, we can play slow like we did on that drive."
The six-foot-three, 206-pounder felt no pressure, even after some fundamental mistakes. Dekkers handled himself like a seasoned veteran, instead of a wide-eyed underclassman making his first start. And that's mind-boggling, considering he's an Iowan, who dreamed of playing in the Cy-Hawk rivalry his entire life. No moment was too big for him.
"You have to keep playing, you can't dwell on that last play because you can't take it back," he said. "I mean you already made the mistake, so you kind of have to move onto the next play."
Now the young man is starting his own legacy at Iowa State. The Cyclones are 2-0 for the first time under Campbell, and Dekkers has thrown for 477 yards, five touchdowns and three interceptions during that span. Campbell believes Dekkers has tremendous upside and trusts him to make the right decision when it matters the most.
Dekkers just wants to build on his performance and correct the mistakes during the process. There has been a learning curve, and he expects some growing pains, but his transition as the Cyclones' starter has been smooth thus far. He's learning everyday on the job and feels the best is yet to come, once he irons out all of the wrinkles to his game.
After all, Dekkers is proving he's a natural at adjusting on the fly, and has no problem responding to adversity when the stakes are high. So he never overreacted when something went wrong on offense against Iowa.
"Just making little mistakes, that really don't come from nerves, it was just kind of me being dumb."