Iowa State outlasts Iowa to secure Matt Campbell's first Cy-Hawk win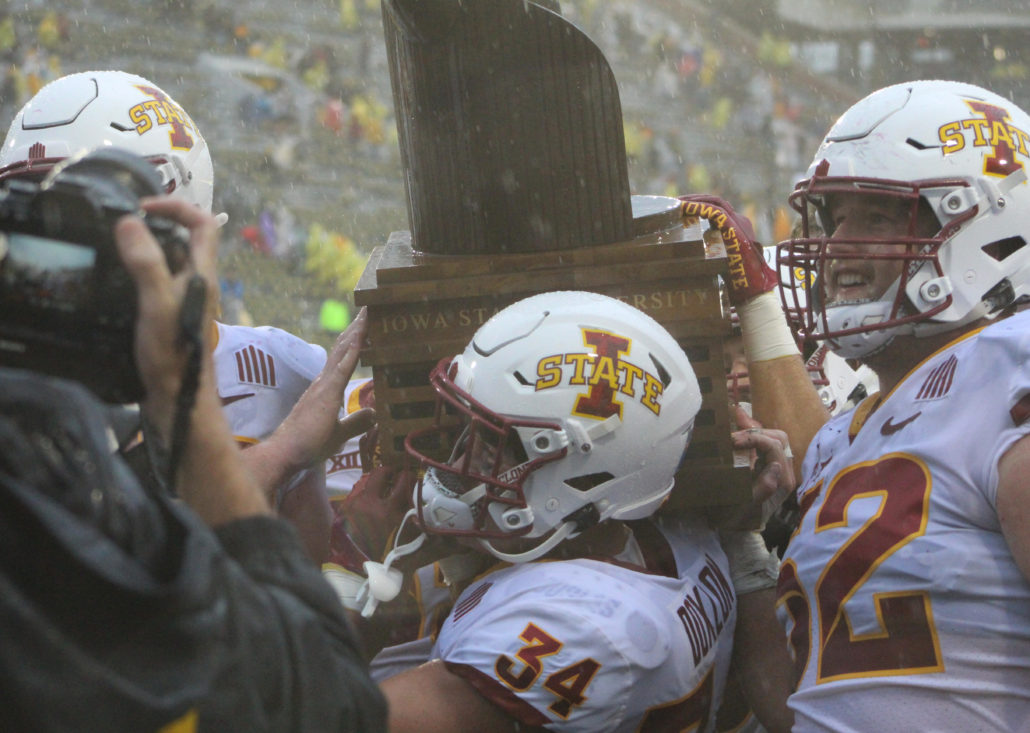 IOWA CITY, Ia. — There are plenty of reasons why Saturday's clash between the in-state rivals was instant an classic in the Cy-Hawk series.
It had rain, costly turnovers, a rowdy sold out crowd, great defense and went down to the wire. Most notably, Iowa State was able to snap a six-game losing streak by beating Iowa 10-7. The hard-fought victory was the Cyclones' first at Kinnick Stadium since 2014 and Matt Campbell finally downed Kirk Ferentz.
The Cyclones showed grit, determination and answered the bell every time they faced adversity. Campbell found out what his players were made of and he was encouraged by their will to win.
"We'll find out when the bullets fly, you're in front of the lights and the lights come on," Campbell said. "You know what, it's not pretty, and who are you when your back is against the wall, I think we found out a little bit more about who we are."
There's no denying it was a defensive slugfest and both teams turned the ball over at critical times. Campbell knows his team left a lot of plays on the field. After all, Iowa State's offense had four trips in the red zone, but turned the ball over twice at the goaline.
Sophomore quarterback displayed a short term memory and persevered through the mistakes. He completed 25 of his 38 passes for 184 yards, a touchdown and two interceptions. However, Dekkers accomplished what Brock Purdy couldn't during his time as a Cyclone. Which is beat the Hawkeyes.
There were times that the offense fed off Dekkers' energy. Those were clear signs that the signal-caller is making others around him better. And Campbell watched his quarterback grow right before his eyes. Dekkers looked like a seasoned-veteran with the way he orchestrated Iowa State's 99-yard touchdown drive in the fourth quarter.
However, the seventh-year coach understands that Dekkers wouldn't have fared well without great protection up front.  Iowa State's offensive line only allowed one sack the entire afternoon. And that's impressive, considering the fact that Iowa has a pair of elite pass rushers. Campbell watched as some of his young players emerged from the shadows and made lasting impressions.
"You got a lot of young guys playing for the first time, you have to weather the storms early on," he said. "I put any of that on me as much as anybody, we got to continue to do a great job as coaches, and correct what the challenges are."
Junior running back Jirehl Brock solidified he's a workhorse, with 27 carries for 100 yards. Although he coughed up a fumble at the goaline, Brock's grew stronger after every carry and wore down Iowa's defense in the second half. It was Brock's first back-to-back games of hitting the century mark in rushing.
Senior wideout Xavier Hutchinson had another stellar outing. The two-time, All-Big 12 performer hauled in a jaw-dropping, 11 passes, for 98 yards and a touchdown. Not to mention he generated 51 yards after the catch.
The Cyclones' offense generated 10 more first downs, 163 additional yards, and ran 27 more than the Hawkeyes. Iowa State even converted half of its' first downs. Most importantly, Iowa State beat Iowa at its' own game in terms of dominating time of possession. And Campbell couldn't be more proud of the unit.
"That's a great defense and I felt like offensively we were in pretty good rhythm through part of the football game," the 42-year old coach said. "It'll be good to get back and see we didn't always finish, but we did when we needed it the most and y can say that about our entire team today."
On the defensive side of the ball, Iowa State dominated and held Iowa to a mere 150 yards offense, its' lowest output in recent memory. Senior linebacker O'Rien Vance made plays all over field, and finished with a team-high, six tackles, including one for loss. Vance also forced a key fumble.
Vance's fellow linebacker Colby Reeder tallied four stops, and created a turnover of his own, with an interception. All-American edge rusher Will McDonald was double-teamed most of the game, but was able to deliver for the Cyclones' defense in the clutch. His fumble recovery late in the fourth quarter would've sealed the game, but was called back due to a penalty.
Campbell believed his big players showed up in big moments. That's why he was in awe of the Cyclones' play on defense, holding the Hawkeyes scoreless for the final three quarters of the game.
Iowa State 2-0 for the first time under Campbell. They're also leaving Iowa City with the Cy-Hawk trophy and confidence. Above all, Campbell is proud of his players, grateful for the win and just wants to keep the momentum going. There's still 10 more games on the slate, so he wants Cyclone Nation to enjoy the milestone victory, but is cautious not to let the success be a hangover in game three.
"It's a game of imperfection, and I give our kids a lot of credit."