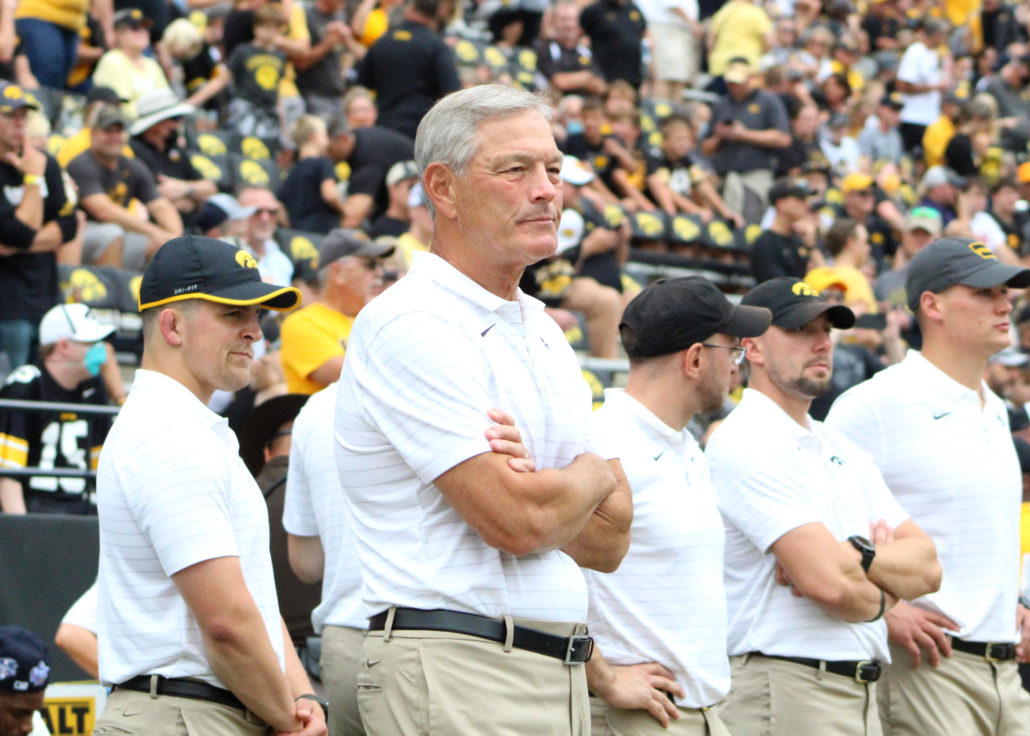 IOWA CITY, Ia. — College football's longest-tenured coach knows how intense rivalry games get.
Bragging rights, passionate fans, senseless penalties, social media trash talk and trophies raise the stakes in rivalries. Iowa Coach Kirk Ferentz has dominated the opposition for the past few years. It's mind-boggling that he hasn't lost to Iowa State, Minnesota or Nebraska since 2014.
Now Ferentz is approaching his 22nd game of the Cy-Hawk series, which is arguably Iowa's most heated rivalry. Although both teams are undefeated and loaded on defense, the pressure will be on Iowa State Coach Matt Campbell to finally get over the hump.
After all, Campbell has defeated every Big 12 team at least once during his tenure, but for whatever reason he can't outwit Ferentz. Saturday afternoon's clash will be the 69th meeting between the two teams. And Ferentz is expecting another dogfight, despite the fact that the Hawkeyes have won the past two meetings in Iowa City by double-digits.
"I think one thing history has told us in this series, just expect a really tough, competitive, hard-fought ballgame, and that's pretty much been the way it's been year in and year out, 20-plus years," Ferentz said.
The two teams had opposite performances in week one. Iowa struggled mightily on offense, but beat South Dakota State 7-3. Iowa State raised eyebrows on offense and throttled Southeast Missouri State 42-10. New Cyclone quarterback Hunter Dekkers had a magnificent debut, with four touchdown passes. Not to mention running back Jirehl Brock rushed for a career-high, 104 yards.
Ferentz knows Saturday's matchup is going to be a great measuring stick for his team. All week people have criticized the direction of Iowa's offense, after the unit only generated 166 yards in last week's win. Now the Hawkeyes' players and coaching staff are anxious to show that those numbers were a fluke against the Cyclones.
It's no mystery that Iowa's bread and butter is its' defense and special teams. Punting the ball deep and making the opposition navigate long drives gives the defense options on how to attack the offense. And the Hawkeyes are one of the best in the country when it comes to battling for field position.
The Cyclones are approaching the rivalry with confidence after their blowout win. Meanwhile the Hawkeyes feel like they have something to prove. A confident young offense against a stifling veteran defense will be the tale of the tape, and something has to give. Ferentz never underestimates the opposition though, regardless of his current six-game winning streak in the series.
"It's been a really good rivalry, and certainly Coach Campbell and his staff have done an outstanding job since they've been there and really built a solid and really strong program," he said.
Ferentz has been in awe of Iowa State's defense under Campbell, plus he has a ton of respect for Defensive Coordinator Jon Heacock. The consistency with the Cyclones success on defense and how they mold their defenders into All-Big 12 performers is a testament to Heacock's defensive prowess in Ferentz's eyes.
There are also players on Iowa State's roster that have stood out to Ferentz, especially two-time, All-Big 12 wideout Xavier Hutchinson. He's coming off a monster outing against the Redhawks, with eight receptions, 128 receiving yards and three touchdown catches. Ferentz believes Hutchinson presents some challenges for the Hawkeyes' secondary with his hands, quickness and route-running ability.
"He's a really good football player, and then on top of it they do a really good job of moving him around, so he's not always in plays," the 66-year old coach said. "You don't know where he's going to show up, and they did a nice job the other day of getting a personnel mismatch and they made the opponent pay for it."
Fans from both sides can't wait to see strength on strength in the matchup between Hutchinson and Iowa's All-American cornerback Riley Moss. Still, Ferentz is confident in his Hawkeyes and believes they'll make their biggest improvement as a team from game one to game two.
And Kinnick Stadium is going to be rocking for the State of Iowa's biggest sporting event of the year.