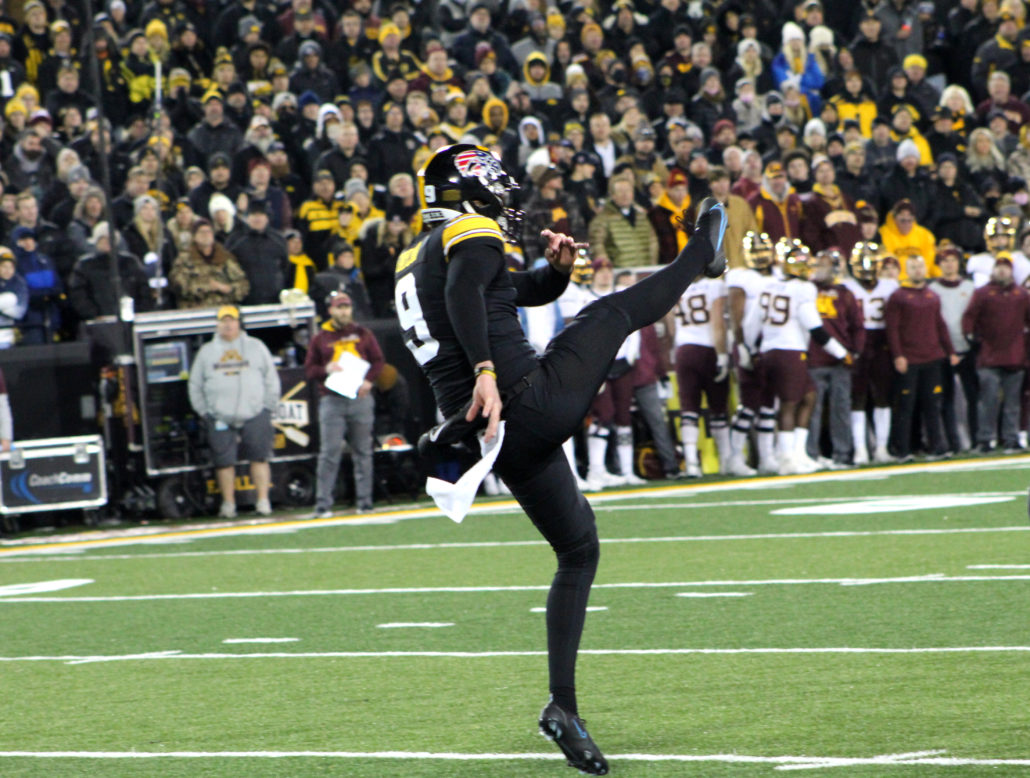 Iowa's junior punter is coming off a magnificent outing in last Saturday's 7-3 victory over South Dakota State.
Not only did Tory Taylor boot the ball a jaw-dropping, 10 times, which was a career-high, but he also averaged 47.9 yards per punt in the win. The Australian made the most out of his opportunities, and proved he was clutch in a tight battle of field position.
Taylor raised several eyebrows when five of his punts were downed inside the 10-yard line. Not to mention he booted three balls for 50-plus yards. For Taylor's heroics, he was named the Big Ten's Special Teams Player of the Week Monday morning.
The former two-star prospect is no stranger to the accolades though. Taylor has a track history of stellar punting. This is the second time in his career that he received Special Team Player of the Week honors. However, Taylor earned first-team, All-Big Ten honors in 2020, and was named the league's Punter of the Year.
The impressive part about his numbers, was the fact that Taylor accomplished those feats during his first campaign with the Hawkeyes. And he averaged 44.12 yards per punt, which ranked 19th in the FBS. He also helped the Hawkeyes finish fourth in the nation in net punting that year.
Taylor followed up that season with solid numbers over the Hawkeyes' 10-4 campaign in 2021. The six-foot-four, 230-pounder finished third in the Big Ten, and 12th in the FBS in yards per punt. He even landed 39 of his punts inside the 20-yard line. Taylor also punted 27 balls for 50-plus yards.
Taylor basically picked up where he left off in the Hawkeyes' opening win over the Jackrabbits. Receiving conference recognition after week one is only going to give him momentum for the next 11 games. Although his stats don't jump out on paper, Taylor is arguably Iowa's best weapon. And he's consistent and efficient at doing his job.
Taylor's a natural at pinning opponents deep in their own territory and making offenses navigate long drives. In return that dictates the flow of the game and puts Iowa's defense in favorable matchups to make plays. Taylor is just cracking the surface to what he can accomplish this fall, and the weekly honor is a testament to his unique skill set and value to the team.
Opposing offenses should expect long drives when facing the Hawkeyes. And that's because Iowa has a stud with a powerful leg, that can boom the pigskin out of the stadium.