Grading the SEC after week one of non-conference play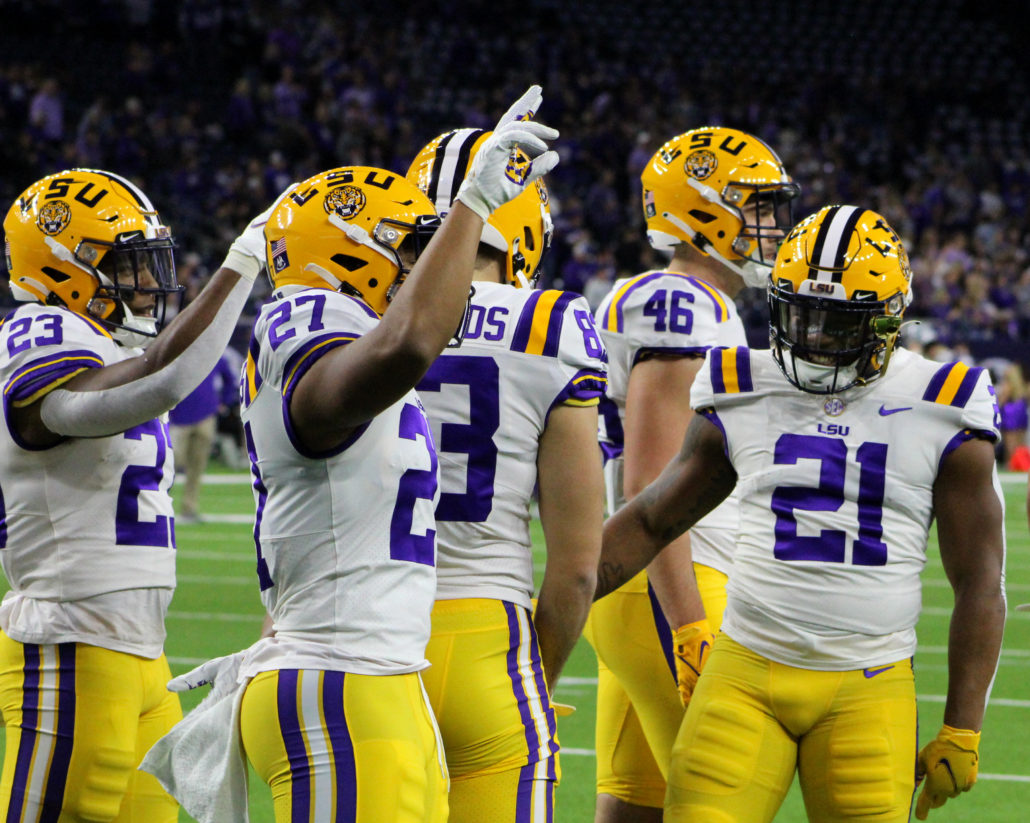 The almighty league flexed its' muscles throughout week one.
The numbers don't lie, and the SEC dominated with a 13-1 record in non-conference play. Not to mention 11 out of the 13 teams won those games by double-digits. The SEC likely halted the Pac-12's and Cincinnati's path to the Playoffs too.
After having such a stellar weekend, expect teams like Tennessee and Florida to crack the AP top-25. Now the conference has even more momentum and look to continue the success in week two.
Alabama: The Crimson Tide showed why they're the No. 1 team in the country. Alabama hasn't lost a season-opener since 2001, and shutout Utah State 55-0. Not to mention 41 of those points were scored in the first half. It was the fourth time under Nick Saban that Alabama scored 50-plus points in its' opener. The reigning Heisman Trophy winner Bryce Young used the Aggies' defense for target practice and threw a jaw-dropping, five touchdowns. He also added 100 yards on the ground, and a rushing score. Running back Jahmyr Gibbs had a solid debut and averaged over 10 yards per carry. Alabama's defense only allowed 136 total yards, and secured the shutout without generating any sacks.
Arkansas: Arkansas and Cincinnati was one of three matchups of AP ranked teams in week one. The Razorbacks were more physical on both sides of the ball and never trailed. Quarterback K.J. Jefferson put the team on his back and carried them to the finish line. Not only did he throw for 223 yards and three touchdowns, but Jefferson also added a rushing score. Running back Raheim Sanders had a game-high, 117 rushing yards, and tight end Trey Knox caught two touchdowns. Linebacker Bumper Pool led the team with 13 total tackles. Safety Jalen Catalon tallied eight total stops, and cornerback Dwight McGlothern picked off a pass. The Razorbacks have now won six of their last seven games.
Auburn: There's no denying Bryan Harsin needed a win more than any other coach in the conference. Auburn was on a five-game losing streak entering the battle with Mercer. Harsin finally snapped that streak. The Tigers dominated the first half, and were ahead 28-0 midway through the second quarter. Auburn's offense racked up 497 total yards, which was the most by the unit since the shutout victory over Alabama State last year. Star running back Tank Bigsby rumbled for 147 yards and two touchdowns. Although quarterback play was very spotty, wideout Ja'Varrius Johnson eclipsed the century mark in receiving, and averaged 29.2 yards per catch. Cam Riley led the Tigers with 15 tackles.
Florida: The Gators had the primetime slot against the reigning Pac-12 champs. All eyes were on the Swamp, Florida took advantage of the spotlight and downed the No. 7 team in the country. It was the biggest upset in week one and the Billy Napier era got off to a hot start. Quarterback Anthony Richardson had his coming out party. He threw for 168 yards, and added 106 more on the ground, to go along with three rushing scores. The gunslinger made plays with his arm and legs to move the sticks and extended drives. Safety Trey Dean led the Gators with 12 total tackles. Linebacker Amari Burney tallied seven total stops and picked off a pass, which sealed the barn-burning victory for Florida.
Georgia: The reigning National Champs dominated Oregon. It looked like Georgia was playing a high school squad instead of the No. 11 team in the country. Kirby Smart handed Dan Lanning, who he won a Natty with this past January, the first loss of his coaching career. The Bulldogs made the clash a laugher and led 35-3 at halftime. Quarterback Stetson Bennett picked up where he left off, and threw for 368 yards and two touchdowns. Wideout Kenny McIntosh hauled in a game-high, nine passes for 117 yards. The defense was impressive too. True freshman Malaki Starks led the team with eight total tackles, and had an interception. Safety Christopher Smith also picked off a pass.
Kentucky: All eyes were on the Wildcats to see how they would fare without star rusher Christopher Rodriguez. Kentucky was sleepwalking through the first two quarters against Miami (Ohio), and only led 13-10 at halftime. The offense got going in the second half. The Wildcats scored three touchdowns and won the game by 24 points. However, Kentucky's offense got it done through the air instead of on the ground. Quarterback Will Levis torched the Redhawks' defense for 303 yards and three touchdowns. Wideout Tayvion Robinson caught six passes for 136 yards. Linebackers J.J. Weaver and Jacquez Jones each had a sack. True freshman Barion Brown took a 100-yard kickoff to the house.
LSU: The Bayou Bengals had the lone spotlight under the Sunday night lights for Brian Kelly's debut. It turned out to be one of the best games of Labor Day weekend. LSU made some fundamental mistakes, but found its' way back in the game in the final minutes of the game. Quarterback Jayden Daniels used his breathtaking mobility to move the chains and extend plays. He did all he could on the Bayou Bengals' last touchdown drive. It's unfortunate that LSU couldn't make the extra point to tie the game and send it into overtime. Wideout Kayshon Boutte didn't dominate as expected, and defensive end Ali Gaye got ejected for targeting. The Bayou Bengals were the only SEC team to lose in week one.
Missouri: After a scoreless first quarter, the Tigers built a big lead on their inferior opponent in the second. Missouri led 38-10 heading into the final quarter and beat Louisiana Tech by four touchdowns. The Tigers stockpiled 558 yards of total offense on the Bulldogs, which was their highest output since game three of last season. Quarterback Brady Cook completed 18 of his 27 passes for 201 yards, a touchdown and an interception. He also had 61 yards on the ground and a rushing score. Linebacker Ty'Ron Hopper, and safeties Jaylon Carlies and Joseph Charleston each picked off a pass. Hopper also led the Tigers with six solo tackles, including a sack. Missouri's 10 penalties is a bit of a concern.
Mississippi State: It's year three of the Mike Leach era and everything appears to be trending up. Mississippi State beat Memphis 49-23, which was its' largest margin of victory in the series since 2011. It was also the most points the Bulldogs have scored in a season-opener since 2018. Gunslinger Will Rogers torched the Tigers' defense with ease. He finished with a jaw-dropping 450 passing yards, five touchdown tosses and an interception. Not to mention five different players caught a touchdown. That performance solidifies Leach's Air Raid offense is in full effect. The Bulldogs also converted 11 of their 13 third downs. Linebacker Jett Johnson finished with a game-high, 13 total tackles.
Ole Miss: The Rebels surprisingly struggled a bit against an inferior foe. Troy forced Ole Miss' offense to commit three turnovers, including two fumbles. Quarterback Jaxson Dart passed for 154 yards, a touchdown and an interception. TCU transfer Zach Evans had a great debut. He carried the ball 20 times for 130 yards. He showed workhorse capabilities and averaged 6.5 yards per carry. Linebacker Khari Coleman had a monster outing, and led the Rebels with eight total tackles, including seven solo and two sacks. Defensive linemen J.J. Pegues and Jared Ivey each put the quarterback to the turf. Lane Kiffin needs his team to close better instead of being held scoreless in the fourth quarter.
South Carolina: Shane Beamer had his hands full in the first half with Georgia State. The Gamecocks only led 12-7 at halftime. Quarterback Spencer Rattler struggled throwing the ball the entire night, and was picked off twice in the second half of his debut. South Carolina's offense was inconsistent, converted just three of its' 14 third downs and finished with 306 total yards against an inferior Panther defense. The story of the game was the Gamecocks' special teams. Beamer went back to his roots and converted a fourth down on a fake field goal. South Carolina blocked two punts and returned them for a score. The Gamecocks have now won three of their last four games overall.
Tennessee: Josh Heupel's second season in Knoxville got off to a hot start. The Volunteers picked up where they left off, with a high-flying offense. Ball State's defense had no answers, and with a blink of an eye Tennessee led 38-0 at halftime. Not only did the Volunteers win 59-10, it was their fourth-straight game of scoring 45 or more points. Quarterback Hendon Hooker threw for 228 yards and two touchdowns, plus two rushing scores. Tennessee nearly doubled Ball State in first downs. Cornerback Warren Burrell and safety Christian Charles each generated seven total tackles. The 10 points Tennessee's defense allowed was its' lowest since the shutout win over Tennessee Tech in 2021.
Texas A&M: The Aggies looked very impressive on defense and posted their first shutout victory since game three of last season. Texas A&M's offense was sort of inconsistent though. Quarterback Haynes King threw for 364 yards and three touchdowns, but he was picked off twice. Surprisingly, Texas A&M didn't run the ball as much. It didn't matter because wideout Ainias Smith  ran circles around Sam Houston State's secondary. The senior hauled in a game-high, six catches for 164 yards and two scores. Edge rusher Fadil Diggs and safety Demani Richardson each generated five tackles. Overall, the Aggies didn't play like the No. 6 team in the country, but they still made a statement on defense.
Vanderbilt: The Commodores have been the biggest surprise of the non-conference thus far. Vanderbilt is 2-0 in non-conference play for the first time since 2018. Clark Lea is making an impact and building a winning culture in Nashville. Everyone is buying into his vision and it's showing on the gridiron, especially on offense. Quarterback Mike Wright threw for 245 yards and four touchdowns in the victory over Elon. He also rushed for two scores. True freshman wideout Jayden McGowan caught four balls for 118 yards and a touchdown. Fellow receiver Will Sheppard had two receiving scores. Elon ran 14 additional plays and recorded six more first downs, but still lost by double-digits.