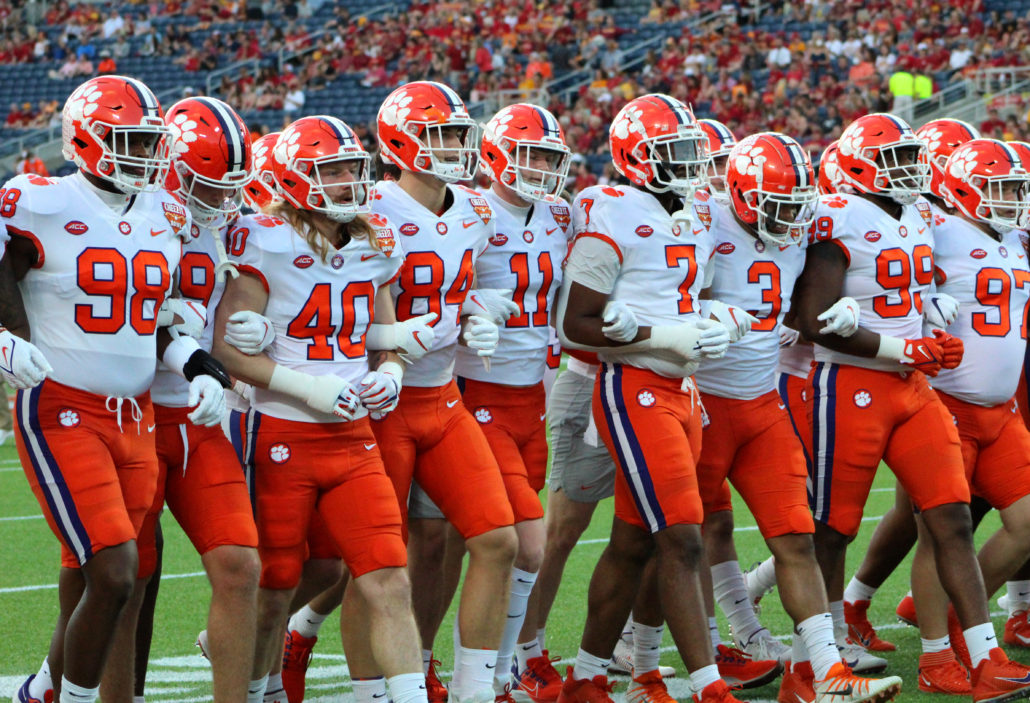 With week one of College football almost in the books, fans were able to watch most of the projected elite teams in action.
However, the No. 4 team in the country has yet to take the field. And for Tiger fans, that's like saving the best for last. After all, there's nothing like a Monday night College football game on Labor Day. With no NFL to compete with, and millions of people across the country off work, it's the perfect opportunity for national exposure.
Clemson hasn't played on Labor Day since 2007 against Florida State, and before that it was in 1982 against Georgia. Now Dabo Swinney's boys will be invading Mercedes Benz Stadium in Atlanta with all eyes on them. The Tigers are also out to prove last year's 10-3 campaign was a fluke.
And that's mind-boggling because most programs would take a double-digit win season in a heartbeat. Swinney has set the bar so high that the Tigers are used to winning ACC Titles and playing for all the marbles. Anything less is considered a bust.
Swinney and his players got a glimpse of all the games played over the past four days. And the three teams ranked ahead of the Tigers all won their openers by double-digits. That doesn't mean there's going to be pressure on Clemson to beat Georgia Tech convincingly, but it will need to make a statement.
For the Yellow Jackets, the clash will basically take place in their own backyard. Although Georgia Tech has a hefty lead in the series, Clemson has won the last seven meetings. The Yellow Jackets are closing the gap though, and held the Tigers to their second-lowest point total in 2021.
It just so happens that Georgia Tech is catching Clemson at the wrong time. There's no denying Swinney is one of the best gameday motivators, and the Tigers want to show the rest of the country that their ranking is legit.
There's some uncertainty with Swinney's squad approaching kickoff though. He'll be working with a new Offensive and Defensive Coordinator this time around. Embattled quarterback DJ Uiagalelei has been struggling up to this point with trying to fill Trevor Lawrence's shoes. And there's no electrifying receiver on the roster who can make defenses cringe and stretch the field.
Regardless, Clemson's offensive line, backfield, defense and special teams will all be areas of strength this fall. Running back Will shipley is coming off a promising true freshman campaign. The former five-star prospect led the Tigers in carries, rushing yards and touchdowns on the ground in 2021. Not to mention Shipley's 11 rushing touchdowns ranked third among ACC running backs last season. He missed the Clemson's spring game nursing a foot injury, but is fully healthy now.
Offensive linemen Jordan McFadden, Marcus Tate Will Putnam and Walker Parks have combined for a jaw-dropping, 68 career starts. McFadden will be anchoring the big boys up front again, and he's coming off an All-ACC campaign as a junior. The Tigers' offensive line will dictate Uiagalelei's maturation process and how far the team goes in the conference.
Clemson is expected to field one of the nation's best defenses, especially up front. Edge rusher Xavier Thomas will be out for the first few games rehabbing a foot injury, but the rest of  the unit is ready to wreak havoc on quarterbacks and ball carriers. Myles Murphy, Bryan Bresee and Tyler Davis are arguably the best at their respective positions. They could potentially be as good as the 2018 unit that contained Christian Wilkins, Colin Ferrell and Dexter Lawrence.
Junior linebacker Trenton Simpson is due for an All-ACC caliber season. He finished second on the team in tackles for loss and sacks last year. And sophomore safety Andrew Mubuka is the enforcer in the secondary, who earned third-team, All-ACC honors as a freshman.
The cherry on top for Clemson is having senior B.T. Potter handle kicking duties again. The 22-year old has had a very productive career with the Tigers and led them in scoring last year. Potter also nailed all 38 of his extra point attempts, made 21 field goals and earned second-team, All-ACC honors. The South Carolina native has made 53 field goals in his career, and needs 20 more this fall to become the Tigers' all-time leader.
With all of that talent, experience, leadership and production on the roster, there's no reason why Swinney can't rule the ACC with an iron fist again. The task at hand is to extend the six-game win streak. So everyone is anticipating the Tigers to make a serious run at the Playoffs, and it all starts tonight under the lights against an inferior Yellow Jacket team.