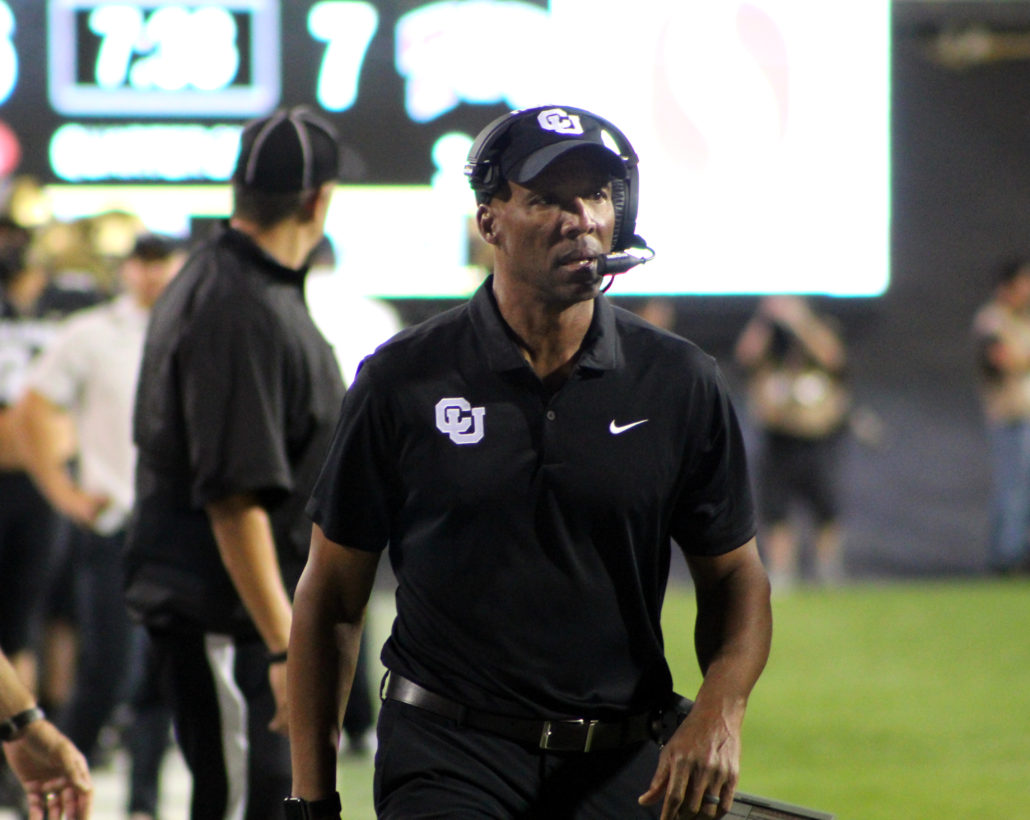 BOULDER, Co. — Karl Dorrell discovered his Buffaloes' strengths and weaknesses Friday night.
TCU stormed into Folsom Field with a new coach and outmuscled Colorado 38-13 in front of nearly 48,000 fans in attendance. It was the Buffaloes' first season-opening loss since 2015. Not to mention the loss was also Dorrell's third overall in the last four games.
Growing pains were expected with a new offensive scheme though. Dorrell even played musical chairs with quarterbacks Brendon Lewis and JT Shrout. However, it was Colorado's defense that struggled tackling throughout the night, especially in the second half.
Everything started out smooth for the Buffaloes. Colorado scored first and took an early lead in the initial quarter after a 37-yard field goal by Cole Becker. The Buffaloes' defense even made the Horned Frogs punt the ball on their first three possessions.
The momentum of the game quickly shifted to TCU's side though. Wide receiver Derius Davis returned a 60-yard punt for a score early in the second quarter that silenced the rowdy crowd. Becker added another field goal from 33 yards that kept Colorado in it. Still, Dorrell found his team down by a point heading into halftime.
He was obviously frustrated because his squad didn't take advantage of more scoring opportunities, but remained optimistic going into the locker room. That's because the Buffaloes defense held the Horned Frogs to 67 yard of total offense through the first two quarters.
"The first half I was disappointed because we weren't getting points in terms of touchdowns in a game like that," Dorrell said. "I knew TCU had enough firepower at some point in time that if you don't score touchdowns, it's going to get ugly quickly."
And that's exactly what happened in the second half. TCU scored on its' first four drives, including three rushing touchdowns. The Horned Frogs' offensive line took over and mauled the Buffaloes' defensive line for the rest of the night.
As the game lingered, Colorado's defense became fatigued and got dominated in the trenches. Those holes became bigger and the TCU rushers started turning those small gains into 15 and 20-yard runs.
Emari Demercado started off the second half scoring surge with a 43-yard touchdown run. Kendre Miller, who led TCU in rushing, added a three-yard touchdown run in the fourth quarter. And freshman quarterback Sam Jackson got in on the action and generated a rushing score of his own.
At that point all Dorrell could do is watch from the sidelines as his defenders missed tackle after tackle.
"The mindset going into the fourth quarter was to finish the game properly, finish the game playing hard," he said. "I think defensively we had trouble stopping them, it's pretty obvious those issues were plagued for today."
The Horned Frogs scored a jaw-dropping, 31 second half points, which was the most since their 2016 season-opener. It became uncomfortable for Colorado fans to watch, and most of them started heading for the exits towards the end of the third quarter. TCU's offense kept the wheels rolling even after freshman quarterback Chandler Morris got injured and never returned.
That's because senior Max Duggan stepped in and orchestrated the offense like the veteran he supposed to be. It's mind-boggling that Colorado's offense ran 17 additional plays, had three more first downs, plus 75 more yards and still lost by 25 points. Having 136 total yards of offense in the second half was all too familiar with the Buffaloes' 2021 campaign.
As a matter of fact, the offense didn't score a touchdown until the final two minutes of the game against TCU's second and third stringers. And Dorrell knows that's something he has to clean up before Colorado get into Pac-12 play.
"There's a lot of work that needs to be done, and that starts with me," the 58-year old coach said. "I'm not pointing a finger at any of our players because our coaches and I have to get this thing done."
The Buffaloes did have some bright spots in the disappointing outing. Shrout looked more comfortable in the pocket than Lewis. He also displayed a stronger and more accurate arm, plus Shrout spread the ball around to his receivers. Shrout completed 13 of his 23 passes for 157 yards and a touchdowns in his debut.
Lewis had his moments too, and used his dangerous mobility to extend plays. Although he only finished with 78 yards through the air, Lewis still led the team in rushing.
Dorrell is going to need more out of his running backs in game two, especially after Alex Fontenot and Deion Lewis combined for 15 carries for 61 yards. Regardless, he understands none of that matters if the defense can't make stops.
"There's a lot of things in this first game that were exposed and we need to get it shored up pretty quickly because teams are going to keep coming."