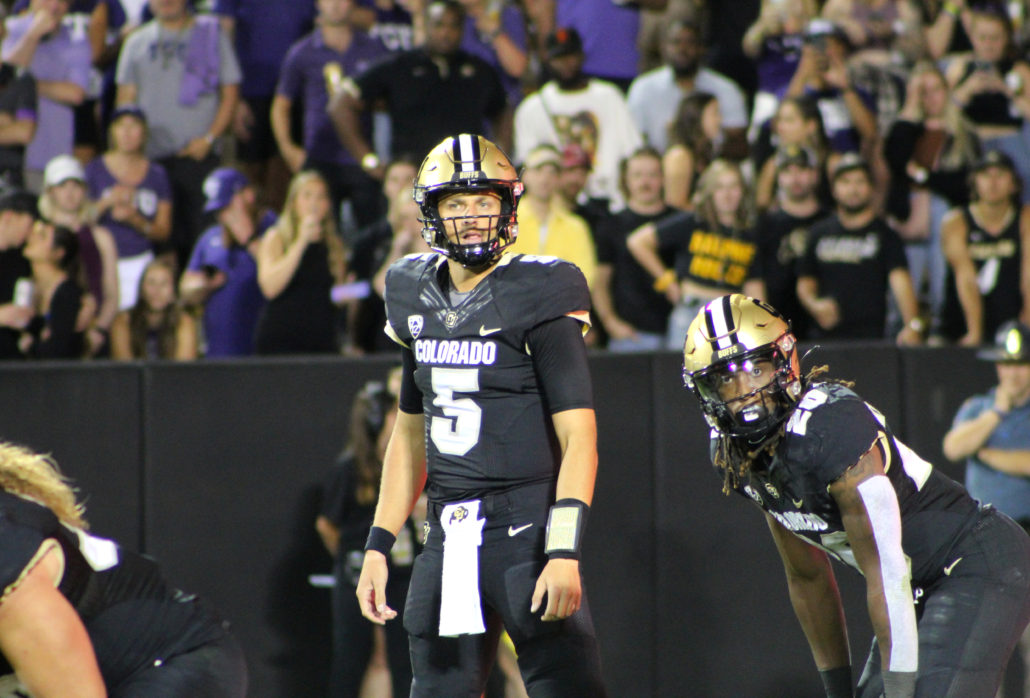 BOULDER, Co. — The junior quarterback got his first taste of action as a Buffalo Friday night under the lights.
Although J.T. Shrout didn't start against TCU, he attempted the same amount of throws as Brendon Lewis, and still finished with more completions and passing yards. Not to mention Shrout connected with wideout Jordyn Tyson for a 23-yard touchdown late in the fourth quarter.
Coach Karl Dorrell thought the signal-caller did a solid job in limited action, considering Shrout hadn't completed a pass since he was a Tennessee Volunteer in 2020. In Dorrell's eyes the Californian looked promising enough to finish the game against the Horned Frogs.
"We decided to keep J.T. (Shrout) in there the latter part of the fourth quarter," Dorrell said. "It seemed like he had a better rhythm going in terms of what he was doing."
Shrout completed 13 of his 23 passes for 137 yards and a touchdown. Although he made a couple of fundamental mistakes, and there's been a learning curve adapting to the new scheme, Shrout displayed enough moxie to keep fans optimistic about the remainder of the season.
After all, he commanded himself in the huddle like a veteran. Not to mention Shrout 11 of his 13 completions were to different players. The six-foot-three, 220-pounder was able to spread the ball around, and got others involved too. And that's what counts to Dorrell. He also thought Shrout's teammates fed off his energy.
Regardless of the positives, Dorrell feels Shrout needs some improvement in certain areas of his game.
"I still think he was moving out of the pocket prematurely at times," he said. "I saw that a lot, but it's his first day back from playing though."
There were times Shrout looked like a wide-eyed freshman, like when he took a sack that could've been avoided. However, he played like a seasoned veteran for the most part, and kept his eyes downfield, which resulted in Colorado's only touchdown of the game.
Up to this point Shrout's journey has been all about perseverance. From leaving Tennessee, to suffering a season-ending injury last year in fall camp, the signal-caller has earned his right to take the helms of Colorado's offense. Dorrell isn't ready to make a decision on whether Lewis or Shrout will start game two at Air Force.
The third-year coach is going to evaluate film and determine the situation he has in the quarterback room. Dorrell doesn't want to continue to play musical chairs with Lewis and Shrout though. So the sooner he makes a decision on who's going to lead the offense the rest of the way, the better off the Buffaloes will be.
That's going to depend on how far the quarterbacks have grasped the new scheme, and their command in the huddle. As far as production on the field, Shrout has proven he can deliver the goods. And Dorrell is confident Shrout will take advantage of the opportunity he has in front of him.
"He got a good chance to get the rust off from not having played in a year, and I'm sure he's going to get better."