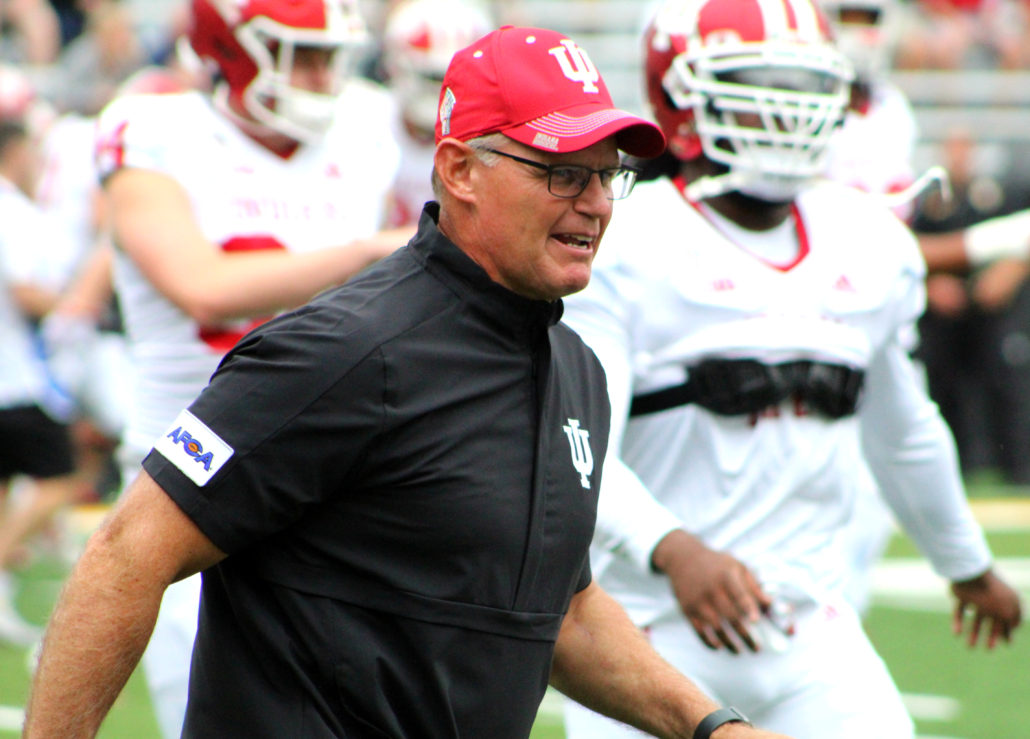 Starting the season off with a bang is vital to the momentum of a coach's campaign.
It also lets a team know what their strengths and weaknesses are. And fans will get a taste of what's in store for the remainder of the year. Some coaches need a victory more than others. No team wants to carry a losing streak into a new season, so getting back in the win column is the motivation throughout fall camp leading up to kickoff.
These coaches find themselves needing a victory to calm down their recent criticism. And everything will be revealed in week one.
David Shaw, Stanford: Although Shaw is one of the Pac-12's longest-tenured coaches, and has had a highly successful tenure on paper, the program is a mirror of itself from a decade ago. Shaw recorded a jaw-dropping, 82-26 record through his first eight seasons. However, the 50-year old is 11-19 over his last 30 games with the Cardinal. Not to mention Stanford has lost eight of its' last nine contests, including seven-straight. Now Shaw is trying to put his losing ways behind him and will face a cupcake at home against Colgate. The team needs the win over toothpaste to generate some positive momentum for the rest of their 2022 campaign, especially since they lost their last two season openers.
Bryan Harsin, Auburn: There are still a lot Tiger fans that are surprised Harsin kept his job after an investigation was launched on his conduct during last year's 6-7 season on the plains. The Harsin era got off to a hot start and Auburn won six of its' first eight games. However, the Tigers fizzled down the stretch and lost their final five games, including the Iron Bowl in overtime. Auburn currently has the longest losing streak in the SEC. That's not what the fans had in mind when Harsin was hired. Luckily for him, Auburn hosts Mercer in the Jungle under the lights. It's unfortunate that the opener will air on ESPN+, but that's another example of Harsin not moving the needle nationally.
Steve Sarkisian, Texas: Talk about a coach that's under a lot of pressure in 2022. Sarkisian is trying to revive the blueblood program, but it's not going fast enough for some Longhorn fans. His first season in Austin was very discouraging. Texas won four of its' first five games, but that loss was a 21-point blowout by the hands of Arkansas. Not to mention Sarkisian lost six of his final seven games, including the Red River Rivalry and one in overtime at home to Kansas. The most embarrassing part about the Longhorns' six-game losing streak, was how it was transpired. Texas was outscored 105-75 in the second half during that stretch. So Louisiana-Monroe will be just what the doctor ordered.
Tom Allen, Indiana: He followed up one of the most successful Hoosiers seasons in recent memory, with a 2-10 campaign. Last year was downright ugly for Allen's squad. Not only did the Hoosiers go winless in Big Ten play for the first time since 2011, but they've now lost nine-straight to conference foes dating back to 2020.  Indiana is on an eight-game losing streak, which is currently the longest in the Big Ten. And Illinois is coming into town for some Friday night lights action. It's going to be the Hoosiers third-straight season of opening up against a conference opponent. It helps that Indiana has won the last three in the series. Illinois' last victory in Bloomington was when Ron Zook was coach.
Karl Dorrell, Colorado: The Buffaloes raised eyebrows during Dorrell's first season in Boulder. Not only did he deliver a winning season, but Dorrell was also named the Pac-12's Coach of the Year. Unfortunately, he followed up that success with a 4-8 campaign. The Buffaloes lost four of their first five games and had one of the nation's worst offenses. Dorrell has yet to field a game-changer at quarterback. Sam Noyer was a converted safety, JT Shrout hasn't taken a meaningful snap because of an injury, and Brendon Lewis struggled mightily with his accuracy. The right gunslinger can make the offense gel together. TCU has a new coach though, which should give Dorrell an edge in Friday's clash.
Dino Babers, Syracuse: His 10-3 campaign from 2018 feels like ages ago to the rest of the College football world. Since then Babers has gone 11-24, including three-straight losing seasons. The Orange have also lost six of their last eight games overall, including the last three. Now Babers is opening up the season against a team the Orange lost to by 38 points last season. However, this time around Louisville comes to the Carrier Dome. Syracuse has one of the nation's best running backs in Sean Tucker. So Babers is planning on airing it out to keep defenders from stacking the box to stop Tucker. Babers needs to get back on the winning track, and a victory over Louisville would be a great start.
James Franklin, Penn State: The Nittany Lions have one of the largest fan bases in the country and most of them demand the best from the team on the gridiron. Although Franklin won a Big Ten Title during his third season in 2016, he has gone 11-11 over the last three years. Penn State hasn't had a 1,000-yard rusher since Miles Sanders accomplished that feat in 2018. Not to mention Sean Clifford has yet to finish a season healthy. Sprinkle that with the offensive line's struggles, and it shouldn't come as a surprise why the Nittany Lions have had a dip in success. After losing six of his last eight games, Franklin is going to need to beat a talented Purdue team on the road under the Thursday night lights.
Geoff Collins, Georgia Tech: His tenure has been a disaster thus far. It's tough to argue against that when Collins has gone 9-25 over the past three years with the Yellow Jackets. Not to mention he's 7-18 against ACC foes. Georgia Tech is on a six-game losing streak, which is the second-longest in the league. However, Collins has an opportunity to shock the world by upsetting the nation's fourth-ranked team on Labor Day. On paper it seems like a tall mountain to climb, but Georgia Tech only lost to Clemson by six points last year. Now the Yellow Jackets will be at home for the battle. However, Collins only returns a handful of starters, and both sides of the ball needs drastic improvements.
Jedd Fisch, Arizona: There's no easy way to slice his first season with the Wildcats. It was horrendous and the offense was tough to watch. Not only did Fisch's squad lose their first eight games, but they also went winless against South division foes. Arizona hasn't won a season-opener since 2017. Now Fisch will start his 2022 campaign against a team that he lost to by 24 points at home last year. San Diego State had one of the nation's best defenses in 2021 and return a plethora of starters. The Aztecs will definitely be a great measuring stick to see how far the Fisch's offense has come. Having gunslinger Jayden de Laura throwing  the ball to wideout Jacob Cowing should do wonders though.
Greg Schiano, Rutgers: The Scarlet Knights took a big step forward last season. Although Schiano's squad only won five games, they received a bowl bid because of their academic success, and experienced what the postseason felt like.  Rutgers has a track history of getting off to fast starts, then crumble once they navigate through the Big Ten gauntlet. Traveling upstate to play an ACC team will be a great litmus test for the Scarlet Knights. Rutgers did beat Syracuse on the road last year. Still, the offense will need to be much better this fall. Losing four of their last five games is something Schiano wants to put in the rearview mirror. So a victory over the Eagles will do wonders for the rest of 2022.