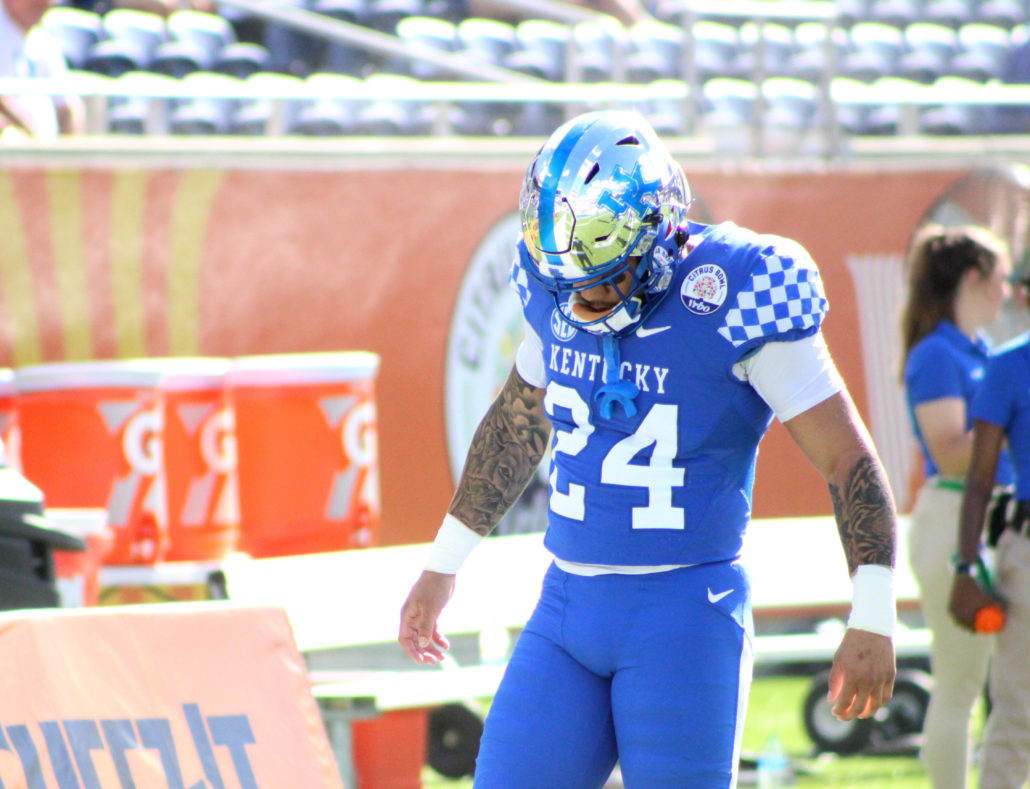 Kentucky will be without the best player on its' roster for at least the first two games.
There's no denying Christopher Rodriguez is one of the most productive running backs in the country. Not only is he coming off an All-SEC campaign, but Rodriguez has steamrolled for 2,697 yards on the ground, to go along with 26 rushing touchdowns over the past three years.
Which is why it was a big deal that Coach Mark Stoops suspended the elite rusher, along with several other players for Kentucky's opener against Miami (Ohio). Those consequences were a result of Rodriguez's DUI arrest back in May. Now the void he's leaving while on the sidelines will have a major impact on Kentucky's offense.
After all, the Georgia native needs 1,134 yards on the ground this fall in order to break Benny Snell's record, and become Kentucky's career-leading rusher. However, the Wildcats have braced themselves for Rodriguez's absence, and plenty of young rushers are ready to step up to the plate. And there's nothing like having that next man up mentality.
Running backs Kavosiey Smoke, Ramon Jefferson and JuTahn McClain are more than capable of carrying the workload in the backfield. Smoke was the Wildcats' second-leading rusher last season, and has paid his dues to be in this position. The former three-star prospect has rushed for 1,306 yards and 12 scores in his career too. Not to mention Stoops already nabbed Smoke as his No. 1 rusher against the Redhawks.
Still, Jefferson and McClain will be in the rotation behind Smoke. Jefferson racked up 1,135 yards on the ground and 12 touchdowns at Sam Houston State last year. The former juco's journey has been all about perseverance. And Kentucky is Jefferson's fourth school as a student-athlete.
McClain was Kentucky's fourth-leading rusher last season. He also averaged 4.9 yards per carry and gained most of his production in the victory over Vanderbilt.
Former Tennessee Volunteer Lee Beckwith may get some opportunities also. He's by far the biggest running back on the roster, standing six-foot-five and weighing 230 pounds. Which means Beckwith is a bruiser, who's likely a pain for tacklers to bring down, and could be vital in short yardage situations.
Regardless of the talent the Wildcats have in the backfield, the big boys up front will have to provide efficient blocking. Kentucky's offensive line lost studs Darian Kinnard and Luke Fortner to the NFL Draft, and only two starters return. Guard Kenneth Horsey and center Eli Cox have combined for a jaw-dropping, 30 career starts. Still, the production up front drops significantly after that.
Senior quarterback Will Levis has dangerous mobility and does his part in Kentucky's rushing attack too. The gunslinger's nine rushing scores last year solidified he can hurt defenses with his legs. Levis is also projected by many to be a high pick in next year's draft, so he won't be sneaking up on anyone this time around.
That's why a solid and consistent ground game will keep opposing defenses from keying in on Levis. And Stoops has a track history of pounding the ball and controlling time of possession.
The wheels should keep rolling on offense for the Wildcats this fall, despite the fact that they'll be without Rodriguez for a few games.
His absence hasn't stopped the buzz building around Stoops 10th season in Lexington. It's no mystery the Wildcats are ranked in the preseason AP Poll for the first time since 1978.
So the fans are expecting Kentucky to deliver something special in 2022. And the running backs will be a vital part on how far the offense goes over the next three months.