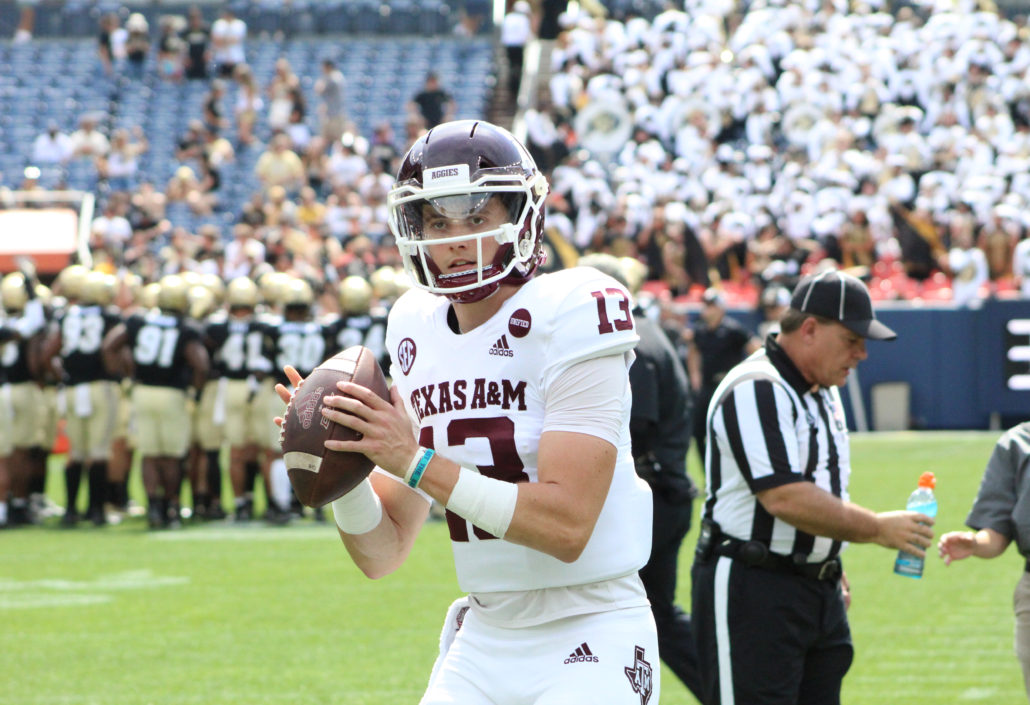 He's a quarterback with only two starts under his belt, but will have to deliver for a team with high expectations this fall.
Coach Jimbo Fisher nabbed Haynes King as his starter against Sam Houston, which was a statement in itself. First off, King beat out Max Johnson, who threw for 27 touchdowns at LSU last season. Secondly, anticipation is through the roof because Texas A&M is ranked sixth is the preseason AP Poll. Lastly, it's Fisher's fifth year on the sidelines, and he's fresh off of signing the nation's No. 1 recruiting class.
So for Fisher to give the reigns of the offense to a signal-caller with three career touchdown tosses, means he really believes in King's abilities. After all, the Aggies have lost two of their last three games and the fans don't want to suffer through another year of underachievement.
King never got the chance to show his true potential though. He threw for 292 yards and two touchdowns in last year's opener against Kent State, but was picked off twice. The former four-star prospect fractured his right tibia in the first half against Colorado and missed the final 10 games.
Regardless of the matter, King's journey back to the gridiron has been all about perseverance. He displayed dangerous mobility in the spring game, which proved his leg is back to normal. Fisher obviously took notice of King's hunger in fall camp. And he believes the six-foot-three, 205-pounder has what it takes to carry the Aggies to the finish line in 2022. King will have deadly weapons in his arsenal too.
Texas A&M's offense is projected to be one of the best in the SEC West because of star power at the skill positions. Senior wideout Ainias Smith is no longer suspended. He led the team in receptions, receiving yards and touchdown catches last year. Not to mention Smith caught both of King's touchdown passes in 2021.
Junior running back Devon Achane is arguably one of the fastest players in College football, and he's a sprinter on the Aggies' track team. Although Achane had 49 less carries than Isaiah Spiller last season, he still led the Aggies in rushing touchdowns. Achane also averaged seven yards per carry, which was the best in the FBS. The Texas native even returned a 96-yard kickoff for a touchdown in the upset win over Alabama. It was also Fisher's first victory over mentor Nick Saban and a AP top-ranked team.
So with that kind of firepower, fans are expecting King to blossom. There's been plenty of additions to the roster thanks to the transfer portal. And they'll need to contribute immediately, considering Texas A&M faces the likes of Miami, Arkansas, Mississippi State and Alabama in four of its' first six games.
It just goes to show that King will have a lot of weight on his shoulders, and the verdict is still out on whether he can carry the Aggies to the finish line. There's no denying the fanbase is thirsty for something special.