Mike Gundy's Pokes looking to pick up where they left off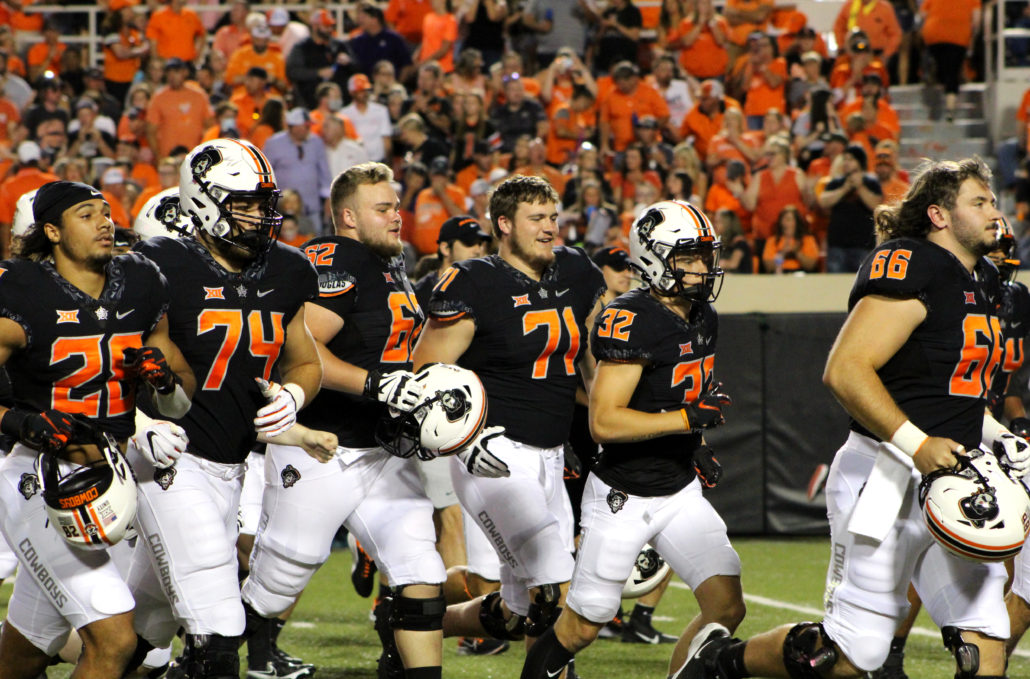 Oklahoma State was last seen erasing a 21-point deficit in the comeback victory over Notre Dame in the Fiesta Bowl.
Although the win was a happy ending to a 12-2 campaign, it's still hard for fans to forget that the Pokes were an inch short of winning a Big 12 Title. It's a feat Coach Mike Gundy hasn't accomplished since 2011. However, his 2022 squad is talented, experienced and hungry.
And rightfully so, considering there's been a ton of hype building up since the spring. Oklahoma State has been victorious in seven of its' last eight games. Not to mention the Pokes have won eight-straight at Boone Pickens Stadium, which is currently the second-longest in the Big 12.
The national media believes Gundy's boys are serious contenders for a conference title. And the Pokes are ranked 12th in the preseason AP Poll, their highest mark in August since 2017. It helps that the roster is filled with studs on both sides of the ball. There's no denying Gundy has a track history of developing his players into All-Big 12 performers.
Quarterback Spencer Sanders is one of the most experienced players in the league, with a jaw-dropping, 32 career starts. He also earned first-team, All-Big 12 honors in 2021. Over the past three seasons Sanders has thrown for 6,911 yards, generated 1,565 on the ground and scored 60 total touchdowns. The 22-year old will be operating behind one of the most experienced offensive lines in the conference too.
Cole Birmingham, Jake Springfield, Preston Wilson and Hunter Woodard have combined for 66 career starts. That matters when it comes to dominating the trenches. With all of their experience, production and leadership, the big boys up front appear to be one of the best units on the team. Which means Oklahoma State's ground game should be more potent. And that's a scary thought for defenses, after the Pokes were fifth in the Big 12 in rushing yards per game last season.
Sanders will have some weapons in his arsenal to spread the ball around to. Junior wideout Brennan Presley hauled in 50 balls last year. All five of Presley's touchdown catches were against Big 12 foes. His supporting cast Blaine Green, Jaden Bray and John Paul Richardson combined for 55 receptions, including five touchdowns.
It's no mystery that Gundy has produced a 1,000-yard rusher in two of the past three years, so Dominic Richardson's workload should increase.
On the defensive side of the ball Gundy will have his work cut out for him. First off, Defensive Coordinator Jim Knowles took the same position at Ohio State. However, Gundy replaced him with former Vanderbilt coach Derek Mason. He spent last season orchestrating Auburn's defense. Mason is most known for the elite defenses he fielded during his time at Stanford.
Despite all of Mason's experience, he'll be operating with a depleted linebacker corp and secondary. Which means the Pokes will likely find themselves in plenty of shootouts this fall because of those deficiencies. Regardless, the strength of Oklahoma State's defense will be up front.
Having edge rusher Collin Oliver anchoring the group should help ease the transition. Oliver was a menace off the edge and led the team with 11.5 sacks. Senior Brock Martin caused damage too, with nine sacks of his own, and tied for first on the team with 14 tackles for loss.
Fielding that caliber of talent in 2022 is the reason everyone is so high on Oklahoma State. And the fact that Gundy is the longest-tenured coach in the Big 12, who's approaching his 18th season with his alma mater, means he's due for something special. No Lincoln Riley around, so the College football world is expecting Gundy to finally rule the league with an iron fist.
Still, there'll be a couple of new coaches to deal with this time around, plus Dave Aranda and Matt Campbell have been nemesis to Gundy clinching the throne.