Chris Klieman remaining confident in Wildcats' return game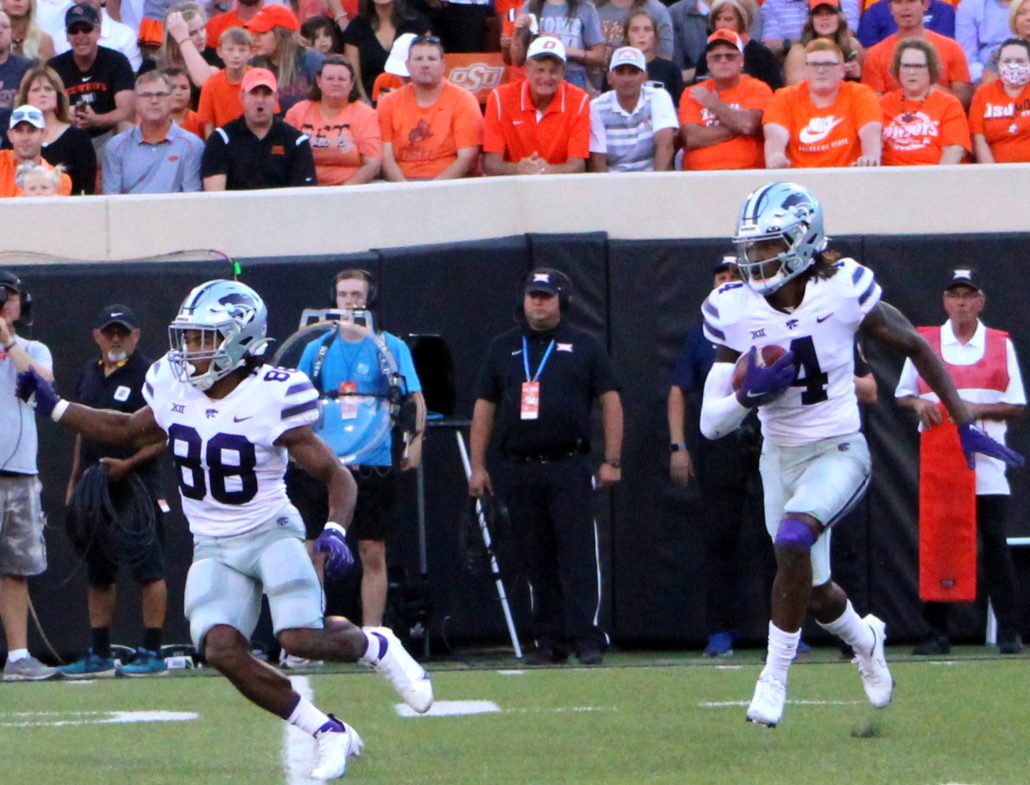 MANHATTAN, Kan. — There's no denying Kansas State has made special teams a priority under Chris Klieman.
When it comes to returning kickoffs and punts, the Wildcats continue to excel at both, and their coach is expecting more success this fall. After all, Kansas State has some lethal weapons in senior wide receivers Malik Knowles and Phillip Brooks.
They both are naturals at returning the pigskin to the house and changing momentum in games. Knowles handles most of the returns on kickoffs, while Brooks does his part with the punts. It takes an individual with great vision, speed, quickness and solid blocking from teammates to burn the opposition in the return game.
And that's exactly what the Wildcats have done throughout Klieman's tenure. The numbers don't lie, and Kansas State has returned eight kickoffs, plus one punt for a touchdown during Klieman's time on the sidelines.
Now that the team is five days away from kickoff, Klieman has a clearer picture on how he's going to utilize the two wideouts. Regardless, he's anticipating both of them to be dynamic again in the return department.
"Hopefully it's Malik and Phillip, it's been that way since I've been here," Klieman said. "If they're healthy and they're ready to go, they're going to be back there, because they got a chance to take it to the house."
Knowles has returned three kickoffs for a score in his career, including two last year. The Texas native ripped off a season-high, 99-yarder at Oklahoma State. The following week Knowles returned a 93-yard kickoff for a touchdown against Oklahoma. Not to mention the former three-star prospect capped off his junior campaign with first-team, All-Big 12 honors as a return specialist. Knowles has a jaw-dropping, 1,099 kickoff return yards.
Brooks is also electric with the ball in his hands, and makes returning punts look easy. The 22-year old has returned three punts for a touchdown in his career. Brooks even earned first-team, All-Big 12 as a return specialist in 2020. Not only is he very explosive, but Brooks' 471 punt return yards as a Wildcat is proof why teams should kick away from him.
Klieman believes they're both at the top of their game, and they're skill set is priceless for the team when it comes to returns. That's why he wants the younger players to feed off their energy and soak up their knowledge on how to return the pigskin.
"We're going to focus on those two, and we're going to keep working guys back there, but those are the main two," the 54-year old coach said."
For the opposition it's almost like pick your poison. Teams will try to keep the ball out of Knowles' hands on kickoffs by either booting it out of the endzone, or out of bounds for a penalty. The same tactic will likely be used against Brooks on punts.
That's because everyone respects their talents, knows the Wildcats are deadly at returns and can change the game within a wink of an eye. Bottom line, the Wildcats' return game should be in great hands with Knowles and Brooks in 2022.