Matt Campbell thrilled about depth along defensive line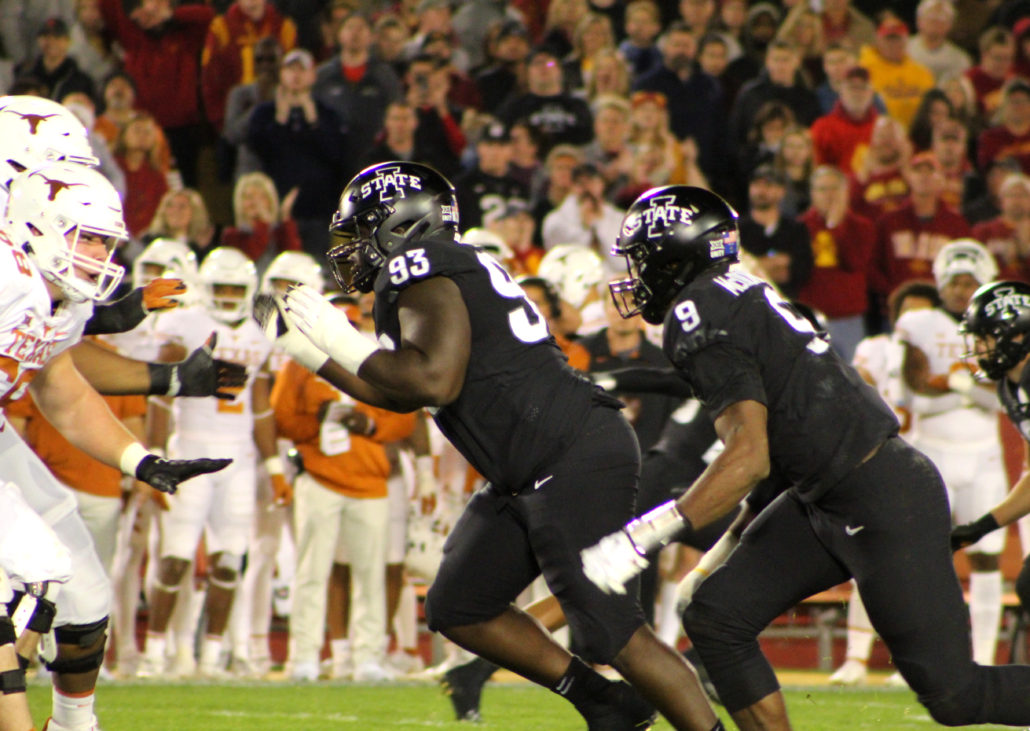 AMES, Ia. — The Cyclones have fielded some of the Big 12's best defenses against the run under Matt Campbell, and he's excited about the options they have up front this fall.
The defensive line has been extremely competitive throughout fall camp. Campbell believes that unit will be a team strength again. Which will be vital when Iowa State navigates through the Big 12 meat grinder. Everyone knows about All-American edge rusher Will McDonald, who holds the school record for career sacks, and is the Big 12's preseason Defensive Player of the Year.
However, there's also a ton of talent around McDonald. Some of the defenders are veterans, while others are still raw and inexperienced, but what Campbell believes they all have in common is versatility. Campbell loves flex-type of players that can wreak havoc along the interior or off the edge when needed.
There's a lot that goes into dominating the trenches, and this year's defensive line has the potential to make some noise for the Cyclones. Senior nose guard Isaiah Lee is a natural at anchoring the middle, with 11 starts in his career. The fact that he stands six-foot, and weighs nearly 300 pounds, makes Lee a space-eating, hole-clogging menace on the inside. The Chicago native has also been productive, with 33 tackles over the past two seasons.
"Obviously it's great to have Isaiah and Will as those two kingpin guys back there, that has had high end success on that defensive line," Campbell said.
Besides McDonald and Lee, the Cyclones are somewhat green in the production department. Which is why Campbell is anxious to see how the supporting cast pans out with fall camp winding down. Although there's some uncertainty because they're unproven, they all still have tremendous upside in Campbell's eyes. And right now there less questions and more answers.
"What does the rest of this group look like, and where do they fit," he said. "How do we plug and play those guys, and certainly what have they earned the right to do for us this fall."
Sophomore J.R. Singleton is projected to be Lee's backup. He's another Illinois native, who Campbell is very high on. The six-foot-two, 300-pounder got his feet wet last year. Singleton had two solo stops against Iowa and a tackle for loss against Clemson.
Campbell has been really impressed with Blake Peterson, who'll be on the opposite side of McDonald. The former three-star prospect had some promising moments in 2021, and Campbell believes he's ready to take that next step. After all, Peterson put the quarterback to the turf against Texas Tech and TCU.
Minnesota transfer MJ Anderson is back fully healthy and been a full participant in practice. Not to mention freshman defensive end Tyler Onyedim is expected to be in the two-deep rotation. What has Campbell optimistic about his defensive linemen is the fact that they all have tremendous size, length and physicality. And that all goes a long way with getting a consistent push up front, batting down balls and shedding blockers to get to the quarterback.
"We are excited about what that group looks like and what the depth of that group looks like, but they'll have to prove it," the 42-year old coach said. "Excited to see who's ready to give us video tape evidence that they're ready to be that player."
Regardless, the new faces will have to keep the wheels rolling for Iowa State's defense. The Cyclones finished third in the Big 12 against the run and in sacks generated. So there's no denying the bar has been set pretty high for the defensive line.
The depth solidifies the defensive line will have no problem with the next man up mentality in case of injuries. And if this year's squad is anything like their predecessors were up front, Campbell is confident his defense will be in good hands.