Pat Fitzgerald feeling Wildcats are at a disadvantage in opener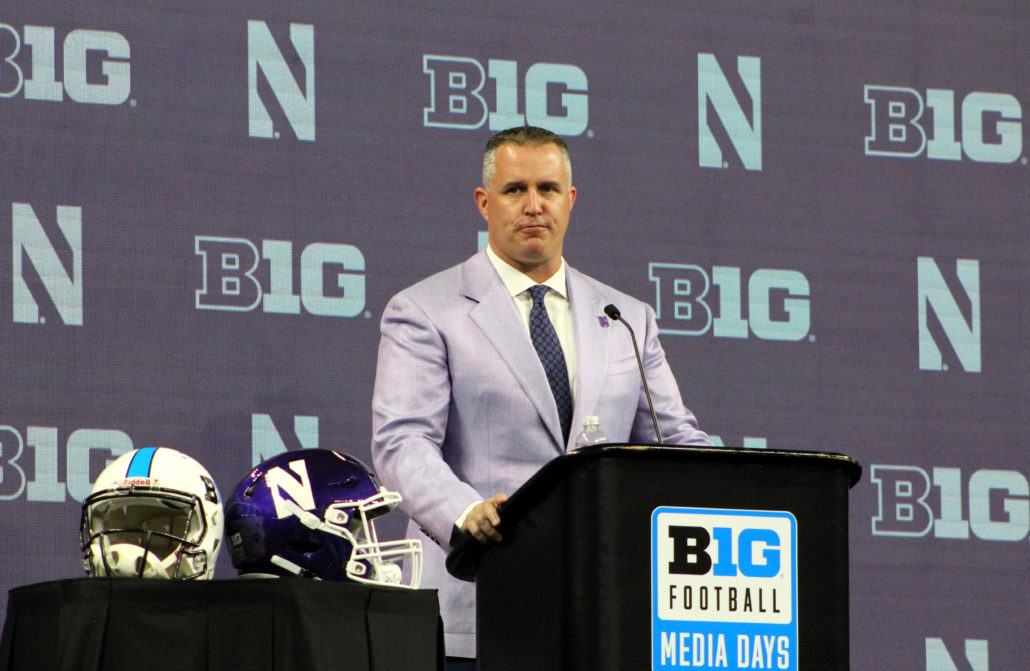 EVANSTON, Ill. — The Big Ten's second-longest tenured coach is no stranger to marquee season openers.
After all, Northwestern has started out the gates against the likes of Purdue, Stanford, Maryland and Michigan State over the past four years. However, Pat Fitzgerald is somewhat concerned about facing Nebraska in Ireland this Saturday. And not just because the Huskers annihilated the Wildcats 56-7 in Lincoln last season.
It's no mystery Scott Frost has assembled a plethora of credible players from the transfer portal over the past seven months. He even revamped his staff. So there's some uncertainty in terms of scouting for Fitzgerald and his staff, especially on the Huskers' offense.
"This is the absolute norm for my staff, it seems like every year in the opener it's a new coach, or multiple coordinators, we're kind of used to this," Fitzgerald said. "You don't start in August, this starts way back in January when you do offseason studies, and put together your preliminary game plan, then go through spring ball to see what the new pieces look like."
From a schematic standpoint Fitzgerald believes Nebraska will have the advantage because of the uncertainty. His staff has already scrambled around to find film on Offensive Coordinator Mark Whipple's time at Massachusetts and Pittsburgh. Not to mention they had to study tape on quarterback Casey Thompson at Texas last season.
Fitzgerald has been amazed by all of the moves Frost made. And he knows the Wildcats will have to be better prepared this time around. The 49-point loss to Nebraska was Northwestern's largest margin of defeat since 2019. Which is why Fitzgerald is doing everything he can to motivate his squad for the spotlight matchup in week zero. That shouldn't be a problem though, considering the Wildcats have had this game circled on their calendar for quite some time.
"When you go back and watch tape from last year everything stood out, we didn't play very well and they played outstanding," the 47-year old coach said. "I think across the board you look at the talent they added, it's some very impressive players."
Both teams are trying to snap a six-game losing streak. Both coaches are looking to get their alma maters over the hump. The entire College football world will be tuned in for this battle. And Fitzgerald is confident his boys can seize the opportunity, so he's keeping them focused on the task at hand.
"I feel like we got our edge back, kind of who we are and our identity back, but now we're going to face adversity for the first time here in Dublin," he said. "I think that'll be a great challenge for our leadership, which I feel is in a great place now."
Fitzgerald knows that leadership is going to get tested, especially on the defensive side of the ball. Still, the Wildcats are scrappy, and Fitzgerald is a natural at making adjustments. Besides last year's blowout, the Northwestern and Nebraska series usually goes down to the wire. Which is why it's a head-scratcher that the Wildcats are double-digit underdogs on a neutral field.
Regardless of the matter, the Wildcats will have to be more efficient on offense, especially after they finished dead last in the Big Ten in points per game in 2021. Fitzgerald does have one of the best running backs in the league in Evan Hull. He's coming off a 1,000-yard campaign and will keep the Blackshirts from keying in on the quarterback.
The worst case scenario for the Wildcats is if the game turns into a shootout. Northwestern doesn't have the firepower to answer every bell if Nebraska starts off firing on all cylinders. Time of possession and field position will be key. It just so happens that Fitzgerald will be breaking in a new kicker, punter and long-snapper. So special teams will likely determine the outcome, especially if it turns out to be a tight game down the stretch.
Fitzgerald understands this will be a great measuring stick for his team on both sides of the ball. Everyone wants to enjoy the festivities and tour around Dublin with their families, but the Illinois native needs his players to take care of business on the field first.
"The goal is to go there and win, that's our focus and everything else is secondary."