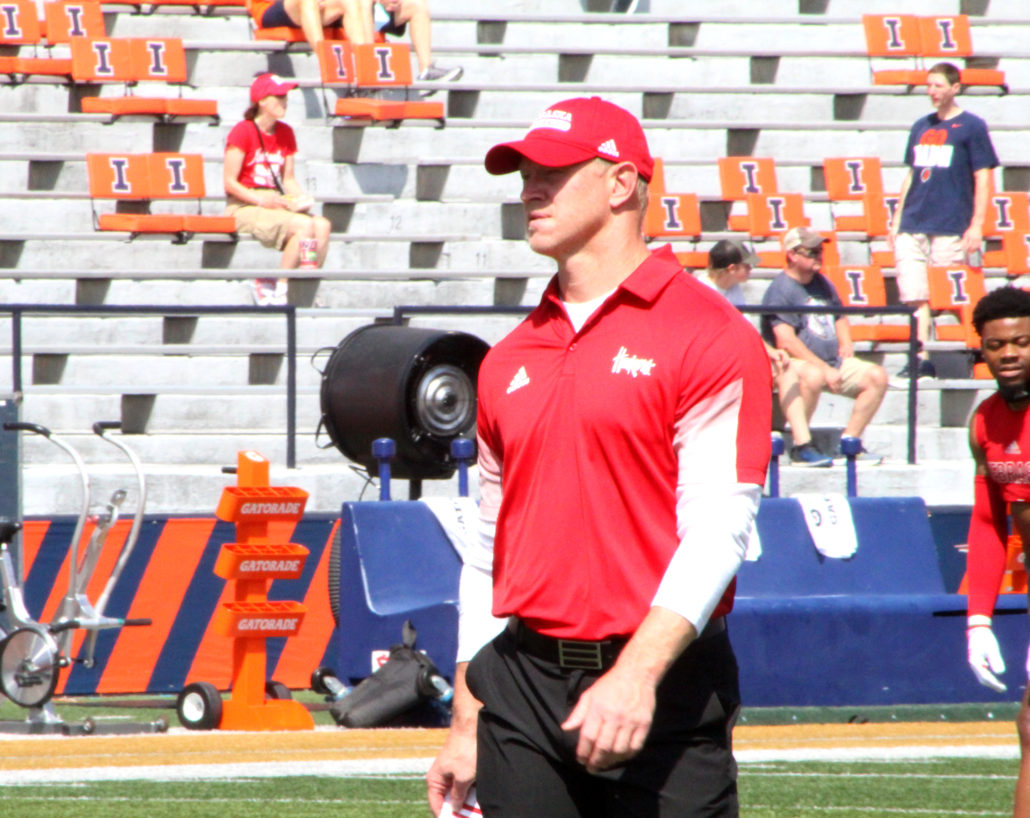 The embattled coach is approaching his fifth season with his alma mater, and Big Red Nation is expecting drastic improvements.
Not only has Scott Frost suffered four-straight losing campaigns, but his 15-29 mark at Nebraska is the program's worst four-year stretch since 1957-60. College football's most loyal fans has had very little to cheer about with Frost patrolling the sidelines.
And he's 10-25 in conference play, including a 5-19 mark against Big Ten West foes. Although Frost receives the shoulder of the blame for the Huskers' shortcomings, he still lures great talent to Lincoln. Nebraska annually recruits the best in the West. Not to mention Frost had four former players selected in this year's NFL Draft, if Wan'Dale Robinson is included.
However, his staff has had a tough time coaching the players up to their potential. Which is why Frost parted ways with Offensive Coordinator Matt Lubick and replaced him with Mark Whipple. It's no mystery that Whipple is Frost's third Offensive Coordinator, but he helped Pittsburgh win a ACC Title last season. And quarterback Kenny Pickett blossomed under Whipple's watch into the Davey O'Brien Award winner.
Husker fans are anticipating Whipple will have a swift impact on the offense this fall. Frost revamped his staff with some familiar faces like former Husker signal-caller Mickey Joseph, and assistant Bill Busch. There's more of a family vibe this time around with coaches that understand Husker culture. Frost even took a pay cut and restructured his contract in detail with Athletic Director Trev Alberts.
The transfer portal continues to be a game-changer for Frost and Nebraska. The 47-year old coach was able to land the likes of quarterback Casey Thompson from Texas, edge rusher Ochan Mathis from TCU and defensive tackle Stephon Wynn from Alabama. There's no denying the roster has been upgraded. And Frost will be fielding his most talented team yet.
After all, the Huskers started to turn the corner last year, despite the number of single-digit losses. Nebraska fans are remaining optimistic about their team's potential, even if there hasn't been much national buzz leading up to the clash with Northwestern in Ireland. Regardless, all eyes will be on the Huskers in week zero, so Frost needs to take advantage of the spotlight.
The urgency is high too, considering Nebraska has lost eight of its' last nine games overall. It helps that Frost has been proactive and already named Thompson his starter last week. The Huskers manhandled the Wildcats 56-7 in Lincoln last year, which was the program's largest margin of victory under Frost. The stakes are higher this time around though.
A win over Northwestern means Nebraska snaps a six-game losing streak. And a loss in Ireland will have the fans grumbling louder than ever about Frost. To add more fuel to the fire is the fact that the Huskers are double-digit favorites for a neutral site game. The Wildcats are known for being scrappy and they remember that 49-point loss, so motivation shouldn't be an issue for either team. There's a reason why the Husker offensive linemen were throwing up in practice.
It should help with the transition for the staff and players that the schedule isn't as brutal as the last few years. Everything appears to be trending up for a fast start with Nebraska, and the fans aren't putting up with anymore excuses. Frost's time to silence all of his critics is now.
Everyone has been waiting on the sleeping giant program to reemerge back on the map. An elite Husker team is great for the Big Ten and the rest of the College football world. And the only way Frost can relieve the pressure, and get off the naysayers' hot seat is by winning. Very few coaches can keep their jobs after four losing seasons. So with his back against the wall, Frost must finally show why he's worth the investment.