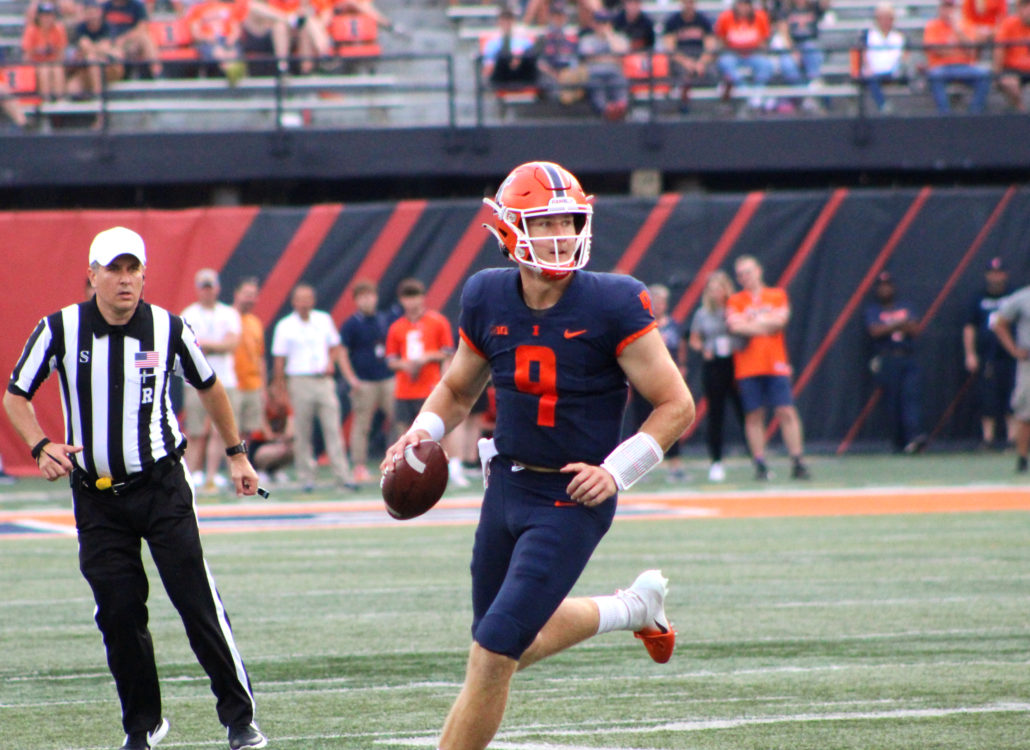 CHAMPAIGN, Ill. — The Fighting Illini are three days away from kicking off the 2022 season, but there's still no word on who their starting quarterback will be.
Bret Bielema is trying to make all of the right decisions in his second year on the job. And staying publically silent about who won the competition between Artur Sitkowski and Tommy DeVito is one. However, both gunslingers are capable of leading Illinois' offense this fall, and had promising 2021 campaigns.
Sitkowski got off to a fast start, with 611 passing yards, six touchdowns and an interception through the Fighting Illini's first three games. DeVito has played the past four seasons at Syracuse and threw for 19 touchdowns in 2019. The 23-year old passed for 3,866 yards, 28 touchdowns and 12 interceptions during his time with the Orange.
Bielema understands the skill set both signal-callers bring to the table, and loves how they push each other in practice. Although a decision has been made in the locker room, Bielema doesn't think there's any animosity between his players.
"I know who the starting quarterback is, the starting quarterback knows who that is and are team knows that," Bielema said. "I think our guys understand the value of these first games, what it allows us to do, and we learned it last year first-hand."
Regardless of the matter, Illinois will be operating under a new offensive coordinator. Barry Lunney's offense put up some impressive numbers at UTSA last season. The Roadrunners finished 11th in the country in scoring offense and put up 40-plus points in six games. Not to mention Lunney's former quarterback Frank Harris threw for 3,177 yards, 27 touchdowns and six interceptions. Those are numbers Sitkowski and DeVito want to replicate.
Bielema and Fighting Illini fans are expecting Lunney to have that type of impact on the team in 2022. Everyone is motivated and dialed in. Bielema has been enjoying the buzz going around during the offseason regarding some of his players. And the starting quarterback will have weapons in his arsenal. Handing the ball off to 1,000-yard rusher Chase Brown will make life easier for whoever is behind center. Connecting through the air with speedy wideout Isaiah Williams will also ease the transition.
So Bielema thought it was important that Sitkowski and DeVito were on the same page regardless of his final decision. After all, the offense has potential to make some noise for the first time in a while. Bielema knows both quarterbacks want what's best for the team at the end of the day, especially Sitkowski.
"I told him specifically about Tommy and Art's reaction then is the same that it is right now today," the 52-year old coach said. "I think he wants Illinois to be successful, he obviously has individual dreams and goals, but those two have built a relationship, and they get along extremely well."
Bielema is encouraged by how they competed and interacted with each other through fall camp. The Illinois native has only been around Sitkowski for a season, and DeVito for the past nine months. Still, Bielema is witnessing they're chemistry, and feels both of them are just cracking the surface of their potential.
"I would say both of them are playing as good of football right now as I ever seen either one of them play," he said.
Which is why it makes sense that Bielema doesn't want to reveal to the public who'll be his starting quarterback against Wyoming. From a scouting standpoint, the Fighting Illini will have the advantage. Craig Bohl and his staff really have no idea what to expect out of Illinois' offense schematically. And Bielema is banking on the uncertainty leading up to kickoff.
"The number one priority I have is to protect and build Illinois football to be as best as we can be on Saturday, and part of that is restricting access."