Ekow Boye-Doe gaining confidence in coverage skills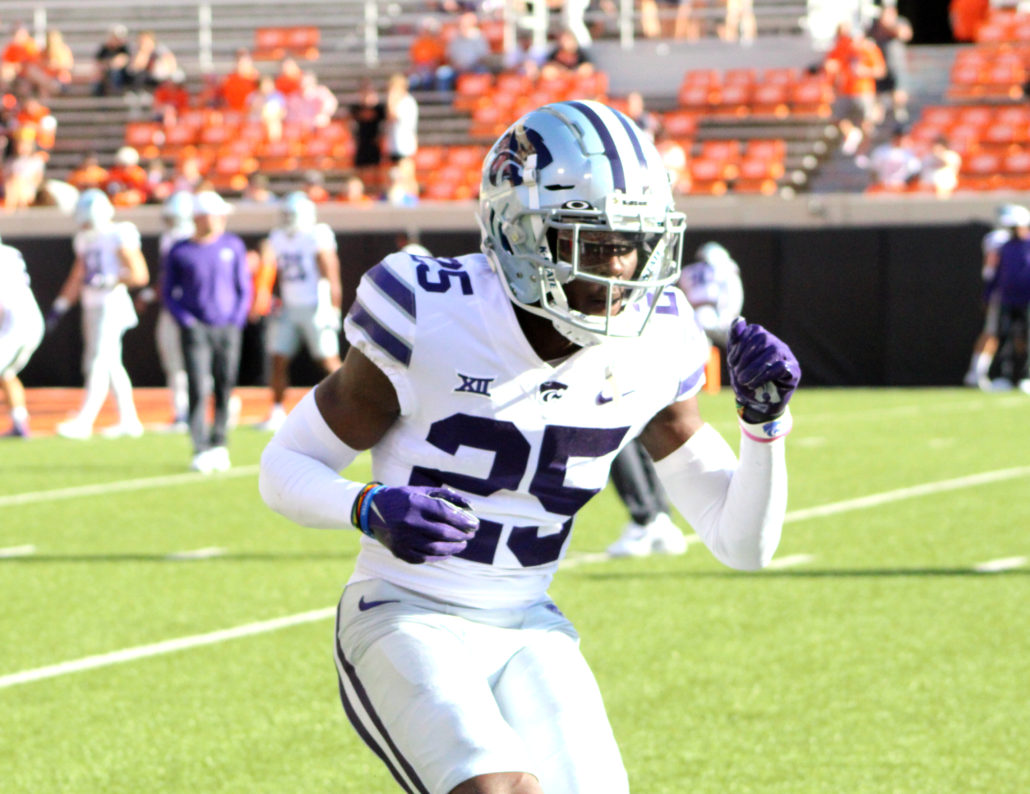 MANHATTAN, Kan. — Kansas State's senior cornerback is approaching his fifth season with the program, and can't wait to show the fans how much he elevated his game.
Ekow Boye-Doe considers himself one of the best corners in the Big 12. After all, he has the experience, with 21 stars over the past two seasons. His natural instincts allows him to blanket his entire side of the field, and he's one of the fastest players on the team. Stats from cornerbacks usually don't stand out on paper. That's because they're out on an island, and have to wait for the action to come their way.
However, Boye-Doe has made the most out of his opportunities. Not only has he generated 47 tackles over the past two years, but he also broke up nine passes. Although Boy-Doe has molded himself into a ballhawk, he has yet to haul in his first interception. Now the six-foot, 171-pounder is starving to pick off a pass, and knows it's only a matter of time. The defender strongly feels he has taken his knowledge of the position to the next level.
"Just understanding the defense more, which enables me to just go when I see certain pictures," Boye-Doe said. "Playing faster, understanding the scheme, where I have my help and where I need to be."
The Kansas native believes he's going to excel in pass coverage and against the run. Not to mention the Wildcats are expected to field one of the league's best defenses this fall. Kansas State ranked third in the conference in pass defense last season. The Wildcats picked off 11 passes, which tied for second-best in the Big 12. And Boye-Doe is now the general of the secondary.
He's witnessing the unit's growth throughout fall camp, with the players reading, recognizing and reacting faster in practice. Which has Boye-Doe thrilled about the Wildcats' potential.
"I think the sky's the limit with this group, man," he said. "We just got a whole ton of talent, and we got leaders pushing us forward each and everyday."
Boye-Doe is excited to be playing with senior linebacker Daniel Green again, who's his close friend and pushes him to be better. With key transfers filling certain positions and sackmaster Felix Anudike-Uzomah anchoring up front, the Wildcats could very well improve from 2021, when they finished third in the conference in total defense. As for Boye-Doe, he wants to help his team win at all costs. He's also guiding the younger defensive backs along the way.
The former three-star prospect is a staple off the field in the classroom too, and earned Academic All-Big 12 in 2020. Boye-Doe wants to pick up where he left off against Kansas and Baylor, when he combined for eight solo tackles, including two for loss. Wildcat fans are expecting Boye-Doe to spread his wings as a cover corner, and he doesn't want to disappoint them.
He'll be required to cover the opposition's No. 1 wideout. Having to cover Iowa State's Xavier Hutchinson, Texas' Xavier Worthy, Oklahoma's Marvin Mimms and Oklahoma State's Brennan Presley, definitely won't be an easy task. Still, Boye-Doe is trying to set the bar high for the rest of the defensive backs. So he's up for the challenge this fall.
"I feel like there's no one in the country that I can't go up against, I feel confident with any receiver."