Daniel Green excited about potential of Wildcats' defense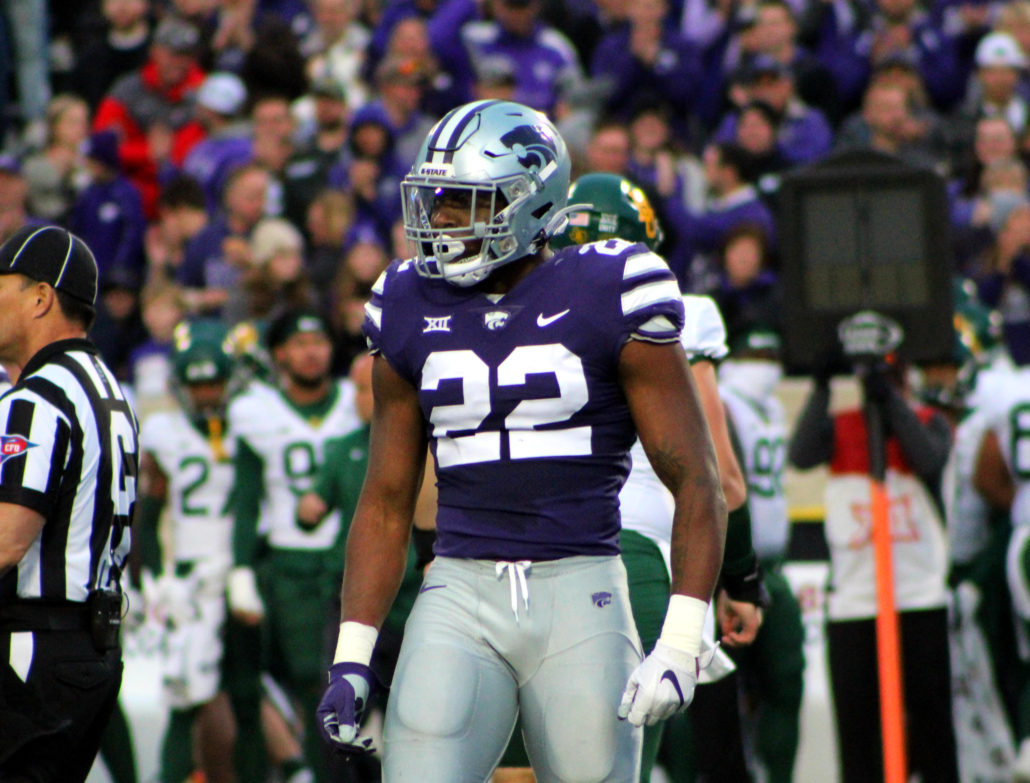 MANHATTAN, Kan. — He's one of the most underrated linebackers in the Big 12, who's ready to build off last season's productive campaign.
Daniel Green is a tackling machine with the way he eats ball carriers for breakfast on Autumn Saturdays. The former four-star prospect has been a Wildcat since 2017. However, Green is just starting to crack the surface on what he can accomplish this fall. Not to mention there's a plethora of weapons around him. Kansas State returns a veteran stud at every level of its' defense, which finished third in the Big 12 in total yards allowed in 2021.
Edge rusher Felix Anudike-Uzomah nearly broke the school record for sacks in a single season last year. Cornerback Ekow Boye-Doe is a ballhawk in the secondary, who has broke up nine passes over the past two seasons. Having those type of defenders back, means the Wildcats aren't lacking in the experience and leadership department.
Green has been encouraged by the intensity throughout fall camp. And he strongly believes the defense is ready to wreak havoc two weeks from now.
"I think we have a lot of potential, I like the guys up front and behind, but we still got a lot of work to put in," Green said. "Obviously camp is coming to an end, and we getting into prep now, and working on our opponent, so I'm really excited about this group."
Now Green is trying to pick up where he left off. And that's a scary thought for offenses, considering he finished third in the Big 12 in tackles for loss. The Portland native even turned it up a notch over the Wildcats' last six games. Green tallied 49 tackles, including 12.5 for loss and two sacks during that span.
There's no denying he's a natural at making solo stops too. As a matter of fact, Green tied for eighth in the FBS in solo tackles last season, and has made 115 in his career.
Green's vision, instincts and ability to shed blocks makes him one of the most feared defenders on the team. And he loves penetrating backfields. Sometimes he gets too physical, and was ejected twice for targeting through the first four games of 2021.
Green even earned a prized fighters' patch, which is rewarded for a player's hard work and goals achieved in practice. The six-foot-three, 242-pounder wears it on his practice jersey like a symbol of pride, because he knows it's a badge of honor and respect. Green feels he's light years ahead of where he was as an underclassmen, in terms of growth.
"My first year like most guys I got tossed the playbook and didn't really know what to expect," he said. "Now I feel like the game is slowing down a lot for me."
The six-foot-three, 242-pounder is polishing up on some of the small habits, and detailing every aspect of his game. The entire defense has bought in, and everyone has the same philosophy. Green feels that's vital with communication and chemistry on the gridiron, plus it's going to make them all play faster. Most importantly, he admires the leadership on both sides of the ball.
In Green's eyes, being a leader means pushing the players to be better, making sure no one stays complacent and holding them all accountable for their mistakes.
"We just got a group of guys that really love being around each other, and we just want to get after it," the senior said.
No doubt Green has set the bar high for the rest of the defense. Everything is starting to come full circle for him. That's why he plans on leaving it all out on the field for his final campaign. The anticipation is high, all of the players are turned up and Green is counting down the days until kickoff.
"We still got work to put in, but we're really excited."