Matt Campbell in admiration of leadership by O'Rien Vance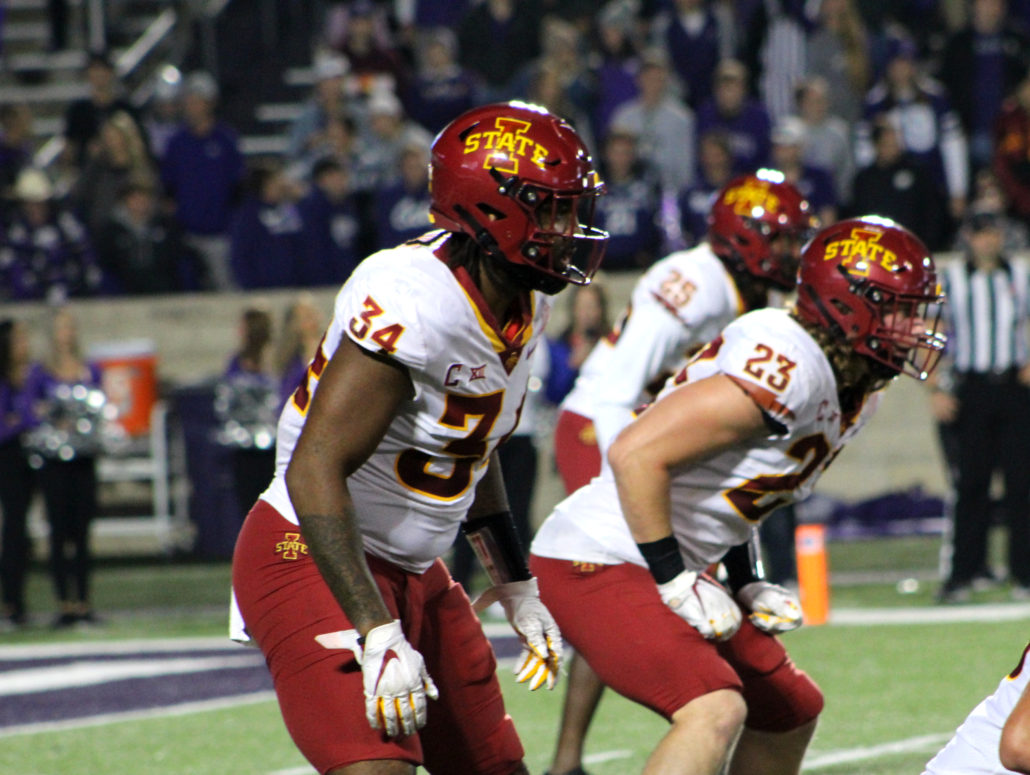 AMES, Ia. — He's one of the most experienced defenders in the Big 12, and his coach can't stop raving about his value to the Cyclones.
Coach Matt Campbell has seen some quality linebackers during his tenure at Iowa State, but when it comes to respect and leadership, O'Rien Vance is the poster boy of those qualities. After all, the former three-star prospect has been a Cyclone since 2017, and has started a jaw-dropping, 32 games in his career.
Vance is the type of defender who brings the intensity on the gridiron, and the rest of the defense always feed off his energy. Will McDonald is the headliner, but Vance is the one who rallies the troops and sets the tone. The Iowa native is like the Draymond Green of the unit with his grit and toughness. And Campbell appreciates everything Vance brings to the table.
"You talk about a guy that steps into that locker room and when he speaks everybody listens, it's that guy," Campbell said. "O'Rien Vance is the epitome in terms of great leaders that we've had in this program."
Vance has put his blood, sweat and tears into making Iowa State one of the premiere Big 12 programs. His numbers are solid too. Not only has he tallied 194 tackles in his career, but Vance has also generated 10 sacks. The six-foot-two, 260-pounder was also the Defensive MVP in the Fiesta Bowl victory over Oregon.
Last season Vance dealt with a nagging hamstring injury, which is why his production slipped. As of now, he appears to be getting more active as the Cyclones navigate through fall camp. And that's a scary thought for ball carriers around the conference, especially if Vance is back in his 2020 mode.
Campbell believes everything is coming full circle for his senior linebacker. So he's ready for Vance to spread his wings.
"I think he's worked really, really hard to be the healthiest he's been over the course of the last couple of years.," he said. "I think that's really great for us during fall camp."
There's no denying Vance has paid the cost to be the boss. He has set the bar high for Cyclone defenders in Campbell's eyes. And there's nothing like having that quarterback on defense for a coach. Campbell believes Vance fits the bill, but what he's most impressed by is how Vance always puts his team first.
Regardless of the praise or accolades, the 23-year old remains humble through it all, because he's been there before.
There's always the hunger for more in his eyes, that never say die in his work ethic, and Vance demands the same out of his teammates. Motivation and never staying complacent is the motto. The Cyclones annually field one of the league's best defenses, and Vance has been part of that success.
It's no mystery his experience, leadership and production is priceless. Campbell believes he's due for an All-Big 12 caliber campaign in 2022, and deserves everything that's coming his way. That's why he doesn't want Vance to press in practice or risk another injury.
With so much talent around him now along the defensive line and in the secondary, there might not be enough tackles to go around. And that's a good problem to have for Campbell.
Above all, the 42-year old coach is encouraged by Vance's journey, with how he persevered and made it to this point. All of his hard work and dedication is about to pay off. So Campbell can't wait for the veteran to cement his legacy in Cyclone lore this fall.
"A healthy O'Rien Vance is really good for Iowa State football in my opinion."