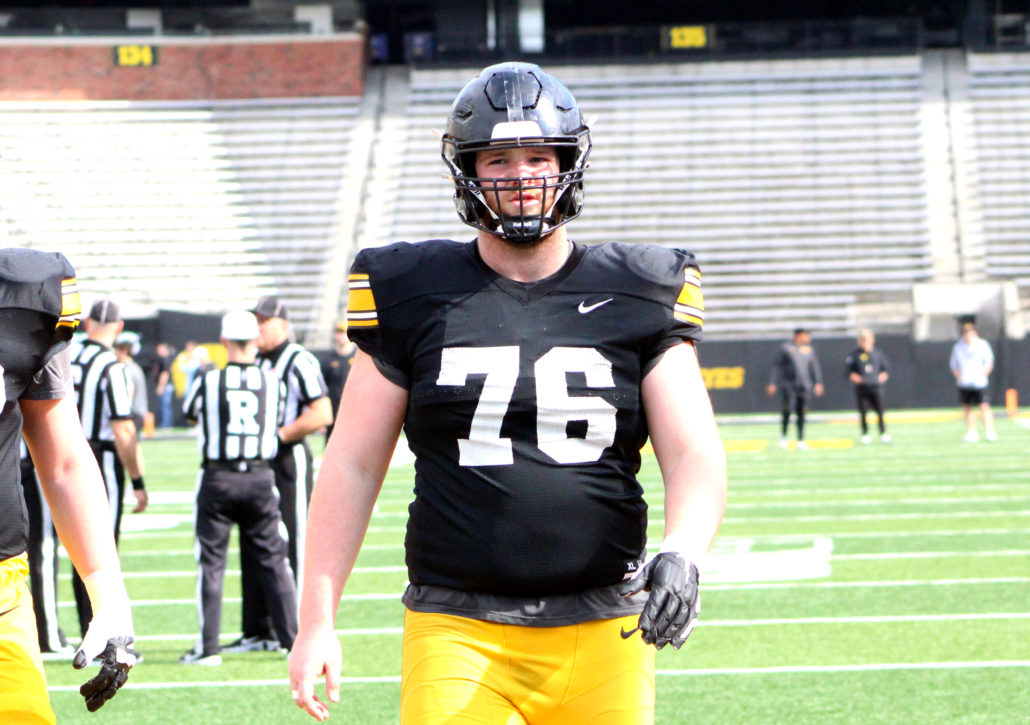 IOWA CITY, Ia. — Iowa's sophomore offensive lineman has one goal on his mind in fall camp, and that's to become a starter for the 2022 season.
Last season Tyler Elsbury got a taste of what it's like, but most of his opportunities came on special teams. For the past two years Elsbury shadowed Tyler Linderbaum on the gridiron, who became the Baltimore Ravens' first round pick five months ago.
Linderbaum taught Elsbury how to be mentally and physically tough. So he soaked up Linderbaum's football knowledge like a sponge. Now he's applying everything that he learned from Linderbaum in practice, and believes it's all starting to pay off. Elsbury is arguably the Hawkeyes' most versatile offensive lineman. After all, he has no problem blocking along the interior or off the edge. Coach Kirk Ferentz has recognized all of the hard work Elsbury has put in throughout the offseason. And he's encouraged by Elsbury's work ethic.
"Tyler has done a good job, and he's playing primarily guard, but also playing some center," Ferentz said. "He's at the point now where it's his time, he's ready to go, he's worked hard, so hopefully he can just keep improving."
Ferentz knows a thing or two about offensive linemen, considering he has had a jaw-dropping, 19 drafted in his tenure. Elsbury fits the prototype too, with his massive six-foot-five, 308-pound frame, and he's all about mauling defenders. The former three-star prospect is willing to do whatever is asked of him at any position up front, because he's that determined.
"Honestly, I'm pretty comfortable playing them all," Elsbury said. "Not much changes going from position to position, just kind of who you're blocking and what you have to do."
The Illinois native has been working non-stop on his lower body strength and hand placement. Offensive linemen have to be able to have a low center of gravity. Being able to shuffle their feet goes a long way in keeping their legs from getting tangled with their teammates after every snap. Even film study is important to Elsbury, because he takes pride in scouting his opponents.
Although he's anxious to get atop Iowa's depth chart, Elsbury appreciates his journey leading up to this point.
"I don't think there's a lot of pressure because it all comes with our confidence in practice," he said. "I have a good coaching staff around me to take the pressure off pretty easily, and allows me to go play freely and just have fun out there."
Elsbury described the offensive line room as a brotherhood because they're so close. Elsbury, along with Jack Plumb, Mason Richman, Nick DeLong and Logan Jones are all a close-knit group. They spend a lot of time off the field together, and had cookouts over the summer. Elsbury strongly believes their bond off the field will translate with communication on the gridiron. And that's going to be vital this fall.
The Hawkeyes allowed 32 sacks last year, which tied for worst in the Big Ten. To Elsbury that's unacceptable and has to change immediately. So he's been taking initiative in building relationships with the rest of the unit. And he feels their connection is trending in the right direction.
"We're trying to get to that point where we hang out so much, that maybe on the field we don't have to talk because we're thinking the same thing."