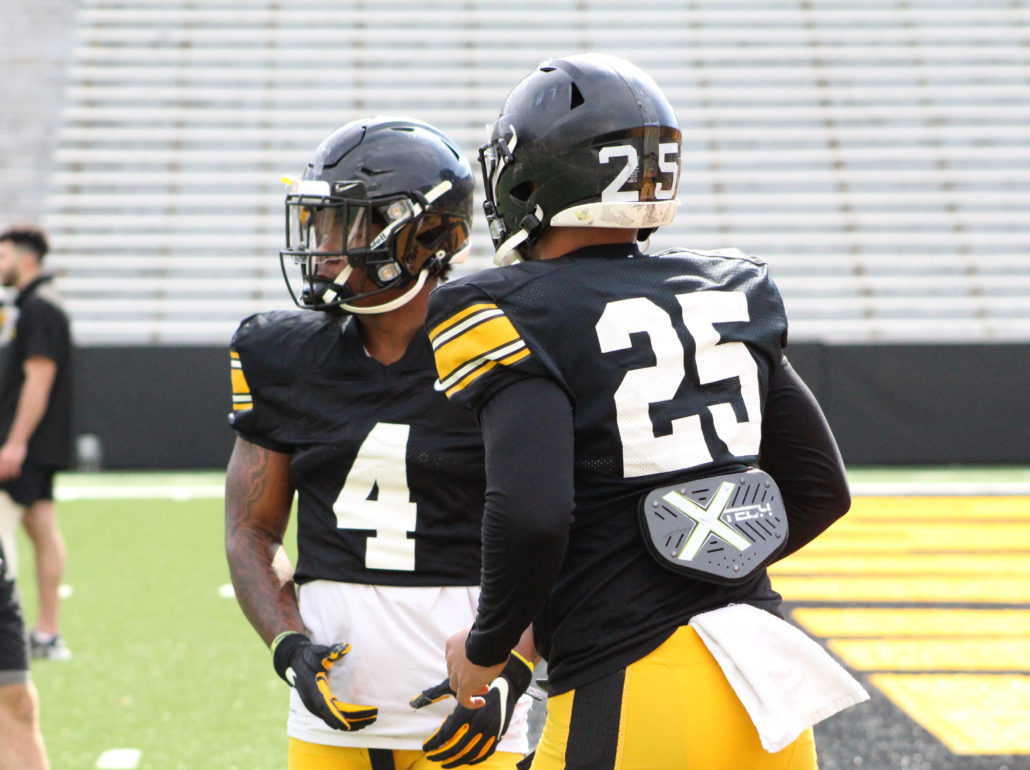 IOWA CITY, Ia. — Last season Gavin and Leshon Williams got their feet wet in a crowded backfield, which included a promising bowl performance from the duo.
Coach Kirk Ferentz has been encouraged by the two rushers ever since. After all, they both had strong springs and carried that momentum into fall camp. Although Gavin has missed a little practice time dealing with a minor injury, Leshon has been there to pick up the slack. And that's what Ferentz appreciates the most out of his ball carriers.
There's depth at the position also, with a handful of young backs looking to prove themselves. The Williams tandem got their opportunity after Tyler Goodson decided to sit out the Citrus Bowl. And Ferentz knows when one door closes, another one opens up.
"Even in September we knew Gavin and Leshon would do a nice job in the bowl game, and they did," Ferentz said. "Gavin has got a certain maturity about him for a guy his age, and he really hasn't played all that much as a running back, but just you feel confident."
Big No. 25 is the Hawkeyes' leading-returning rusher. He has a downhill running style that makes him a natural at steamrolling defenders on the gridiron. However, No. 4 is more of a slasher, with great cutback ability and describes himself as a playmaker. He's also elusive and dangerous out in space. Those qualities have Ferentz optimistic about Iowa's rushing attack this fall. It's like Gavin is the thunder and Leshon is the lightning. And together they're trying to storm on defenses.
"Feel good about both those guys and they're both improving," the 66-year old coach said. "Leshon has really grown a lot, too, especially in the last 12 months, so I think we have a good one-two punch there."
Iowa was abysmal at running the ball last season. It's tough to argue against that when the Hawkeyes finished 11th in the league in rushing offense. It's something that has the intensity high in the running back room. Not to mention the players want to prove that last year's numbers were a fluke, especially Leshon.
"I feel like everybody got a better understanding of their assignments, everyone is more tuned in because there's a narrative going around that we struggled running the ball," he said. "I think everybody is playing with a chip on their shoulder, and we all got something to prove."
The Chicago native is still good friends with Goodson, and they talk to each other on a weekly basis. He learned a lot of quality habits from Goodson as far as work ethic, studying opponents and dieting. Leshon also believes Goodson was the hardest working teammate he's ever been around. So now that Goodson set the bar high after his 1,000-yard campaign, Leshon plans on living up to the expectations. Which means no fumbling, better blocking and always getting stronger with every carry.
It all starts with the big boys up front though, and the Hawkeyes will have one of the most experienced offensive lines in the Big Ten West. He knows they're working hard in the trenches too. And that makes him and the rest of the running backs want to run harder. The former three-star prospect described the unit as a brotherhood because they push, support, teach and learn from each other. And that's what Ferentz expects out of his running backs.
"They have good personalities, they really learn well on the field and they both have some talent, too, which always helps."