Cooper Beebe proving he's as versatile as linemen come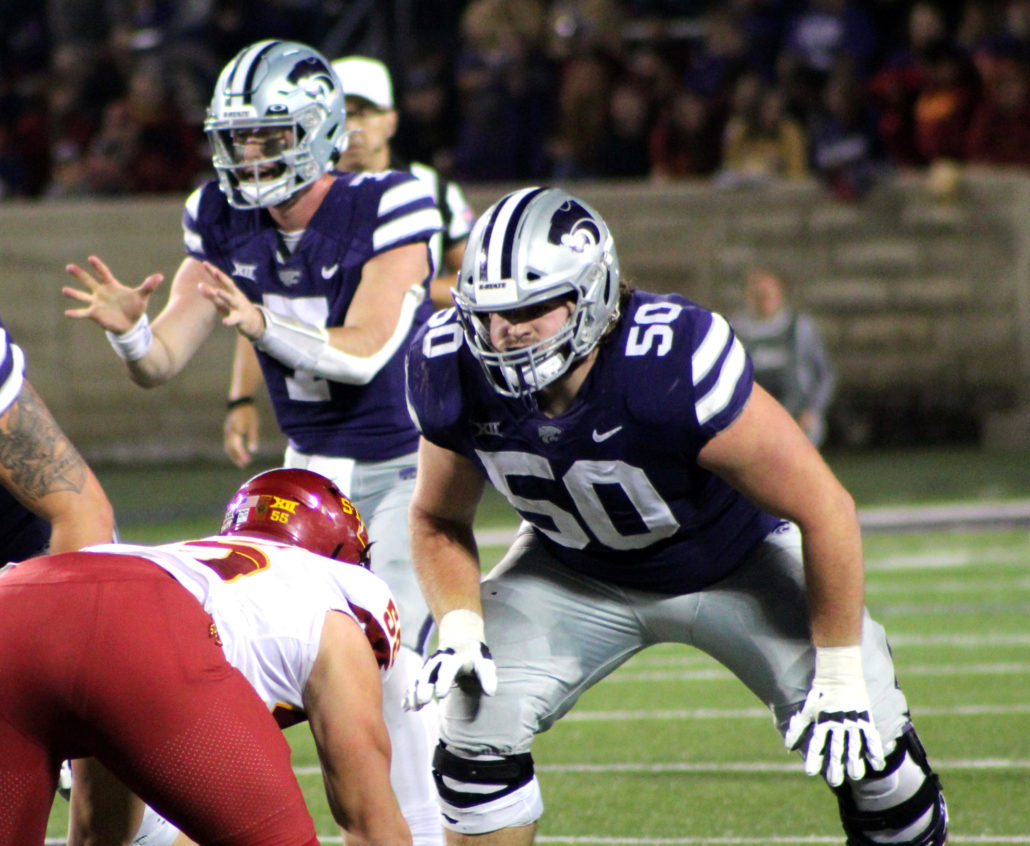 MANHATTAN, Kan. — Kansas State's All-Big 12 offensive lineman is preparing to anchor the big boys up front again this fall.
Cooper Beebe is no stranger to physicality and blue-collar football. After all, he has opened holes for ball carriers to run through and protected the quarterback's blind side for the past two seasons. During his time as a Wildcat Beebe has excelled at guard and tackle. That's why it was nothing for him to split time at the two positions.
New Offensive Coordinator Collin Klein has been installing his scheme since Kansas State's bowl game against LSU. And Beebe is encouraged that everything is starting to take flight midway through fall camp. He likes the intensity and the fact that everyone is dialed in, with hunger in their eyes.
"Just a whole new different approach, we're trying to run down people's throats if we can," Beebe said. "We're keeping defenses on their heels, we're pushing the tempo, we're going to make dudes quiz this year, and it's going to be fun to watch."
Although Beebe isn't a senior, he feels he's the veteran among the Wildcats' offensive line. So with that respect, he continues to raise the bar high for his teammates. To Beebe, there's nothing like pancaking and mauling defenders on the gridiron. The six-foot-four, 322-pounder is athletic enough to hold it down along the interior or on the edge. Not to mention Beebe played defensive tackle throughout his high school career.
Still, he knows there's a big difference with each position he plays, but feels natural at guard.
"I just think I'm more built for it, and I enjoy being inside," he said. "I enjoy manhandling dudes, and it's a little easier than going up against the quick guys on the outside."
And Beebe is all about getting it done in the trenches. However, he feels like the unit left some plays out on the field several times last season. Beebe felt if the offensive line would've held their blocks longer, more explosive plays would've happened. So the group has a different mindset this time around in terms of executing at the point of attack.
"I've seen in camp that dudes just want to finish more," the junior said. "They're buying in and giving it their all, and that's something I'm glad to see."
The former three-star prospect wants the offensive line to elevate their game in the red zone too. Coming up huge in the clutch, and converting third downs is what the Kansas City native takes pride in. That's because Beebe understands everything starts up front, and if they're not in sync, than it's a domino effect on the rest of the offense.
The transition has been smooth so far with Adrian Martinez at quarterback, and Beebe thinks he's faster than Skylar Thompson ever was. He wants the new gunslinger to feel comfortable, knowing he's receiving solid protection up front, and hand placement is vital.
Beebe is being proactive about the situation and striving to limit the fundamental mistakes among the group. Holding penalties, false starts and fumbled snaps are not an option. And he's not afraid to hold his teammates accountable when necessary. As a matter of fact, Beebe is embracing being the quarterback of the big boys.
"I'm the most experienced on the offensive line, and I think I've definitely stepped up in the role."