Sean Clifford preparing to silence all of his critics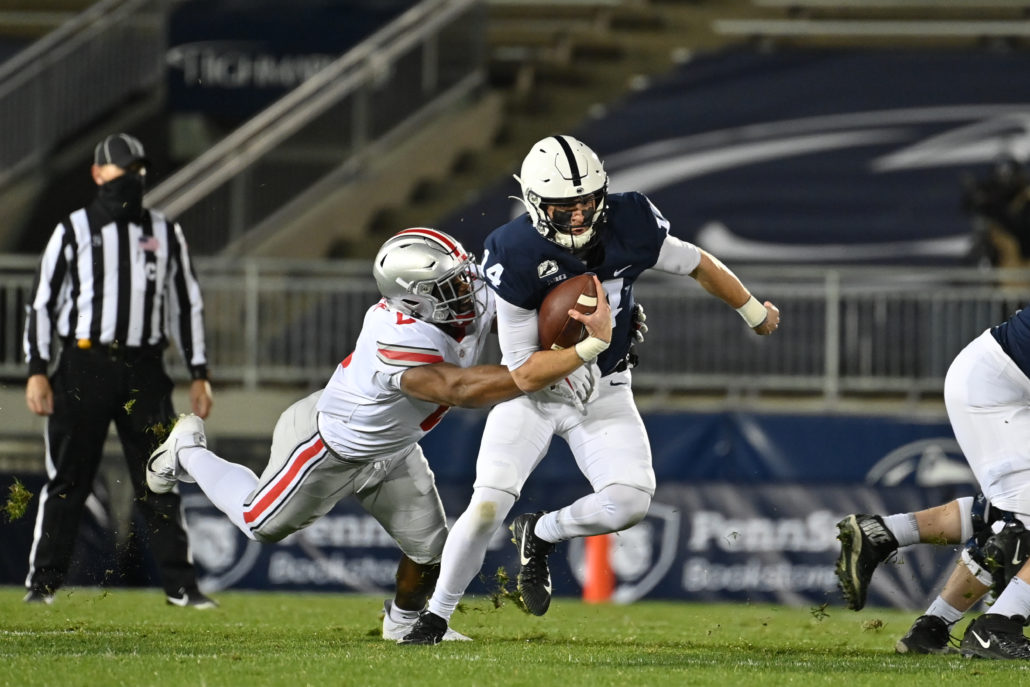 The quarterback is approaching his sixth season with Penn State and wants to change the narrative on his legacy.
Sean Clifford understands that Nittany Lion fans can be critical at times, especially when their team is losing. After all, Penn State is a historical blue blood program, with great tradition and two National Titles in the trophy case. So the bar was set pretty high decades ago.
Throughout his career, Clifford has been the shoulder of the blame for Penn State's shortcomings. That shouldn't come as a surprise, considering he's been the starting signal-caller for the past three seasons. Clifford even beat out Will Levis two year ago, who's now a star at Kentucky and projected to be a high pick in the 2023 NFL Draft.
Nittany Lion fans have been patiently waiting for Clifford to spread his wings as a leader and passer. To some, it seems like he's been stuck in neutral and hasn't progressed. Others are pointing Clifford's slow maturation process towards Coach James Franklin. However, they need to take into account that there's been a revolving door of Offensive Coordinators during Clifford's time as the starter.
Now the Cincinnati native is in his second year of Mike Yurcich's system. And fans are expecting drastic improvements after last year's mediocre numbers. Clifford doesn't feel any pressure though, because he doesn't worry about expectations.
"Realistically, it's just noise, so in the end I'm going to make sure we're taking care of business day in and day out," Clifford said. "And that's what really matters, because nobody on the field can make the decisions except us."
Clifford hates when fans trash talk his head coach on social media platforms. He understands it comes with the territory. It's no mystery that the Nittany Lions have lost six of their last eight games overall. That Big Ten Title that Franklin won during his third season on the job seems like ages ago now. Still, Clifford feels Franklin has done a ton for the program, and the best is yet to come.
"Back in the day when I met Coach Franklin, he's been the same then that he is now, and hasn't changed," he said. "It's a family atmosphere too, my brother is at the school, so Coach Franklin is as good as they come."
The gunslinger trusts his coach, and believes he'll put him in the best situations to be successful this fall. Clifford has racked up 7,644 yards through the air, 900 on the ground and scored 38 total touchdowns in his career. That's encouraging in his eyes, and he could potentially put up great numbers in 2022 if he stays healthy.
The blocking up front will have to improve drastically in order for Clifford to take that next step though. The offensive line allowed 32 sacks last season, which was the worst in the Big Ten. The rushing attack has nowhere to go, but up also, which will keep defenses from keying in on Clifford.
If there's more of the same from the offense this fall, the fans will definitely grumble. And Clifford has learned how to embrace that too.
"The fans, everybody, they add a lot of energy and support, and I love them for that," the 24-year old said. "But we got to make sure we're taking care of business on the field."
The national perception is that the Nittany Lions are still a mid-tier team in the Big Ten East. Penn State was even left out of the preseason AP Poll for the first time since 2016. Which means Franklin, Clifford and the rest of the team needs to prove the last two seasons have been a fluke. Clifford is rallying behind his coach too. And he can't wait to show how far the team has came over the past six months.
"That's why I'm so proud to be a Penn Stater, and be under the reign of Coach Franklin, because he's such a great coach."