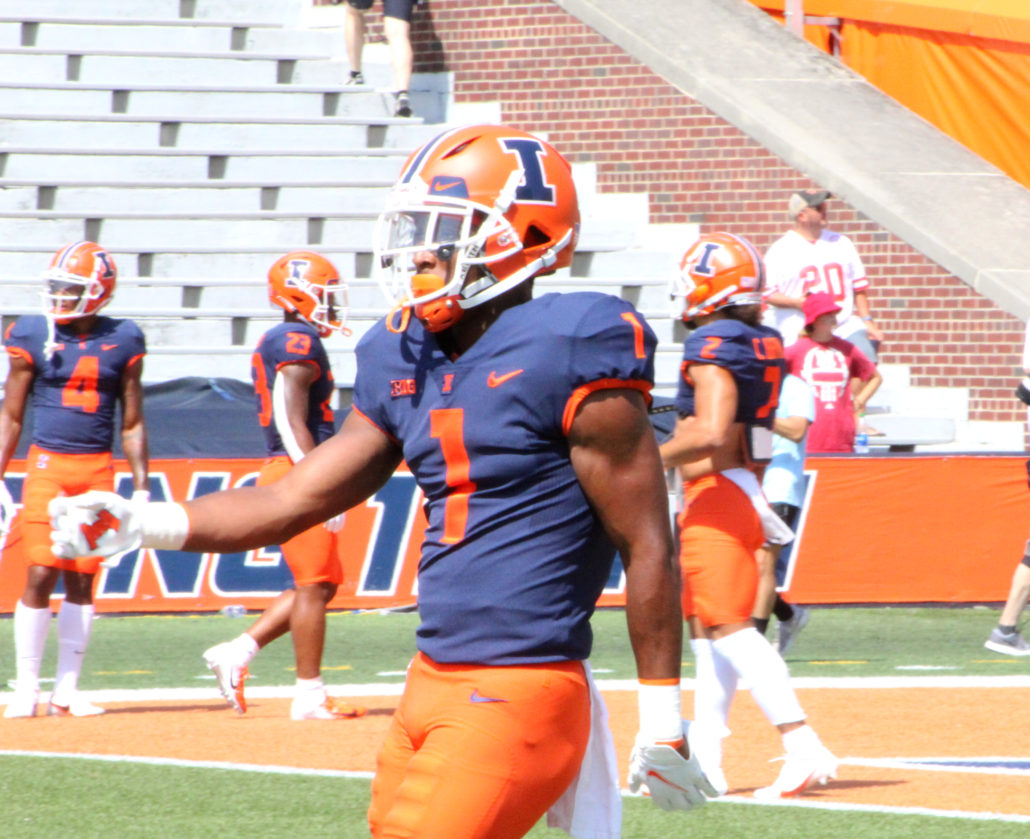 CHAMPAIGN, Ill. — Illinois' converted quarterback turned heads during his first full season as a wideout, and his coach think he's just cracking the surface.
Not only did Isaiah Williams lead the Fighting Illini in receptions and receiving yards in 2021, but he also tied for first on the team in touchdown catches. Coach Bret Bielema used his talents in several ways and Williams looked very promising in his eyes.
After all, he caught his first touchdown in the season-opening win over Nebraska. Not to mention the following week Williams hauled in a season-high, eight passes for 101 yards against UTSA. The 5-foot-10, 180-pounder left a lasting impression in the season finale win over rival Northwestern. Williams caught seven passes for 113 yards and scored twice against the Wildcats, including a 21-yard touchdown run.
His rare blend of speed and quickness allows him to stretch the field on defenses. Williams is also shifty out in space, making him a tough ball carrier to bring down. Bielema believes the St. Louis native has carried that momentum into fall camp, and he's loving the energy out of the wide receiver room.
"Isaiah has made a big jump I think from where he was a year ago at fall camp, to where we are right now in so many ways," Bielema said.
The team finished their second scrimmage on Monday and will begin prepping specifically for Wyoming Thursday. And Bielema is encouraged with the intensity from the wide receivers. Besides Williams, Pat Bryant, Brian Hightower and Casey Washington has all caught Bielema's attention in practice. He thinks the trio has had a good camp up to this point, with their catching, blocking and route-running.
They all witnessed how effective Williams was on the gridiron last season. And now they're grinding hard in hopes of having that same type of success this fall. Bielema is impressed with how Williams is making others around him better too. He's also evolving his skill set, and Bielema notices him improving different areas of his game along the way.
"Obviously wide receiver play, his ability to catch the ball, his demeanor and ability to lead, especially on the offensive side of the ball," the 52-year old coach said. "I give him a lot of credit on that."
Illinois finished dead last in the Big Ten and 122nd in the FBS in passing offense. So improvements must be made in order for the Fighting Illini to secure a winning campaign for the first time since 2011. However, new quarterback Tommy DeVito, who transferred from Syracuse, has provided a spark to Illinois' aerial attack.
Bielema is confident there's enough weapons around DeVito at the skill positions for the offense to make tremendous strides. All-Big Ten rusher Chase Brown will handle the bulk of the carries, but Bielema will find ways to get Williams more touches too. From reverses, to jet sweeps and even snaps out of the Wildcat formation. Bielema is expecting his star wideout to contribute in a variety of ways in order to score more points. Williams' value means that much to the Fighting Illini's offense. And Bielema expects him to spread his wings as a pass catcher.
"He has really taken a big step."