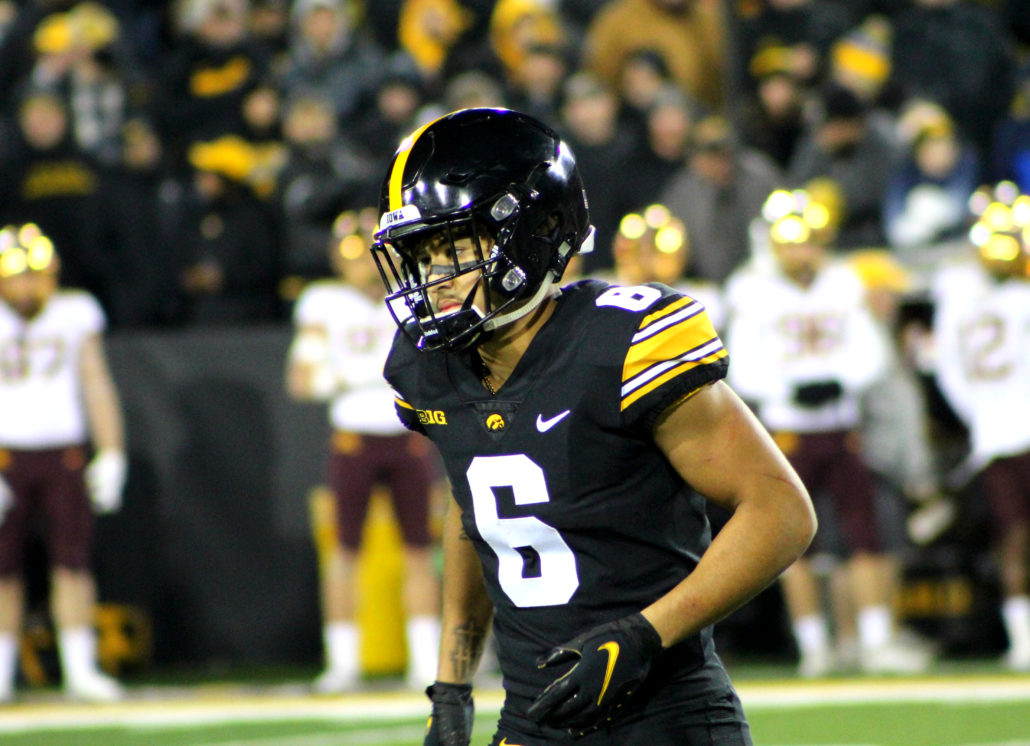 IOWA CITY, Ia. — The Hawkeyes' wide receivers are dealing with the injury bug as they navigate through fall camp.
It's already a position group that's in need of depth after Tyrone Tracy and Charlie Jones transferred over the offseason. As for on the field, bodies are dropping like flies for Iowa's pass-catchers. Diante Vines is out until late October after suffering a wrist injury. Not to mention Brody Brecht has missed an extended period of time.
Keagan Johnson, who's the Hawkeyes' most promising wideout, is dealing with an undisclosed injury that has him on the sidelines also. He got his feet wet as a true freshman last season, and averaged nearly 20 yards per catch. Johnson has the speed and athleticism to stretch the field on defenses, so he's very vital to Iowa's aerial attack. However, having him limited in practice while the quarterbacks are building chemistry with the healthy receivers, is all bad timing.
Coach Kirk Ferentz is hoping to get Johnson back to full strength as soon as possible, because he knows the value he brings to the offense as a whole.
"Keagan is working back, and I think he's close to being where he needs to be," Ferentz said. "In Keagan's case, he's played 12 games, 13 games, so he's got experience there, but you still have to play the game and practice."
Offensive Coordinator Brian Ferentz is working with the signal-callers and installing new passing schemes. It's been frustrating for Johnson not to participate in the physical drills like he wants to. Regardless, he still tries to contribute and help his teammates any way he can.
"One thing I learned at this level, is when someone gets injured things keep moving," Johnson said. "You don't have time to sit there and dwell on injuries."
Which is why the former four-star prospect is putting his best foot forward, and being proactive about the situation. He's still participating in film study, team meetings, and learning the playbook. Johnson strongly believes he'll be fully healthy by game one, which is less than three weeks away. There's no denying time is of the essence, and sooner or later Johnson is going to need to get into a rhythm with the rest of the gunslingers.
Fortunately for Johnson, he was thrown to the wolves last year. So adjusting on the fly is nothing new to him.
"Getting thrown out there in year one, at first you kind of do as your told, and follow the directions without understanding why you're doing certain things," he said. "Going into year two, you have a better understanding of why you're doing things and how the whole big picture works together as a offense."
Nico Ragaini and Arland Bruce have been holding it down for the wide receivers during Johnson's absence. His main focus right now is pass-catching, and expressing himself with being more of a vocal leader. Johnson normally leads by example, but he also wants to inspire and motivate the younger receivers.
Once he steps back on the gridiron though, Johnson plans on letting his actions speak louder than his words.
"My run after the catch is my strength, and I think I'm  a physical runner," the Omaha native said. "I'm just becoming a smarter receiver and understanding things exceptionally better."
Hawkeye fans can't wait to see what the true sophomore has in store for an encore this fall. And there's nothing like having a deep threat in the passing game to keep defenses honest. The six-foot-one, 194-pounder is anxious to show everyone that his 2021 campaign was no fluke, despite his injury slowing down the process. Regardless of the matter, Johnson is starting to see light at the end of the tunnel as the Hawkeyes inch closer to kickoff.