Phillip Brooks realizing his value in Wildcats' new offense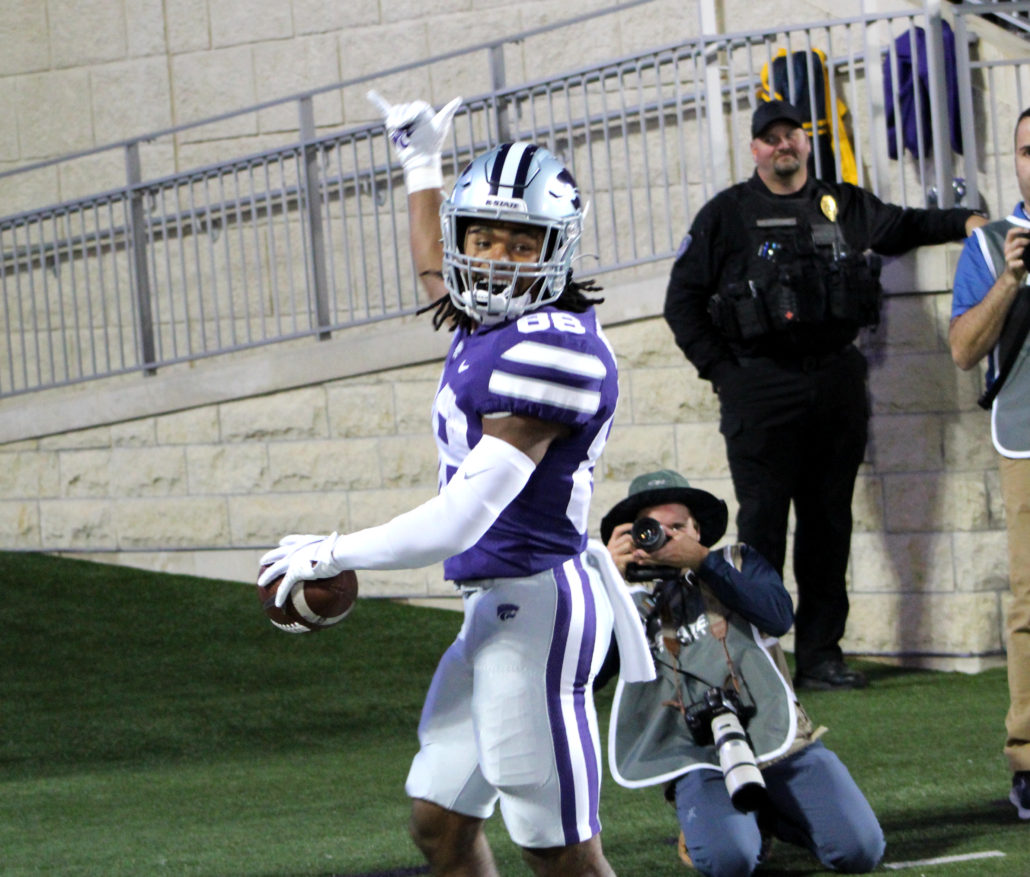 MANHATTAN, Kan. — Kansas State's senior wide receiver is finding his groove with the new scheme and concepts.
Collin Klein is the third Offensive Coordinator Phillip Brooks will be learning from since he's been a Wildcat. That's a lot to digest for any student-athlete, but the senior is encouraged by the smooth transition in fall camp. In Brooks' eyes, it feels like a fresh start, and he has even changed his jersey number.
Now Brooks will be rocking No. 8 this fall, and he's preparing to amplify his game in Klein's offense. Not only is he the veteran of the wide receiver room and mentoring the youngsters along the way, but Brooks will also be resuming punt return duties. After all, he has returned three for touchdowns in his career. Not to mention he earned first-team, All-Big 12 honors as a return specialist in 2020.
The Kansas native loves the fact that he's evolving as a pass catcher, and he'll be contributing to the team in a variety of ways.
"We're running a mixture of tempo, and me knowing the plays and being the veteran guy, I'm just making sure everybody else knows the plays," Brooks said. "My biggest asset is my quickness and speed, so I'm just helping with that when it comes to underneath routes and getting open in space."
Although Brooks is small in stature, standing five-foot-seven and weighing 169 pounds, he makes up for it with his explosiveness. He has the athleticism to hurt defenses out of the slot, and can stretch the field. Brooks' numbers are solid too, with 84 career receptions for 951 yards and five touchdowns. That's not too shabby for a player who had no stars behind his name out of high school.
Brooks' journey up to this point has been all about hard work and persevering. So soaking up a new playbook is like a walk in the park for the wideout. Despite the learning curve, Brooks understands what he brings to the table for the offense to be successful, and he takes pride in his skill set.
"Making moves after the catch, that's my contribution," he said. "Catching punts as well, and being a return threat."
Everyday Brooks is building chemistry with new quarterback Adrian Martinez, who lives down the street from him. The two watch film together almost every morning, arrive and leave the team facilities at the same time. Brooks feels that bond off the field will help with the rhythm and connection on the gridiron.
The 22-year old even did his homework on Martinez' career at Nebraska. Fellow wide receiver Kade Warner gave Brooks the lowdown on Martinez because he was a former Husker with him two years ago. So far Brooks thinks the signal-caller is real, relaxed and down to earth. And that's the type of personality the Wildcats welcome in their locker room.
At this point in fall camp, Brooks is proud to see Kansas State's growth on offense since Klein installed the new packages over the spring. Which is why he strongly believes they're going to surprise a lot of teams this fall. And he's confident this will be his breakout campaign catching the pigskin.
"I just feel like every year I'm getting better, and I feel like this is my best year at receiver."