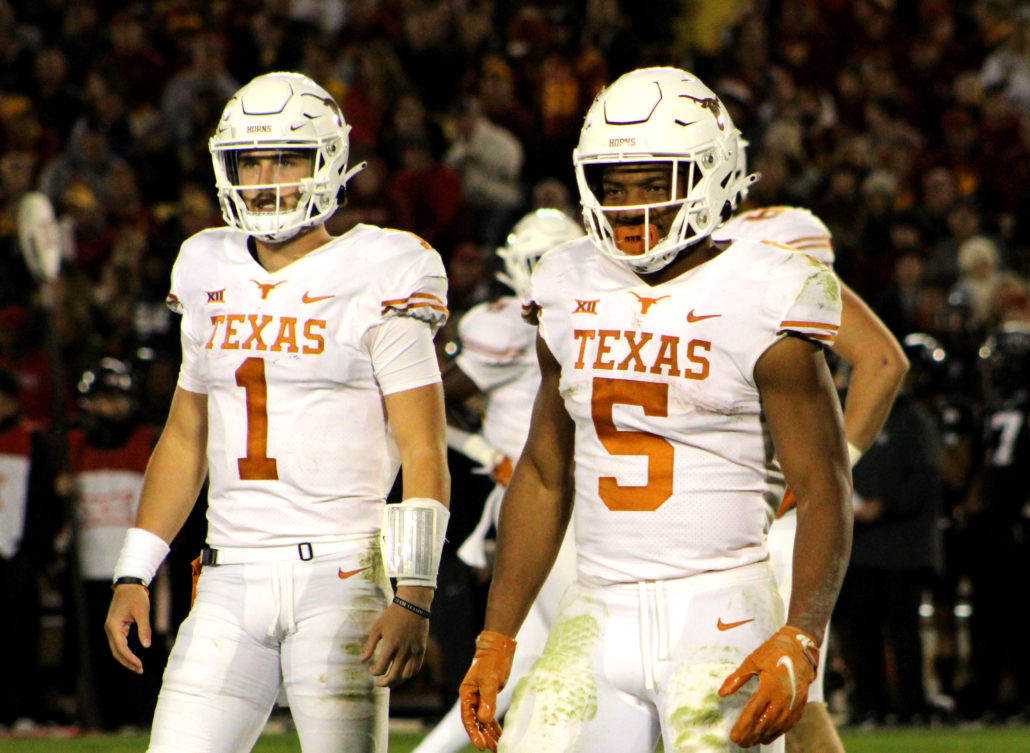 Steve Sarkisian's second season got off to a rough start during Monday's scrimmage.
The fact that the Longhorns are coming off their second-straight losing campaign, means the urgency in fall camp is through the roof. However, all of the intensity and physicality is starting to take its' toll on the players. Not only did Sarkisian lose one of his star wide receivers for the rest of the season, but he'll also be without a veteran starter on the offensive line.
Isaiah Neyor arrived in Austin with a lot of hype behind his name. After all, he led the Mountain West in touchdown catches at Wyoming last season. Not to mention the former two-star prospect earned first-team, All-Mountain West honors. Neyor was supposed to be a dynamic duo alongside fellow wideout Xavier Worthy. Instead he's going to be sidelined for the next few months rehabbing his ACL.
The injury bug also hit Junior Angilau, who's been anchoring the big boys up front for quite some time. The senior offensive guard has a jaw-dropping, 34 starts under his belt, so there's no denying his leadership, experience and production is priceless.
It's all bad timing for an offense expecting to make strides in year two. Sarkisian is still trying to find out who's going to be his starting quarterback for the season-opener against Louisiana-Monroe. Freshman Quinn Ewers arrived on campus with more hype than Chris Simms. Hudson Card played in eight games last year, including two starts.
Although the loss of Worthy and Angilau will have a domino effect on the gunslingers and the rest of Texas' offense, their injuries happened early enough in fall camp to make adjustments. And there's nothing like that next man up mentality. Still, this is a time when team depth comes into play.
Sarkisian doesn't want to play musical chairs again like he did last year with Card and Casey Thompson. And his decision could potentially be the difference with winning nine games or losing seven this season. Time will tell whether the 48-year old coach will give the Ohio State transfer the nod, or the seasoned sophomore.
On the bright side for the Longhorns' offense, Sarkisian still has arguably the nation's best offensive weapon in rusher Bijan Robinson. Having Robinson in the backfield will keep defenses from keying in on the quarterback. And the All-Big 12 running back can take it to the house from anywhere on the field.
Robinson's teammate Roschon Johnson is also a dangerous weapon out of the backfield, and has the talent to start for several other Power Five programs. The two backs are e a dynamic duo, and form one of the best tandems in the nation.
Texas fans are still expecting offensive fireworks, despite the recent injuries. That's because Sarkisian has a bright offensive mind, and he's a credible play-caller. Time is of the essence for a team that has lost six of their last seven games overall. Sarkisian is no stranger to adversity though, and he'll have those holes patched up by September. Game one is expected be a glorified scrimmage, but week two against Alabama will be the ultimate measuring stick for Texas' offense.
Longhorn fans are hoping the injuries are just minor setbacks, and that their team is still one of the most underrated groups for 2022.