Xavier Hutchinson excited for final year with Cyclones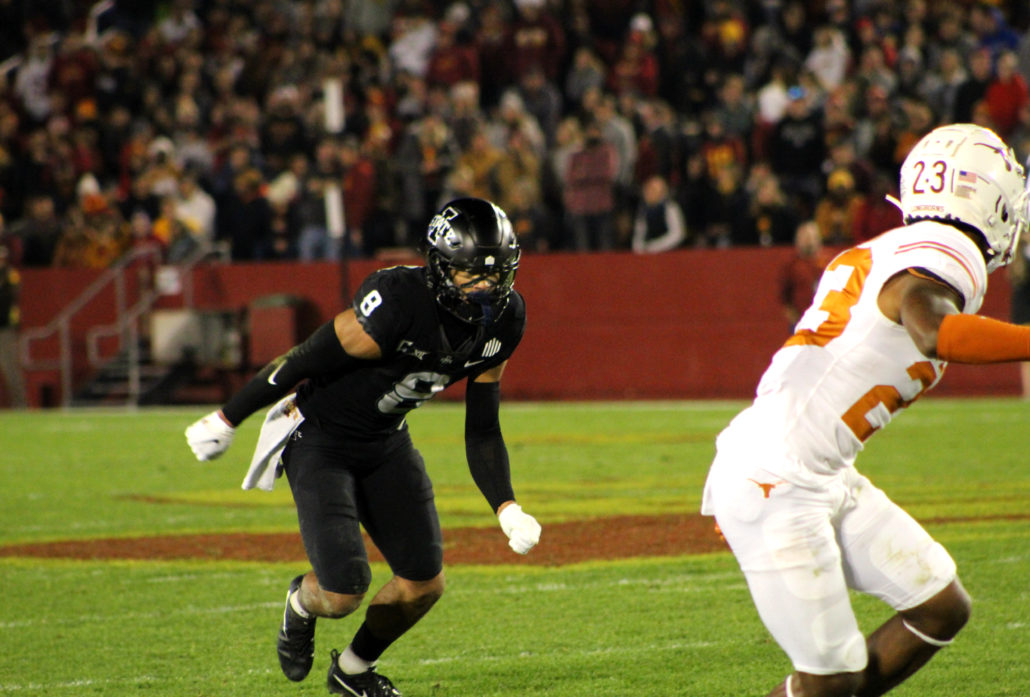 AMES, Ia. — Iowa State's senior wide receiver is looking forward to a highly-anticipated 2022 campaign.
After all, Xavier Hutchinson has made a name for himself in the Big 12 over the past two years he's been in Ames. Not only is he a two-time, first-team, All-Big 12 performer, but Hutchinson also set a single-season, school record, with 83 catches in 2021.
Hutchinson was the league's Offensive Newcomer of the Year in 2020 too. Not to mention he has led the team in receptions and receiving yards ever since he became a Cyclone. The former three-star prospect is proud of his journey, considering he came from the Juco ranks and made it this far at Iowa State. Which is why Hutchinson remains humble and doesn't take anything for granted.
"Nobody ever takes a normal path to get to where they are, and I had to work through the hard way," Hutchinson said. "I had to go through junior college, but I just thank myself for never giving up every single day that I felt bad, to just keep pushing, because I knew there'd be brighter days."
The Jacksonville native has been working on his game constantly all offseason, including polishing his routes. Although Hutchinson wants to catch more deep balls, he's all about moving the chains. Being a possession receiver and effective blocker is what he takes pride in. The Cyclones' offense operates with a balanced attack, so when it's an obvious passing down, he wants the ball in his hands.
"I think one of my strengths is running after the catch, I'm just a guy who can kind of have the ball" the 22-year old said. "I try to improve on my pace and route-running, but not every route has to be ran full speed."
Hutchinson and former quarterback Brock Purdy had a great connection on the gridiron, and their numbers don't lie. However, there's going to be a new gunslinger behind center this fall, and the wideout is looking forward to building chemistry with whomever Coach Matt Campbell names his starter. Having no Charlie Kolar around means Campbell will likely increase Hutchinson's workload. And that's a scary thought for opposing secondaries.
The six-foot-three, 205-pounder is usually a mismatch one-on-one with a defensive back out in the open field. Hutchinson trusts in himself, and wants the coaching staff and new quarterbacks to trust in him also. He's the veteran in the wide receiver room, and feels like the unit is a close-knit group. Hutchinson often times find himself describing his fellow pass catchers as family, despite all of the new faces. He's enjoying mentoring the youngsters and leading by example on and off the field.
Hutchinson's buzz has gained a lot of traction as the season approaches. He needs 95 catches this fall to surpass Allen Lazard and become Iowa State's career leader. That's a feat Hutchinson can definitely accomplish, especially since he increased his production every year in the cardinal and gold. His jaw-dropping, 147 catches in just two years, makes his stats even more impressive.
The Big 12 is full of talented defensive backs though, who'll be looking to knock him off his routes in bump and run coverage. And Hutchinson will have a target on his back. Still, he's ready for whatever comes his way and is no stranger at responding to adversity. Iowa State fans can't wait to see his heroics next month, and the receiver is planning on delivering the goods.