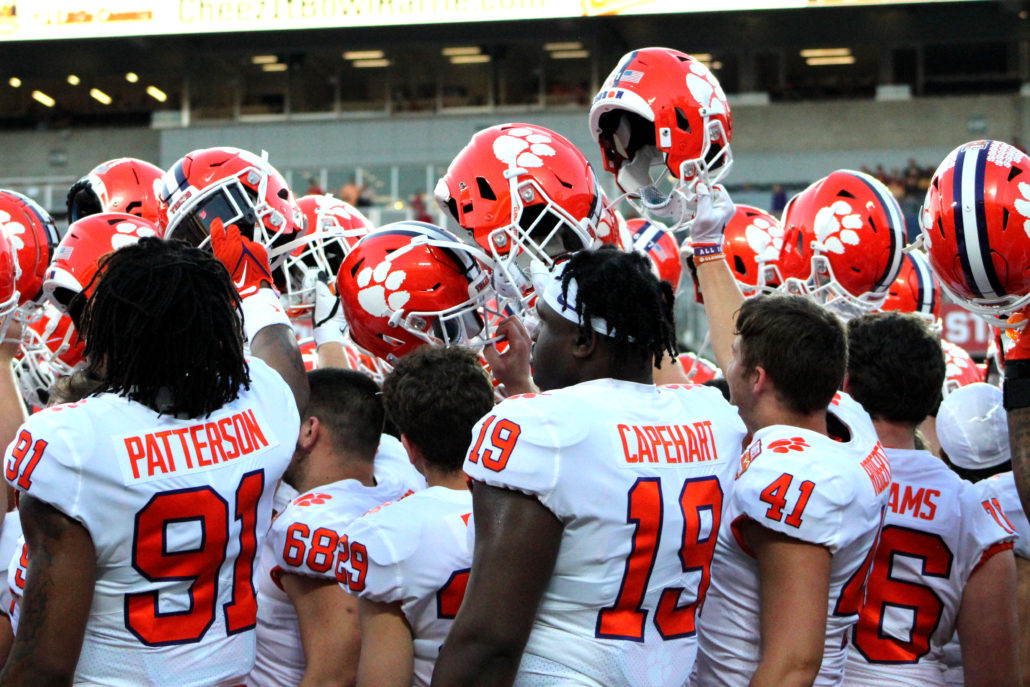 Last season was the first time the Tigers loosened their grip on the ACC in nearly a decade.
Very few programs in the country would consider a 10-3 campaign a down year, and Clemson happens to be one. Coach Dabo Swinney has raised the bar so high after all of his success with the Tigers, that it's pretty much National Title or bust.
And rightfully so, considering what he has accomplished with his 98-20 record against conference foes. Not to mention all of the hardware in the Tigers' trophy case, including two Nattys and a jaw-dropping, seven ACC Titles. It's crystal clear the 52-year old has ruled the league with an iron fist. The ACC as a whole in football is nationally perceived as Clemson and the other 13 teams. With the way Swinney annually recruits, the Tigers don't rebuild, they reload. Which is why his boys are expected to bounce back in a big way this fall.
And the schedule is a cakewalk leading up to the showdown against Notre Dame in South Bend. The road trip to Wake Forest doesn't look as challenging now with Sam Hartman sidelined. On paper NC State is a threat, but has to come to Death Valley, where it hasn't won a Textile Bowl since 2002.
The preseason AP Poll was released Monday morning, and contained five ACC programs, including Clemson at No. 4. It seems deserving because the Tigers are a perennial top-five team, but premature when considering they'll have two new Coordinators. Still, Swinney will field one of the nation's best defenses, especially along the defensive line.
Although edge rusher Xavier Thomas will be out for the next six weeks while he rehabs a foot injury, the rest of  the group is ready to wreak havoc on quarterbacks and ball carriers. Myles Murphy, Bryan Bresee and Tyler Davis are the best at their respective positions. They could potentially be as good as the 2018 unit that contained Christian Wilkins, Colin Ferrell and Dexter Lawrence.
Not to mention linebacker Trenton Simpson is due for an All-ACC caliber season. After all, Simpson finished second on the team in tackles for loss and sacks last year. Safety Andrew Mubuka is the enforcer in the secondary, and is coming off a third-team, All-ACC campaign.
However, the offense was a liability last year, and there's still some uncertainty at the quarterback position. DJ Uiagalelei struggled to live up to the hype, and threw nine touchdowns to go along with 10 interceptions in his first season as a full-time starter.
The former five-star prospect took the shoulder of the blame after Clemson failed to clinch the Atlantic division for the first time since 2014. Uiagalelei shedded some pounds over the past six months, but didn't look much improved in the Tigers' spring game. Now he'll be pushed throughout fall camp by another five-star in true freshman Cade Klubnik. The big boys up front blocking will help the situation because they have a lot of experience, especially Jordan McFadden.
The backfield should be a strength with Will Shipley handling carries. He's coming off a promising true freshman campaign, when he led Clemson in carries, rushing yards and touchdowns on the ground. Shipley missed the spring game because of a foot injury, but he's back fully healthy and participating in practice.
The cherry on top for Swinney is having senior kicker B.T. Potter back. The South Carolina native led the Tigers in scoring and made all 38 of his extra point attempts last season. Potter also finished the year with 21 field goals and earned second-team, All-ACC honors. Now he needs to nail 20 more field goals this fall to become Clemson's all-time leader.
With all of that experience, leadership and production returning for the Tigers, it's a no-brainer as to why they're a top-five team approaching the season. And Clemson is out to prove last season was just a hiccup for what's coming over the next three months.