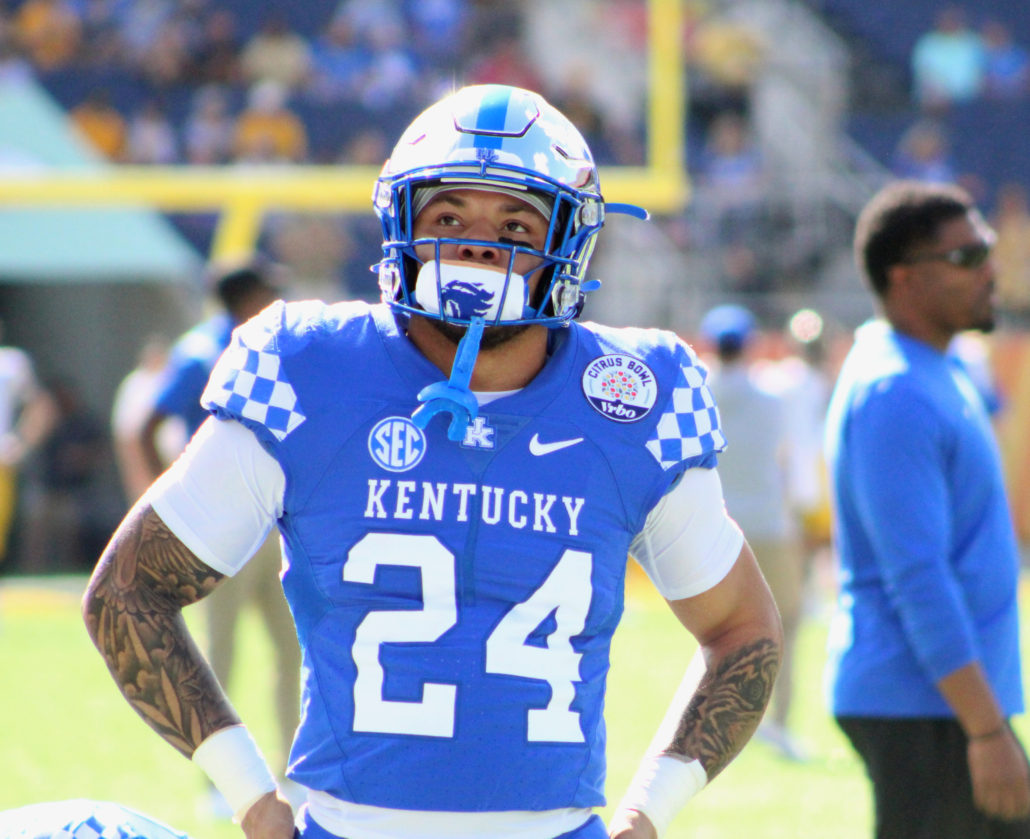 There's nothing like climbing up and reaching the mountaintop.
The journey brings along fans, notoriety and could potentially turn into a Heisman campaign. Breaking career records is very rare in today's game because of the transfer portal, lucrative NIL deals and the lure of the NFL.
However, the pandemic year didn't count towards players' eligibility. Now these 20 student-athletes are all within striking distance of breaking career records in some major categories at their respective programs in 2022. Not to mention they'll pass up some of the biggest names in the history of the sport along the way.
By accomplishing these major feats for the upcoming season, they'll be able to cement their legacies in College football lore.
Taulia Tagovailoa, QB, Maryland: He's coming off a monster campaign, and set a single-season school record with 3,860 passing yards. Not only did Tagovailoa finish fourth in the Big Ten with 26 touchdown tosses, but he was 13th in the country in passing yards per game. He also earned third-team, All Big Ten honors. The Hawaii native left a lasting impression after he torched Virginia Tech's defense in Maryland's first bowl win since 2010. Now Tagovailoa is approaching his third season as the Terrapins' starter and needs 2,431 passing yards and 17 touchdown tosses this fall to become the program's all-time leader. It helps that he'll have star wideout Dontay Demus back in his arsenal.
A.T. Perry, WR, Wake Forest: The Florida native put together a monster campaign in 2021. Not only did Perry finish third in the country with 15 touchdown catches, but he also generated 1,235 receiving yards and earned first-team, All-ACC honors. Over the past two seasons with Wake Forest Perry has hauled in 17 touchdown passes. In order to surpass Ricky Proehl and become the Demon Deacons' all-time leader in receiving scores, Perry will need to catch nine touchdowns this fall. That shouldn't be too hard for Perry to accomplish, considering he's a matchup nightmare with his six-foot-five frame. Not to mention he'll have one of the nation's best gunslingers throwing him the ball in Sam Hartman.
Dorian Thompson-Robinson, QB, UCLA: He has been at the helms of the Bruins' offense for the past four seasons, making him the Pac-12's most-experienced quarterback in 2022. Chip Kelly obviously trusts Thompson-Robinson, considering he's been the starter his entire tenure at UCLA. The Las Vegas native has already thrown for 7,541 yards and 61 touchdowns. Thompson-Robinson even holds the program's single game record for total yards. Now the 22-year old is poised to catapult to the top of the Bruins' record books this fall. Thompson-Robinson will need 3,168 passing yards, 15 touchdown tosses, and 28 total scores in order to be numero uno at UCLA in those major categories.
Mohamed Ibrahim, RB, Minnesota: Coach P.J. Fleck described him as a rolling bowling ball with razor blades on the side. And that's what Ibrahim has been to defenders across the Big Ten throughout his career. Ibrahim was well on his way to another monster campaign until he ruptured his achilles in last year's opener against Ohio State. However, the 5-foot-10, 210-pounder will be back on a mission this fall. The former Big Ten Running Back of the Year is the only returning rusher in the league with two 1,000-yard seasons under his belt. Now Ibrahim needs 1,516 yards on the ground, and eight rushing touchdowns in order to shatter school records that were set by Darrell Thompson back in 1989.
Bryce Young, QB, Alabama: The Californian broke single-season school records for passing yards and touchdown tosses in 2021. Young also became the Crimson Tide's first-ever signal-caller to win College football's most prestigious award, plus he took home the Davey O'Brien hardware. After all, the former five-star prospect led the Power Five with 4,872 yards through the air and 47 touchdown passes. Now Young needs 3,992 passing yards this fall to break A.J. McCarron's record. Not to mention Young needs 40 touchdown tosses to snatch Tua Tagovailoa. Although Young won't be throwing to John Metchie and Jameson Williams, he'll have a plethora of weapons to accomplish that milestone.
B.T. Potter, K, Clemson: The 22-year old has had a very productive career with the Tigers. Not only did Potter lead Clemson in scoring last year, but he also nailed all 38 of his extra point attempts. The South Carolina native finished his 2021 campaign with 21 field goals and earned second-team, All-ACC honors. Not to mention Potter connected on four field goals in the victory over Boston College and had a 51-yarder in the bowl win over Iowa State, which were both season-highs. Potter has proven time after time that he can deliver in the clutch. Over the past four seasons at Clemson Potter has made a jaw-dropping, 53 field goals. Now he needs 20 more this fall to become the Tigers' all-time leader.
Bumper Pool, LB, Arkansas: The Texas native is the heart and soul of the Razorbacks' defense. Pool is coming off back-to-back seasons of 100-plus tackles. Not to mention he led the Hogs in stops in 2021, and tied for second on the team in tackles for loss. The six-foot-two, 232-pounder's production is second to none, which is why Pool averaged 9.6 stops per game and earned second-team, All-SEC honors. Over the past four seasons with Arkansas, Pool has racked up a jaw-dropping, 349 tackles. Now all Pool needs is 60 stops this fall to become Arkansas' all-time leading tackler. That's mind-boggling, considering Pool will accomplish that feat in arguably the toughest division in all of College Football.
Grayson McCall, QB, Coastal Carolina: He has led the Chanticleers to back-to-back 11-win campaigns. McCall finished No. 1 in the nation in passing efficiency in 2021. Not only did he throw for 27 touchdowns, but he was also named the Sun Belt Player of the Year for a second-straight season. McCall tied a single-game school record with five touchdown passes in the victory over Texas State. The 21-year old even signed an NIL deal with Tom Brady this past December. Now McCall is approaching his redshirt junior campaign as one of the best quarterbacks in the country. The six-foot-three, 210-pounder will need 19 touchdown passes this fall to surpass Alex Ross as Coastal Carolina's top gunslinger.
Christopher Rodriguez, RB, Kentucky: He's the SEC's leading returning rusher, but will likely sit out some games this upcoming season after a DUI arrest last month. Regardless, Rodriguez is productive enough to deliver the goods in limited action. After all, he has rushed for 2,697 yards and 26 touchdowns over the past three seasons. Rodriguez has also eclipsed the century mark in rushing 15 times in his career at Kentucky. Not to mention his 2021 campaign ended with second-team, All-SEC honors. Now the Georgia native needs 1,134 yards on the ground this fall to break Benny Snell's record for the top spot. It'll be a tall mountain to climb if he's suspended for the first four games in September.
Malik Cunningham, QB, Louisville: The former four-star prospect is coming off a spectacular campaign in which he scored 39 total touchdowns. Cunningham hasn't made Cardinal fans forget about Lamar Jackson, but he's on his way to breaking the legendary quarterbacks' records this fall. He has thrown for a jaw-dropping, 7,619 yards and 61 touchdowns over the past three seasons. Cunningham also rushed for 2,122 yards and 33 touchdowns during that span. The 23-year old is approaching his redshirt senior season looking to carve his name in Louisville lore. He'll need 23 touchdown tosses, 13 rushing scores and 2,461 yards of total offense to be numero uno in those categories.
Xavier Hutchinson, WR, Iowa State: The former Juco set a single-season record for the Cyclones when he racked up 83 catches in 2021. Over the past two seasons Hutchinson has led Iowa State in receiving yards and receptions. The two-time, All-Big 12 performer stockpiled a jaw-dropping 147 catches during that span. Hutchinson also caught 19 more passes last year than he did in 2020. In order to become No. 1 Hutchinson will need 95 receptions this fall to surpass Allen Lazard. Although Hutchinson is capable of accomplishing that task, he'll have a new quarterback throwing him the ball. Regardless, Hutchinson is Iowa State's go-to receiver, and by late November he'll be within striking distance.
Sean Clifford, QB, Penn State: The former four-star prospect has three years worth of starting experience. During that span Clifford threw for 7,644 yards. He's already the Nittany Lions' active career leader in completion percentage. The 23-year old is approaching year two in Mike Yurcich's system, which should help his numbers. However, Penn State's offensive line will need to keep Clifford upright and healthy after allowing 32 sacks last year, which was the worst in the Big Ten. Clifford needs to throw for 2,061 yards, 16 touchdowns and complete 114 passes this fall to surpass Trace McSorley's numbers. Not to mention Clifford will need to attempt 231 passes to eclipse Christian Hackenberg's mark.
Harrison Mevis, K, Missouri: The Indiana native ranked second in the SEC and fifth in the FBS in field goals per game in 2021. Not only has Mevis nailed 40 field goals over the past two seasons, but he hasn't missed an extra point during that span. The former three-star prospect is also coming off a first-team, All-SEC campaign. Not to mention Mevis is money inside the 40-yard line, and has tremendous leg power. With a new quarterback at the helms, and no Tyler Badie in the backfield to handle the workload, Missouri will likely call on Mevis' number a lot this fall. So the former three-star prospect could realistically nail the 28 field goals needed to surpass Andrew Baggett as the Tigers' all-time leader.
Sam Hartman, QB, Wake Forest: Last year he broke single-season school records when he threw for 4,228 yards and 39 touchdowns. Hartman led the Demon Deacons to 11 victories, earned second-team, All-ACC honors and scored a jaw-dropping, 50 total touchdowns. He's already the school's active career leader in touchdown tosses and total offense. Hartman tied a single-game record with five touchdown passes apiece against Army and North Carolina. The 22-year old is approaching his redshirt junior season with another record in sight. Hartman only needs 497 passing yards to surpass Riley Skinner. With the return of star receiver A.T. Perry, Hartman should reach that mark in week one.
Carlton Martial, LB, Troy: Although he only stands five-foot-nine, and weighs 210 pounds, Martial is a bowling ball of hate on the gridiron. Up to this point he has defied all odds and been one of the most productive linebackers in the country. Not to mention Martial is coming off three-straight seasons of 100-plus tackles. His 2021 campaign included 127 stops, and first-team, All-Sun Belt honors. Martial even finished sixth in the FBS in tackles per game. Despite the impressive numbers throughout his career, Martial has never been named the Sun Belt Defensive Player of the Year. Still, Martial has generated 430 stops with the Trojans, and needs 134 this fall to become the program's all-time leading tackler.
Will Rogers, QB, Mississippi State: He's a perfect example of how Mike Leach's Air Raid offense is taking flight in the SEC. Rogers broke single-season school records for completions, passing yards and touchdown tosses in 2021. Not to mention he led the almighty SEC in passing yards per game. The Mississippi native finished second in the league and seventh in the FBS with 36 touchdown passes. Rogers also threw for 255 yards and a score in Mississippi's spring game. Now Rogers is approaching his third season as the Bulldogs' starter and poised to shatter additional records. He'll need 2,662 passing yards and 16 touchdown tosses to break Dak Prescott's career record in both categories.
SaRodrick Thompson, RB, Texas Tech: The Red Raiders gained notoriety through the years because of their potent passing attack. However, the program has had some talented rushers along the way. Thompson led Texas Tech with 10 rushing scores in 2021. The Texas native rushed for 118 yards and three touchdowns against TCU, which were both season-highs. Not to mention he has 33 rushing touchdowns over the past five seasons. Although Thompson split carries with Tahj Brooks during spring ball, he still has leadership, experience and production on his side. Now Thompson needs 18 rushing touchdowns this fall to surpass Taurean Henderson's mark that was left back in 2005.
Brennan Armstrong, QB, Virginia: The Ohio native led the ACC in passing yards last season. Armstrong broke single-season school records when he threw for 4,449 yards and 31 touchdowns. Not to mention Armstrong shattered Virginia's single-game record with 554 passing yards at North Carolina. He capped off his stellar campaign with third-team, All-ACC honors. Now the 22-year old is looking forward to building on his success with a monster senior year. Armstrong will only need to throw for 679 yards and six touchdowns this fall to become the Cavaliers' all-time leader in both categories. Having 1,000-yard receiver Dontayvion Wicks back should make that an easy task to accomplish.
Andre Carter, LB, Army: The Texas native led the Black Knights in tackles for loss and sacks last season. Carter ate quarterbacks for breakfast and finished No. 1 in the country in sacks per game. He had three sacks apiece in victories over Georgia State and Massachusetts, plus he made the quarterback eat grass twice at Ball State. Not to mention Carter earned third-team, AP All-America honors. The six-foot-seven, 250-pounder has generated 16.5 sacks in just two seasons with Army. Now Carter needs to put the quarterback to the turf 13 times this fall to become the Black Knight's all-time sack leader. With his toughness and instincts, Carter is more than capable of accomplishing that feat.
Tanner Mordecai, QB, SMU: The former Oklahoma Sooner made a name for himself last year with the Mustangs. Mordecai raised eyebrows across the AAC when he threw for a single-season, school record, 39 touchdowns. His seven touchdown tosses in the win over Abilene Christian was a single-game record. Not to mention Mordecai capped off his spectacular campaign with second-team, All-AAC honors. Now the 22-year old is looking to build on the buzz approaching his second season as SMU's starting quarterback. Mordecai needs 33 touchdown passes this fall to break Ben Hick's record. He should be able to deliver despite operating under a new head coach and Offensive Coordinator.