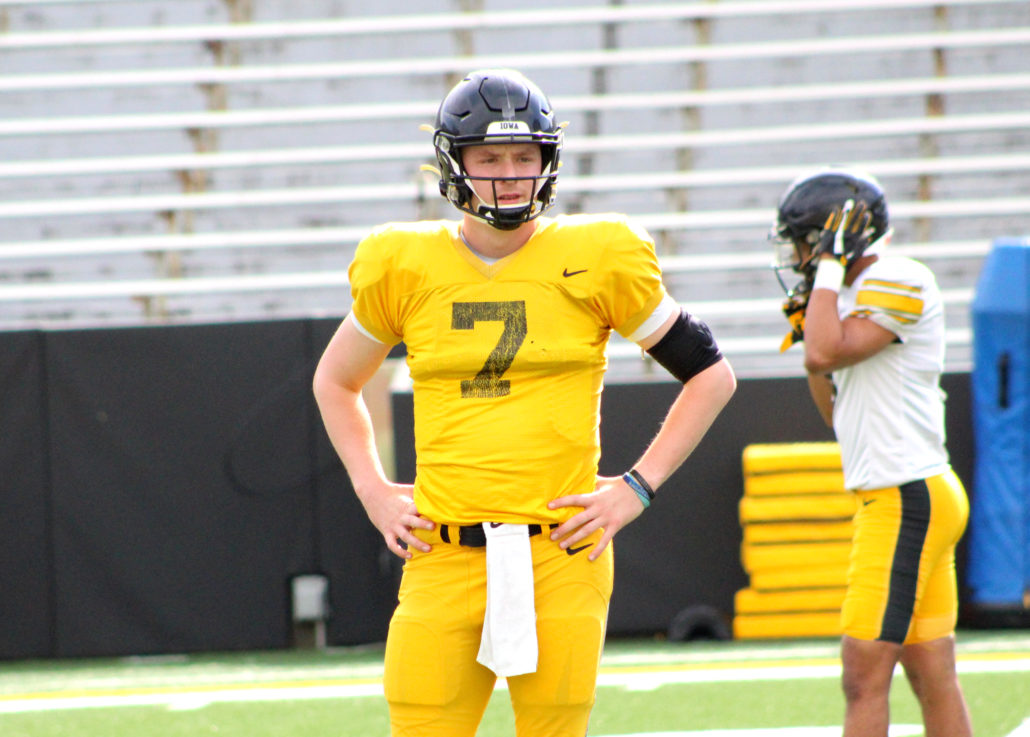 IOWA CITY, Ia. — As a freshman he witnessed quarterback Nate Stanley take the shoulder of the blame for Iowa's offensive struggles.
Spencer Petras quickly learned how to respond to adversity. After all, his journey to becoming a two-year starter for the Hawkeyes has been all about perseverance. Quarterbacks are usually the heroes and get all of the credit when a team wins. However, whenever it's time to take that walk of shame back to the locker room, the signal-callers are often the scapegoat.
Petras experienced some of those ups and downs last season. The Californian looked spectacular in the road victory at Maryland, when he threw for 259 yards, three touchdowns and no interceptions. Hawkeye fans were raving about how Petras had turned the corner. Two games later though, Purdue stormed into Kinnick Stadium and delivered a beatdown. Petras arguably had the worst performance of his career, with no touchdown passes and four interceptions.
That's when fans started grumbling about Petras being a liability to the offense. He kept all of the criticism in the back of his mind throughout the offseason, and Coach Kirk Ferentz believes it all has amplified Petras' maturation process.
"All he's got to do is play, just relax and play," Ferentz said. "He may press at times and try a little too hard at times, and that's a good thing, but it can work against you, too."
Petras feels a lot more comfortable approaching the 2022 season than he has ever felt during his time as a Hawkeye. That's because he knows what to expect. The gunslinger even attended the Manning Passing Academy back in June where he picked the brains of different quarterbacks across the country.
Now he has a different mindset in fall camp. Petras No. 1 goal is to keep improving, especially his completion percentage. The former four-star prospect is encouraged by the intensity of his teammates in practice though.. Everyone is dialed in, and has the hunger in their eyes.
"I think we're all pretty excited just to get out there and compete," Petras said. "You never know how good a team is going to be until you get out there and the bullets are really flying, but definitely proud of the guys for how we've done so far."
Petras is confident the team is in great shape and conditioned, which will help them when dealing with the heat during the September games. The six-foot-five, 231-pounder has put up decent numbers over the past two seasons as starter. With 3,449 passing yards, 19 touchdowns and 14 interceptions during that span, Petras is due for a breakout year.
Offensive Coordinator Brian Ferentz is now doing extensive work with the quarterbacks, and Petras is enjoying his presence in the room. The more Ferentz trusts Petras, the more he'll open up the playbook. His head coach has surrounded him with a few weapons so he won't have to do as much to move the chains.
Teammate Alex Padilla continues to push Petras, which should keep him on his toes. Rushers Gavin and Leshon Williams will make defenses think twice about keying in on Petras. Not to mention All-Big Ten tight end Sam LaPorta is the ultimate safety blanket, plus the offensive line is experienced.
"Hopefully we can run the ball a little bit better and get him in better situations, 3rd down conversions, those types of things," the 66-year old coach said. "And just a little bit more clarity maybe in what we're trying to do so he can be quicker with his decision making and be a little bit more on tempo."
After last year's woes, Iowa's offense really has nowhere to go, but up. As for Petras, everything appears to be coming full circle and he's ready to change the narrative on his Hawkeye legacy.
"I just want to help my team score more points in any way I can."