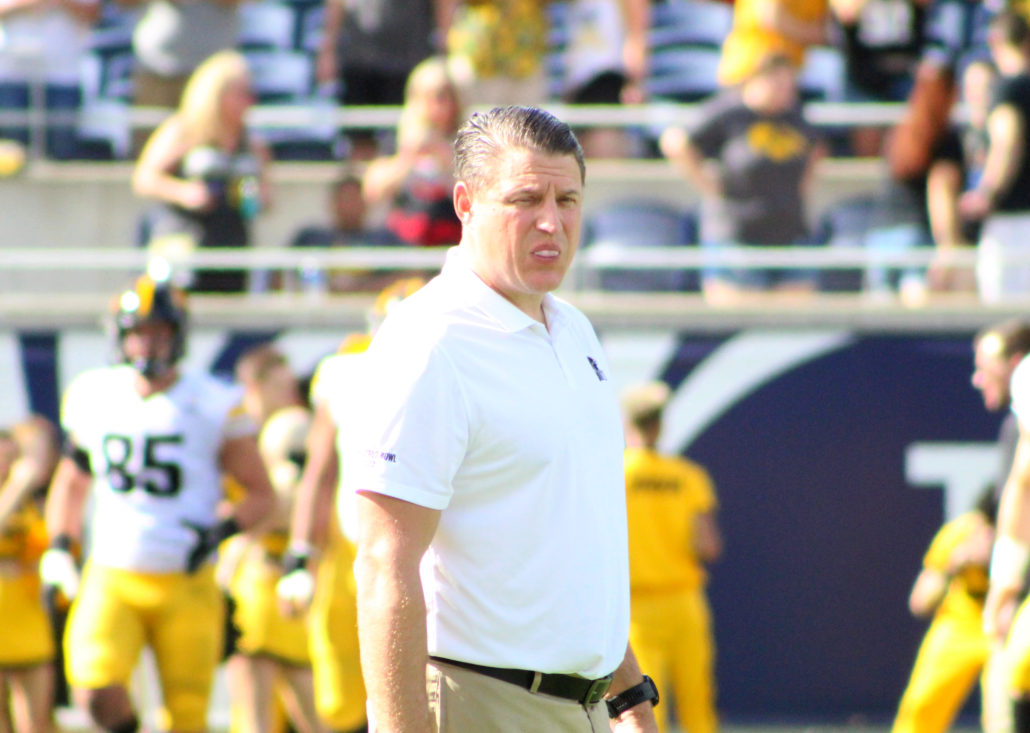 IOWA CITY, Ia. — It's no mystery that the Hawkeyes' embattled Offensive Coordinator is coming off his worst season of play-calling.
Although Brian Ferentz has been orchestrating the unit since 2017, Iowa has never finished better than eighth in the Big Ten in total offense. However, 2021 was a career low for Ferentz statistically. The Hawkeyes ranked 13th in the conference and 121st in the county in total yards per game. Often times the team was abysmal on that side of the ball.
It was tough to watch for Hawkeye fans, and became obvious that adjustments needed to be made. Ferentz has done extensive work with the running backs and tight ends during his time as Offensive Coordinator, but now he'll be guiding the quarterbacks this fall.
And that's an area of the offense that needs the biggest improvement. Signal-caller Spencer Petras got off to a great start last season and passed for 1,138 yards, nine touchdowns and two interceptions through Iowa's first six contests. The gunslinger struggled down the stretch though, and over the final six games he played in, Petras threw for 742 yards, one touchdown and seven interceptions.
Ferentz realizes there has been a learning curve with Petras, so he wants to make the field as small as possible for him in terms of timing and location.
"The goal right now with everything we're doing is try to create conviction in his process," Ferentz said. "When he has conviction in his process, he makes great decisions and throws good balls, and it's pretty simple."
Running the ball didn't fare much better for the Hawkeyes last year, despite the fact that Tyler Goodson became the teams' first 1,000-yard rusher since 2017. And that's mind-boggling, considering the program's blue-collar identity. Which is why Ferentz wants to make his scheme less complicated. When the players have to think too much, it slows down the process, timing and their reaction.
Ferentz is a former Iowa offensive lineman, so he knows what it takes to be effective in the trenches when it comes to Big Ten football. Regardless of the matter, the Hawkeyes allowed 32 sacks last season, which ranked 10th in the league, and that was with Tyler Linderbaum at center. That's not a formula for success, and Ferentz plans on working with the offensive line non-stop throughout fall camp to perfect their blocking at the point of attack.
"That's the goal right now, be more efficient, and be more effective on the field," he said. "Last year wasn't what we wanted, so what can we do moving forward is to get better at everything, knowing that specific results will follow."
In Ferentz's eyes the game is all about speed. After all, speed sets the tone, dictates the flow of the game and time of possession. Ferentz believes he'll have a firm grip on all of those those aspects approaching his sixth season of leading the offense. It's easier said than done though, mistakes will happen and there'll be some growing pains. Still, what's important to Ferentz is that his offense will be better by the end of the season than what it'll be at the start.
"We need to be faster, everyday we need to go out there and do what we're doing, but we need to do it faster and more effectively," the 39-year old said.
In the meantime, Iowa fans will be watching with their arms crossed, hoping for better results. They've been patiently waiting for Ferentz to spread his wings as a play-caller, but some are fed up with the mediocre results. It only adds more fuel to all of the critics' fire that Ferentz received a $40,000 salary bump for his 2022 campaign last month.
Now Iowa fanatics are expecting him to finally deliver on the investment. Ferentz is no stranger to adversity and hears their concerns. So he's putting his best foot forward this fall, but realizes he can't please everyone.
"The hardest part of coaching is nothing is ever good enough, no matter what."