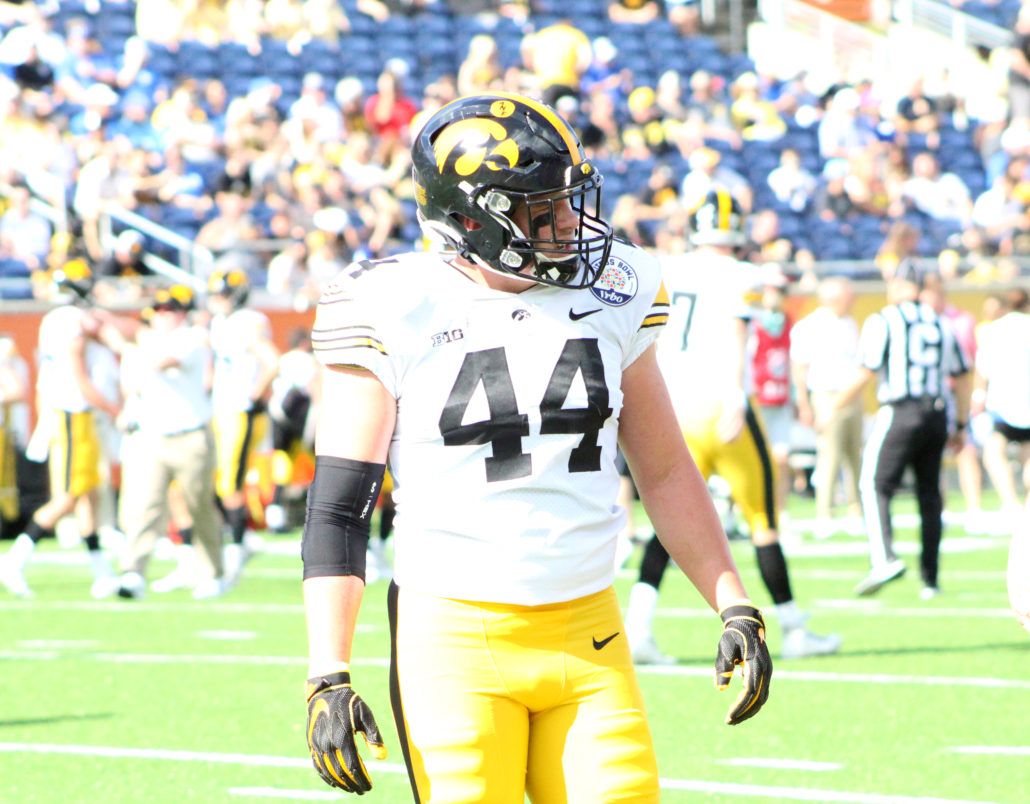 IOWA CITY, Ia. — It's not often a defender racks up 105 tackles in a single season and his production flies under the radar.
Well that's what happened to Iowa's linebacker Seth Benson last year. He finished 10th in the conference in tackles per game, but only received Honorable Mention, All-Big Ten consideration. Benson's stellar campaign got overshadowed because his fellow linebacker Jack Campbell led the nation in stops.
The senior is proud of Campbell's accomplishments and believe they're a dynamic duo on the gridiron, despite his lack of national recognition. Campbell holds down the middle, while Benson cleans up any ball carrier coming towards the outside. That formula worked out well for Iowa's defense in 2021, and the tandem combined for a jaw-dropping, 245 tackles.
With fall camp in session, Benson is encouraged by the talent and depth in the linebacker room. The South Dakota native is the veteran of the bunch and wants to push his teammates to their fullest potential. Never staying complacent and always striving to get better is the motto he instills in all of them, including Campbell.
"I think each and everyday we come with that mindset, so I'm just going to push us to be greater and expecting more from ourselves," Benson said. "Push us to become better teammates, better linebackers and just better all-around people."
The former two-star prospect has been a Hawkeye since 2018, so he knows what it takes to be an ideal student-athlete on and off the field. Benson takes sole responsibility in keeping the unit a close-knit group. He mentors the youngsters, and understands that sometimes it comes with its' own challenges. That's why Benson is a strong believer in building chemistry with them early in fall camp.
After all, he has enjoyed working with the group everyday thus far, from the seniors down to the true freshmen. Anytime Benson notices mistakes, he gives honest criticism, but at a distance, and there's a reason for that.
"It all starts with the connection that I form with them," he said. "You can be that drill sergeant on them, but if you don't really know them and they don't really know you, they're not going to listen to you."
In Benson's eyes, respect and trust has to be earned and established before any success on the field can happen. Benson is taking what he learned from all his predecessors like Nick Heinemann, and applying it in practice. There's a time to play and have fun with his teammates, but there's also a time for no nonsense. Leading by example is what Benson takes pride in.
Not to mention he chose to wear jersey No. 44, which comes with a lot of responsibility as a Hawkeye. Dallas Clark, Mike Humpal, James Morris and Ben Niemann all had that same number.
"We always say leave our jersey in a better place, and I've been fortunate enough to wear the No. 44, which is a pretty big number that people have worn here," the senior said. "I just hope that when I'm done, I can look back and people will say I left this jersey in a better place, even after those guys."
The six-foot, 232-pounder doesn't have any personal goals for his final year. Benson just wants to help his team get back to the Big Ten Championship Game again and win it all this time around. He's been working constantly at elevating his game, as far as focusing on his reads in pass coverage. Benson believes his strengths are his leverage and getting under blockers' pad level.
His instincts remain solid, considering he broke up three passes and hauled in an interception last season. Now everything has come full circle for the defender, and he hopes to start out the gates fast in 2022, and end his career at Iowa on a high note, with no regrets. So until then, Benson is going to continue grinding and motivating his teammates.
"We know we need to raise our standards and keep pushing full."