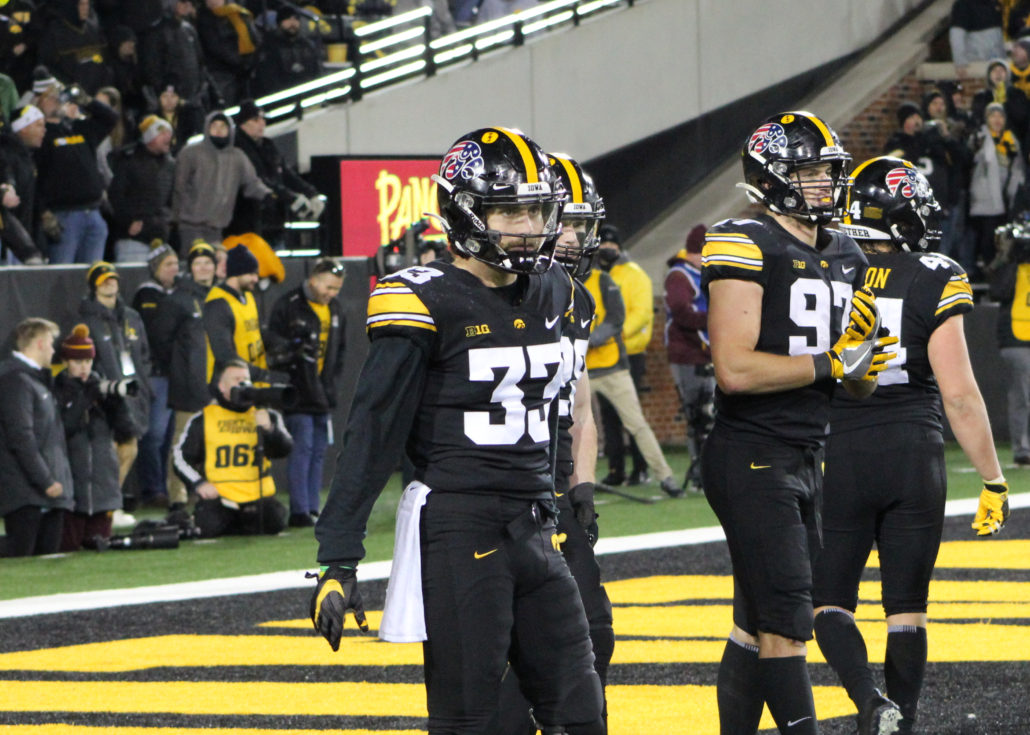 IOWA CITY, Ia. — Last season Iowa's defense led the nation in interceptions.
It was an amazing feat that the Hawkeyes picked off 25 passes, plus it amplified their notoriety during the process and they established a new culture. Members of the secondary labeled themselves the Doughboys because they strive everyday to get the bag on the field, and forcing turnovers is like earning money to them.
Senior cornerback Riley Moss is the heart and soul of Iowa's back four on defense. And he plans on keeping the Doughboys' legacy alive and well for the 2022 campaign. After all, he's the reigning Big Ten Defensive Back of the Year, who has 10 career interceptions. Not to mention Moss has returned three of those picks to the house. So he's arguably the country's best ballhawk. And Moss is proud that the secondary's nickname has gained so much traction since last season.
Nicknames to defenses are nothing new in College football. Nebraska is the Blackshirts, Ole Miss is the Land Sharks and Texas A&M is the Wrecking Crew. Even Miami started the Turnover Chain movement a few years ago. So Moss feels it's only right for him to pay homage to all of the former, current and future members of Iowa's secondary by pushing the Doughboys' brand.
"I think we've kind of built a culture in that room last year that a lot of younger guys saw and want to replicate," Moss said. "So that's our goal and we always play better when we're a close-knit group."
The All-American corner could've easily took his talents to the NFL after a stellar season in 2021. However, Moss returned to Iowa for a final year because he wants to get better in man-to-man coverage, which is required at the next level. The former two-star prospect has the speed, instincts and athleticism to blanket an entire side of a field. And opposing quarterbacks respect Moss' skills, and will try avoid throwing his direction this fall.
It doesn't bother him though, because he's all about making an offense one-dimensional and predictable. The Iowan just wants to keep improving and guiding the younger defensive backs in fall camp. It wasn't an easy decision coming back, and Moss even reached out to former Hawkeye corner Desmond King for advice on the situation. And at the end of the day he believes he made the right decision and has unfinished business on the gridiron.
"I'm excited because it's a great opportunity for me to help out this team and hopefully achieve our goals this year," the 22-year old said. "I'm excited to just grow as a player, so I can't wait to see how the season progresses and how fall camp finishes out."
Moss continues to stockpile the accolades during the process too. He's already on the Jim Thorpe and Chuck Bednarik Award watch lists, yet Moss doesn't feel any pressure. The six-foot-one, 193-pounder just wants to enjoy playing football, which is something he's been doing since his adolescent days. Not only does Moss take pride in making other defenders around him better, but he also loves setting the tone in the secondary and having everyone feed off his energy.
Even longtime Defensive Coordinator Phil Parker understands the value Moss brings to Iowa's defense, and he's proud of his journey and hunger for more.
"Usually when you have a guy that is defensive back of the year, he might want to slack off," Parker said. "He's in meeting rooms, in offices of the program, he's really working his butt off to be better."
And that's what should be expected out of one of the best players the Hawkeyes will be fielding this year. Although Moss hauled in four interceptions through Iowa's first six games last season, he got injured during the victory over Penn State and missed the next three contests. Iowa could've used Moss in the loss to Purdue too, especially after wideout David Bell carved up the defense for 240 receiving yards on 11 catches.
Regardless, Moss is confident he has his mojo back. That's a scary thought for opposing pass catchers, considering Moss' elite coverage skills. His presence on the field is that impactful. And all Moss wants to do is build on the Doughboy's momentum. So with players like himself and veteran safety Kaevon Merriweather back in the secondary, Moss feels like the sky's the limit to what the unit can accomplish.
"We got a good group this year, so I'm excited to see what happens, but it's been a good camp so far."