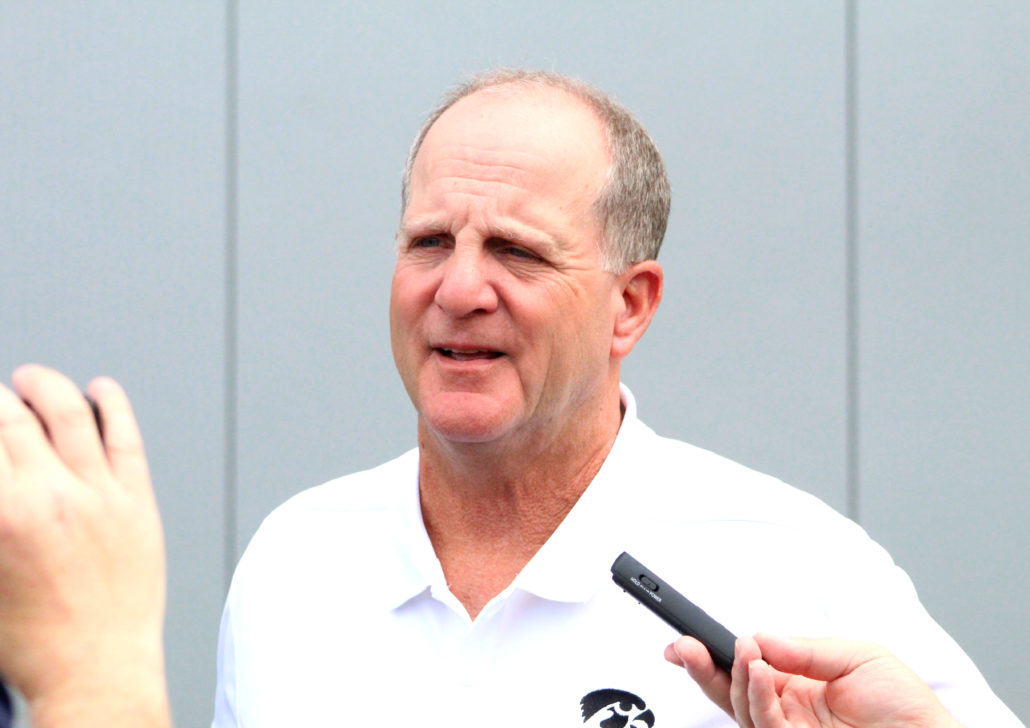 IOWA CITY, Ia. — There's no denying loyalty is hard to find in today's game, especially among assistant coaches.
The almighty dollar has caused so much turnover ratio with head coaches and their staff, that job stability has become an issue in College football. However, Iowa doesn't seem to have those problems, and some of Coach Kirk Ferentz's assistants have been by his side for over a decade.
Phil Parker is one of those individuals, and he's been on the Hawkeyes' staff since 1999, including the past 10 seasons as their Defensive Coordinator. Not only does Parker annually field one of the nation's best defenses, but he also accomplishes it with different regimes. That's because he's a natural at filling voids, and plugging pieces in the right place. Thanks to Parker, it's almost as if the Hawkeyes don't rebuild on defense, but instead reload.
The Ohio native also does extensive work with the secondary. Which shouldn't come as a surprise, considering Parker is a former Michigan State defensive back. He understands the speed, physicality and depth it takes to be an effective defense in the Big Ten. Not to mention Iowa's defense led the nation with a jaw-dropping, 25 interceptions last season.  The Hawkeyes also finished third in the conference and 17th in the FBS in total defense.
Iowa fans fear sustaining that type of success year in and year out will catch the attention of other programs wanting Parker's services. Some would probably like to give Parker his first head coaching opportunity. While others may offer him a heftier salary at the same position. Regardless of the matter, Parker has stayed put in Iowa City. His loyalty to the program is that deep. After all, Parker's previous job was at Toledo, and he was there for 11 seasons. So he doesn't regret being with the Hawkeyes for this long, especially with the landscape of the sport constantly changing.
"When I first came here, I knew that coaches stayed here a long period of time, and for my family I thought that was best," Parker said. "In the coaching profession I've seen a lot of guys leave their jobs due to financial situations, and other things like getting fired, so to me it's about staying in the same situation."
He's all about familiarity and would never make a decision based solely on himself. Parker knows the potential damage a job change could have on his personal and family life. It would definitely impact his time away from the field. At this point for the 59-year old, it would be too much to try and start over somewhere else. In Parker's eyes, if it ain't broke, than don't try to fix it, and Iowa is like his second home.
"I've got one of the best coaches in the country to work for and I think that's part of it," he said. "You got to make sure that you're happy where you're at."
Ferentz knows Parker's value to his program. That's why Parker received a huge bump in salary last month, which was long overdue. Now he's going to make more than a million this fall, and will be worth every penny to Iowa fans if the defense is elite again as projected.
Parker is an architect at putting defenders in the right place to make plays, which makes him a defensive guru. He has displayed an eye for talent, but also knows how to mold three-star prospects into All-Big Ten performers. The numbers don't lie, and the Hawkeyes have had 17 defenders selected in the NFL Draft since Parker's been orchestrating the defense.
It's mind-boggling that Parker hasn't won the Frank Broyles Award for his consistency. He could care less about individual hardware though, because the team comes first and foremost. At the end of the day, Parker is comfortable and satisfied, and for him that's priceless.
"I'm very pleased with being here, it's been a great opportunity for me."