Penn State preparing to unleash Parker Washington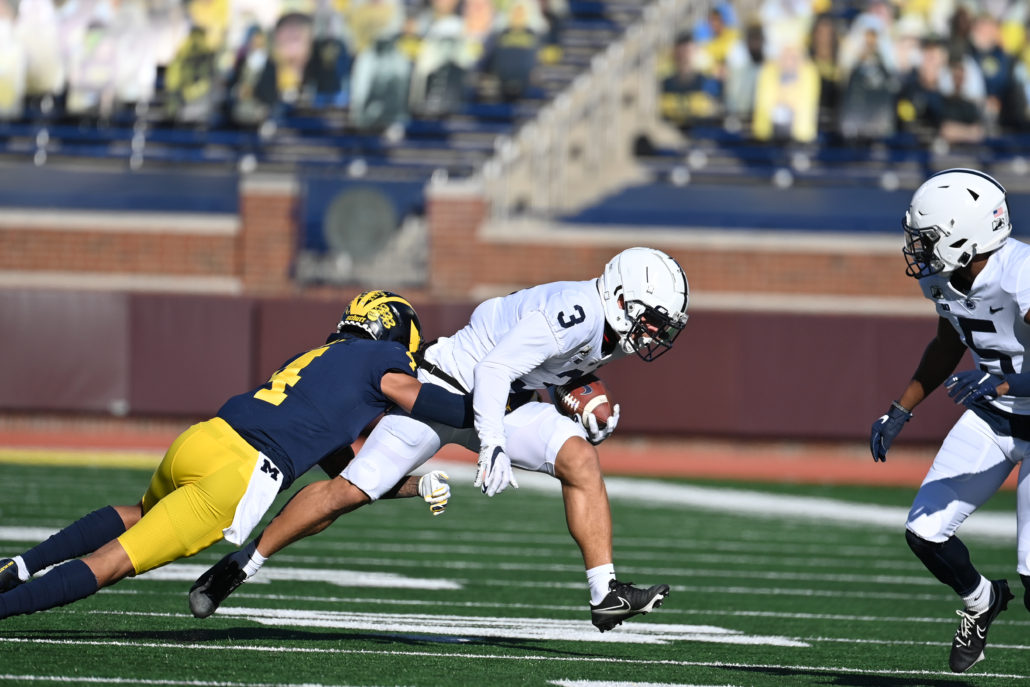 UNIVERSITY PARK, Pa. — For the past two seasons, the speedy wide receiver's production took a backseat to Jahan Dotson's heroics.
Parker Washington solidified he was a viable second option in the Nittany Lions' aerial attack though, and put up decent numbers during the process. Although he has caught 100 balls for 1,309 yards and 10 touchdowns through 22 games, Coach James Franklin believes Washington is just cracking the surface. With Dotson now in the NFL, Franklin is excited to see what Washington can blossom into this fall.
"Being with Jahan [Dotson], I think was helpful for him in his development and seeing the things that Jahan did," Franklin said. "And he's obviously made a number of plays here."
The 5-foot-10, 215-pounder is very lethal out of the slot. Washington eclipsed the century mark in receiving yards against Ohio State and in the victory over Villanova last season. Not to mention he hauled in 21 passes over the Nittany Lions' final four games. With Dotson no longer around, Washington is poised to become quarterback Sean Clifford's go-to receiver.
The offense is expected to operate smoother in year two of Mike Yurcich's system. And Franklin likes what Washington brings to the table in terms of experience, leadership and production.
"Really good ball skills, great body control, and a really intelligent guy," he said. "So, I know Sean [Clifford] has a lot of confidence in him and so does Coach Yurcich and Coach [Taylor] Stubblefield and myself as well."
Washington will have help also, playing alongside Western Kentucky transfer Mitchell Tinsley. Not only did Tinsley average 100.1 receiving yards per game in 2021, but he also caught 14 touchdowns. Franklin likes the fact that there's depth in his wide receiver room. KeAndre Lambert-Smith returns too, and he was the team's third-leading receiver last year. Everything is trending up for the unit to do damage to opposing secondaries in 2022.
Franklin is anticipating there'll be enough balls to go around to keep everyone satisfied. After all, in Franklin's eyes the sky's the limit for the groups' potential.
"I wouldn't necessarily say at this stage that when you have a first-round draft choice at the wide position, that one person — although I think Jahan could do it and so could some other guys — but I do feel like the group has the ability to match or exceed the production from the wide receiver unit last year," the 50-year old coach said.
Everything starts with the big boys up front though. The offensive line can't let edge rushers penetrate the backfield or bat down passes at the line of scrimmage. Timing and keeping Clifford upright will be vital also, after the gunslinger was sacked 32 times last season, which was the worst in the Big Ten. A consistent and efficient rushing attack should keep defenses from keying in on Clifford.
Regardless, Franklin feels Penn State's passing game will take flight if all of the right pieces falls into place. And he's planning on having Washington at the frontline of it all.
"I think he'll have a big year for us."