Trevor Downing preparing to anchor big boys up front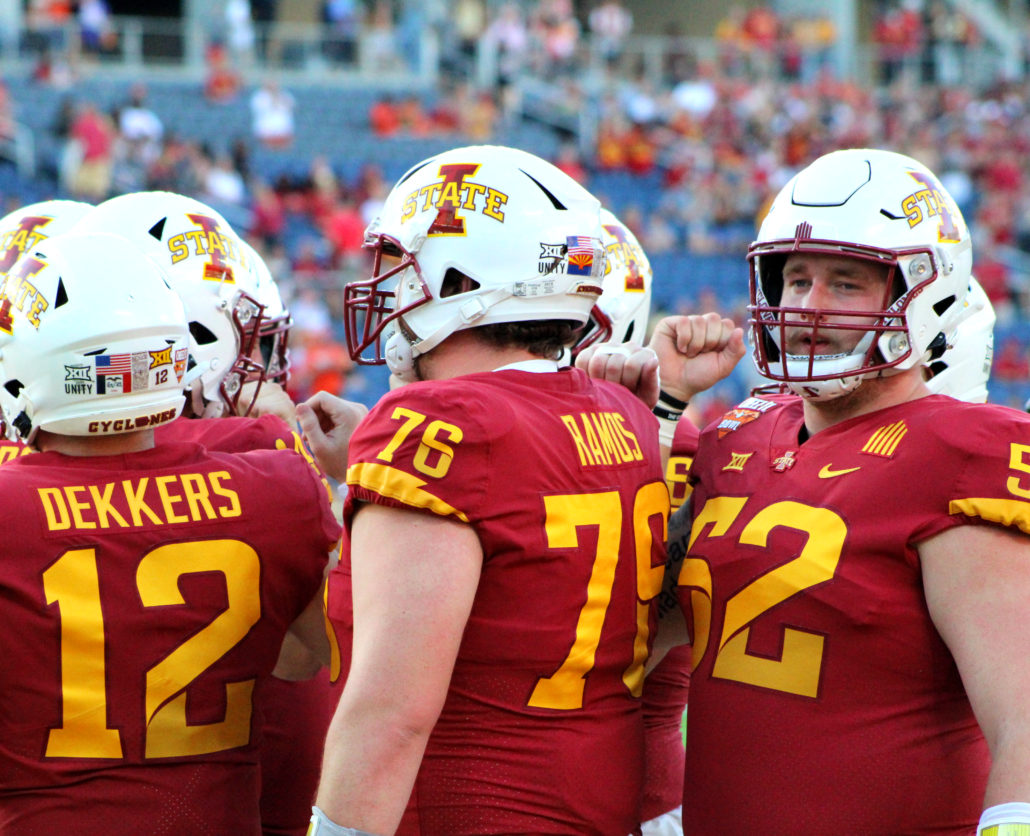 AMES, Ia. — Iowa State's offensive lineman is embarking on his senior season, which will include a position switch along the interior.
Trevor Downing is the Cyclones' most experienced player up front, with 26 career starts under his belt. With 25 starts at guard, and one at center, Downing is looking forward to snapping the ball more this fall. After all, he's one of the most versatile offensive linemen in the conference, and earned first-team, All-Big 12 last season.
The Iowan is all about hard work, and getting everything done the blue-collar way. Downing learned his work ethic from his parents, who raised him on a farm in Creston, located 107 miles southwest of Ames. He strongly believes being a farm boy has molded him into the player he is today.
The six-foot-five, 304-pounder is as physical as they come, tough as nails, and loves mauling defensive linemen on the gridiron. Downing uses his strength and hand placement to help the Cyclones dominate in the trenches. Now that he's playing center, Downing understands the position comes with a lot more responsibility than playing guard. Even Coach Matt Campbell knows it's a challenging transition, but he's fully invested in him to keep the wheels rolling on offense.
"We used to say our best player on the offensive line would always play center, because that spot is so critical to the success of your team," Campbell said. "Obviously you do have to be highly intelligent."
In Campbell's eyes, the center is one of the most trusted players on the field. Not only do they have to recognize what's in front of them, but they also have to call out different schemes and carry out audibles. Most importantly, centers have to snap the ball correctly on every play. And that becomes a difficult task during road games inside massive venues, with deafening noise levels.
Iowa State ranked fourth in the Big 12 and tied for 27th in the FBS in sacks allowed last season. However, Sean Foster, Colin Newell and Derek Schweiger are all gone. That's why Campbell is fully invested in Downing, and counting on him to guide the youngsters up to speed.
"Really kind of almost being the quarterback at times of the offensive line, the 42-year old coach said. "Being able to move him (Downing) to the center position because of some of those intellectual traits that he has, I think that's a huge win for Iowa State football."
There's no denying the pressure comes with the territory of being the veteran of the group though. Mistakes will happen, and there'll be a learning curve with the unit. Still, Campbell feels Downing's presence, intensity and positive energy will make others around him better. The former three-star prospect has that much upside to his coach. Although Downing is the alpha up front, he's not a drill sergeant to his teammates. Instead he lets his game speak for itself.
"I try to come in with the same mindset everyday, which is to get better and kind of lead by example," Downing said. "I'm not a real outspoken guy, so that's the way I lead."
Downing loves watching the Indianapolis Colts' and the Dallas Cowboys' offensive line on Autumn Sundays. He tries to mold what he sees from them into his skill set and apply that with teaching his teammates. When he talks, the rest of the offensive linemen listen, and soak up Downing's knowledge like a sponge.
Downing is high on his teammates' potential, and prides himself on making them a close-knit group. Last month he even invited them down on his family's farm, where they went boating, hung out and ate good food. As a matter of fact, Downing's dad made the players three whole ribeyes, which were gone in the first night.
Downing is hoping the bond he built with his teammates off the field will translate during practice throughout fall camp. His experience, leadership and production will be that vital to the offense as the Cyclones navigate through the Big 12 gauntlet. Campbell knows Downing is irreplaceable, and one of the most important players on Iowa State's roster for his 2022 campaign.
"I feel he's one of the best interior offensive linemen in the country coming back."