Chris Klieman amazed by Felix Anudike-Uzomah's growth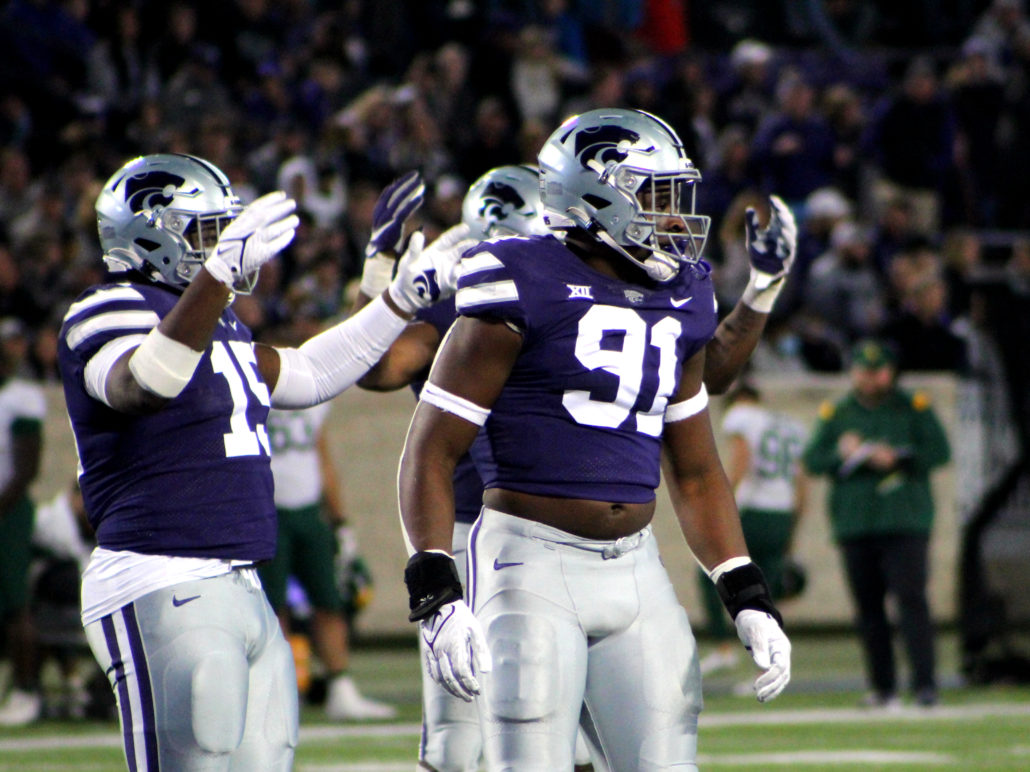 MANHATTAN, Kan. — The edge rusher fell one sack shy of breaking Kansas State's single-season record in 2021, and now he's back for more.
There's no denying Felix Anudike-Uzomah took the Big 12 by storm as a true sophomore. Which is why he was named the league's preseason Defensive Player of the Year last month. After all, he's a terror off the edge, loves taking down ball carriers and makes quarterbacks eat grass. Coach Chris Klieman is proud to have Anudike-Uzomah back on the gridiron.
The Wildcats are approaching  their sixth practice of fall camp and will be in full pads Wednesday. Felix-Anudike had surgery at the end of the season and missed the entire spring, so Klieman and his staff are being cautious with bringing him back up to speed.
"He's getting himself back healthy for starters, and we're smart with him because his injury took time to heal," Klieman said. "But he's healthy and ready to go."
Klieman believes Anudike-Uzomah has everything a coach could want in a defensive end. Disruptive, relentless pursuit and a non-stop motor. The Kansas City native has stockpiled the accolades during the offseason too. Anudike-Uzomah is already on the Bronko Nagurski, Bednarik and Lombardi Award watch lists.
The coaches just want him to keep improving his skill set. And that's mind-boggling, considering he tied a single-game school record for sacks in the victory over TCU. His four sacks against the Horned Frogs were the most by a Wildcat defender since 2000.
The six-foot-four, 255-pounder's performance was no one game fluke either. Anudike-Uzomah took the quarterback down three times, and forced two fumbles in the win over Southern Illinois. On top of that, he mauled a gunslinger against Texas Tech, Oklahoma, Oklahoma State and Baylor.
Klieman is confident that his knowledge of the game has evolved too. During Anudike-Uzomah's time rehabbing his injury, Klieman noticed how his star defender was able to see the team from a coach's standpoint.
"I think understanding the game, he's always had a great motor and played extremely hard and fast," he said. "He learned from Wyatt Hubert with that, and now he's taking it to another level."
The Kansas City native won't be sneaking up on anyone this time around. If anything, Anudike-Uzomah will be the focal point for every Offensive Coordinator when game planning for the Wildcats' defense. He'll often require at least two blockers also, so they'll be looking to see where No. 91 is at.
In return, Klieman believes it's going to open opportunities for his teammates to make plays. And there's nothing wrong with being a decoy in his coach's eyes if it's going to help the team succeed.
"I think he's so much more experienced, he knows that people are going to have to turn their protection into him, and he knows he's going to have to let the game come to him," the 54-year old coach said. "He can't press on it, it's going to come to him."
Kansas State is expected to field one of the Big 12's best defenses this fall, and Anudike-Uzomah will be anchoring the big boys up front. The entire unit will be feeding off his energy, and there's plenty of weapons around him like defensive tackle Eli Huggins, who had three sacks of his own last year, and linebacker Daniel Green, who led the team in stops.
Kansas State fans are wondering what Anudike-Uzomah can do for an encore after his stellar 2021 campaign, and they'll find out 25 days from now.