Jirehl Brock ready to emerge from Breece Hall's shadow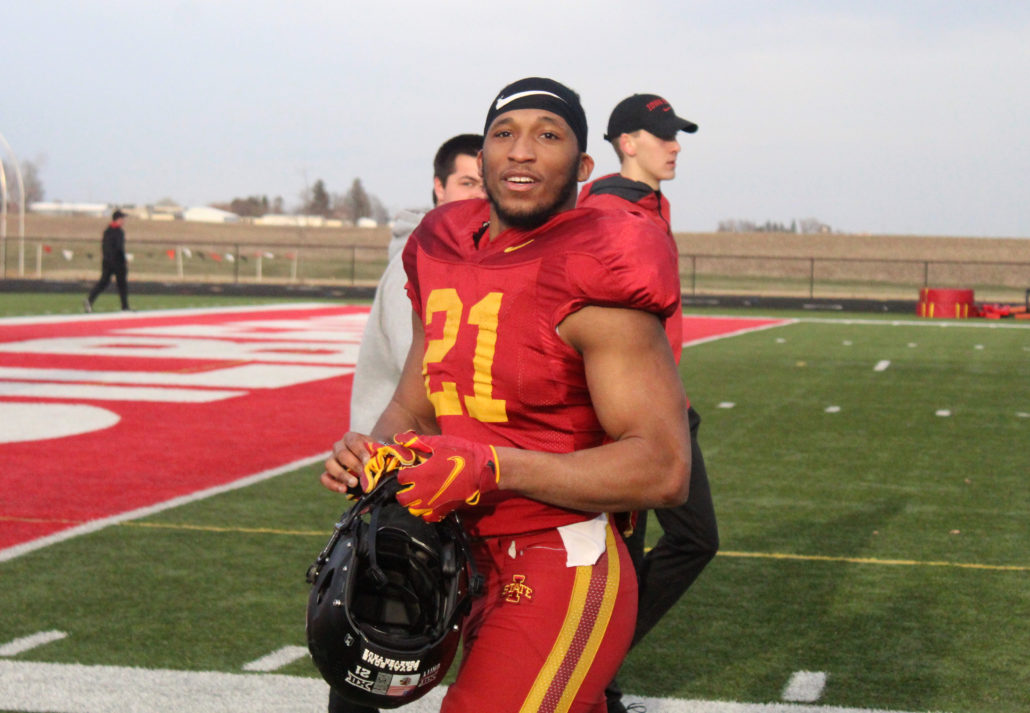 AMES, Ia. — For the past three seasons the running back watched Breece Hall run his way into Iowa State's record book.
Although Jirehl Brock only carried the ball 59 times during that span, he's proud of the amazing legacy Hall left behind. After all, the two were part of the Cyclones' 2019 recruiting class, are best friends and talk to each other everyday. Now that Hall is in the NFL, Brock is preparing to carve his own name into Cyclone lore.
He had a promising performance in Iowa State's bowl game against Clemson. That's when Brock carried the ball 14 times for 42 yards, and caught three passes out of the backfield, which were all season-highs. The Illinois native rode that wave of momentum into spring ball, received the bulk of the carries and later emerged as the top candidate to replace Hall.
Now that fall camp is in session, the junior rusher is all work and no play. Brock doesn't like being compared to Hall, but is confident that he'll bring a different skill set to the table that'll be effective. The six-foot, 220-pounder packs a lot of power behind his frame and considers himself a momentum runner. Brock takes pride in getting stronger with every carry.
"I feel like I can kind of do it all, but the best part of my game is when I just stick my head down and run over anything that gets in my way," Brock said. "I might not be the fastest, but I make up for it with my strength."
The Cyclones have more talent in the running back room too, including Eli Sanders, Cartevious Norton, Deon Silas and Blaze Doxzon. They're all battling for carries like hungry wolves at the dinner table, but Brock feels they're a close-knit group. They all feed off each other's energy, and that's what competition is all about.
Coach Matt Campbell has yet to decide on whether one rusher will get most of the carries, or if it'll be a running-back-by-committee approach. However, Brock is looking like the leader of the pack. And Campbell is grateful he has some depth in the backfield, which will be vital when the Cyclones navigate through the Big 12 meat grinder.
"I think from top to bottom right now, or at least coming out of the spring as a coaching staff, we felt we're as healthy and competitive as we've ever been at the running back position," Campbell said.
Campbell is looking for trust in his players and for them to do their jobs. It just so happens that running backs are the most trusted players on the field, considering they have to carry the ball without fumbling. That's why Brock's experience, leadership and production will be  valuable to Iowa State's offense as a whole. Not to mention he uses the advice Hall gives him every time he steps on the gridiron.
"Being able to just be that guy on the field, not care about what anybody else thinks," he said. "Just go out there and run the ball is something that he (Hall) tells me to do all the time, so I'm just going to take what he gives me and run with it."
The former four-star prospect tries to lead by example, and guide the younger rushers on how to conduct themselves on and off the field. With the season less than a month away, Brock can feel the adrenaline inside his body build as the Cyclones inch closer to game one.
After starting out the preseason ranked in the top-10, a lot of naysayers are expecting Campbell's squad to take a step back because of how much they lost on both sides of the ball. The outside noise doesn't bother Brock though. The Cyclones are always more dangerous as the hunters instead of being the hunted anyway. Which is why Brock is anticipating all of the players will have a chip on their shoulder this fall.
"I feel like we'll surprise a lot of people, and it might surprise some of us with the ability of what we can do as a team."