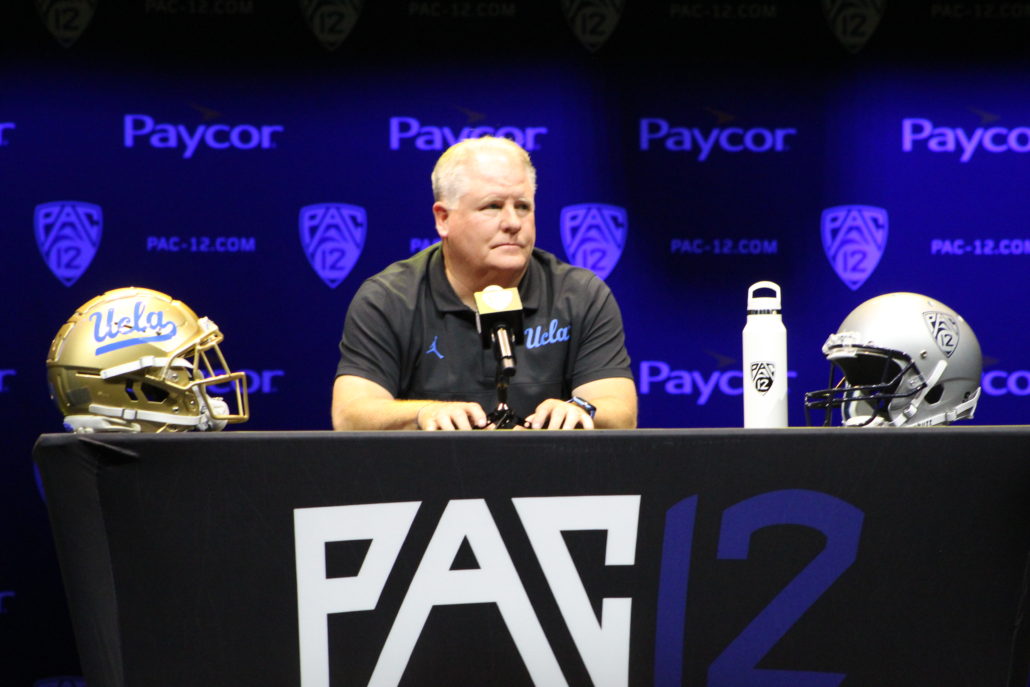 LOS ANGELES — It has been a slow process with Chip Kelly building UCLA back to one of the most respected programs in the Pac-12.
He's fresh off his first winning campaign after four years on the job. However, approaching his fifth season, Kelly is 18-25 overall with the Bruins, including a 16-18 mark against Pac-12 foes. That's not the record fans had in mind when he was hired.
The Bruins were expecting Kelly to have an immediate impact, considering he won three Pac-12 Titles at Oregon. That was over a decade ago though, and it's obvious Kelly's four years in the NFL took some luster out of his coaching. Still, the New Hampshire native has the Bruins trending up. The fans have been patiently waiting for Kelly to deliver something worthwhile, and 2022 just might be his year.
First off, he has quarterback Dorian Thompson-Robinson back for a rare fifth year. Thompson-Robinson is hands down one of the league's best signal-callers. Now he's poised to open up the Bruins' record book this fall. The Las Vegas native has already thrown for 7,541 yards and 61 touchdowns. He even holds the program's single game record for total yards.
Now the 22-year old needs 3,168 passing yards, 15 touchdown tosses, and 28 total scores in order to be the career leader at UCLA. And Kelly has been pleased with his growth on and off the field.
"Obviously he's physically matured from when he came in as a freshman five years ago," Kelly said. "The work he's put in physically in the weight room, trying to make his body stronger, bigger, faster, he's done a great job there."
Kelly has arguably the best rusher in the conference in Zach Charbonnet. He scored seven touchdowns through the Bruins' first five games. Not to mention Charbonnet averaged 95 yards per contest, caught 24 passes out of the backfield, and went over the century mark in rushing against Hawaii, LSU, Stanford, Arizona, Washington, USC and California. Kelly knows the value Charbonnet bring to his offense, and he plans on unleashing him again.
"Zach obviously had an outstanding year," he said. "I think he's one of the top running backs coming back in the country."
Kelly is also anticipating how Thompson-Robinson and wide receiver Jake Bobo will enhance the Bruins' passing attack. He noticed their chemistry during spring ball and how they've built on that connection in fall camp. With no Greg Dulcich this time around, Kelly will dial Bobo's number often on clutch downs.
The defensive side of the ball is where Kelly still has his work cut out for him. Bill McGovern is UCLA's new Defensive Coordinator after Jerry Azzinaro resigned. Kelly is encouraged by the energy McGovern brings to every practice, and how all of the players are enjoying his new scheme.
Everything seems to be coming full circle for Kelly. After all, the Bruins turned the corner in 2021 and won five of their last seven games. UCLA's schedule sets up nice too. It'll be a complete shocker if the Bruins aren't undefeated heading into their showdown at the Rose Bowl against the reigning Pac-12 Champs. Kelly's team was even picked fourth in the Pac-12's preseason media poll last month. So expectations are as high as they've ever been for the fifth-year coach, and he doesn't want to disappoint.