Jake Dickert expecting to build off last season's success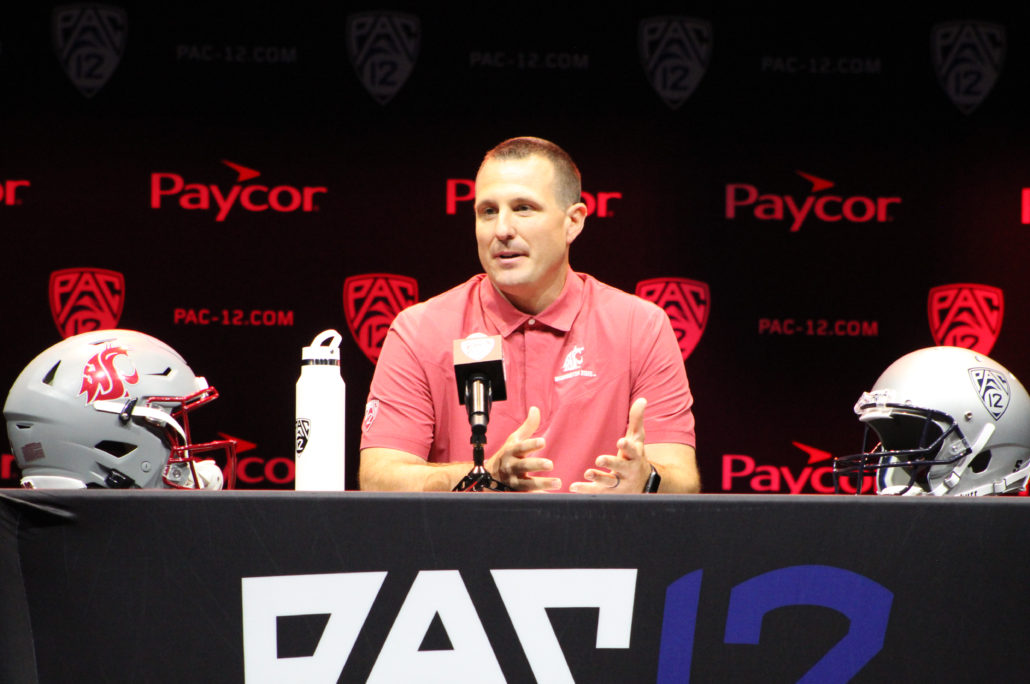 LOS ANGELES — The former Defensive Coordinator became Washington State's third head coach in the last three years in 2021.
It was a roller coaster campaign for the Cougars last season. Nick Rolovich built momentum and led Washington State to a 4-3 start. However, he was fired during the Cougars' bye-week for refusing to comply with a mandate order that required all state employees to be vaccinated for COVID.
Jake Dickert was named the interim coach after Rolovich's departure. And he posted three victories over Washington State's next five games, including one at rival Washington. That's when the Cougars removed the interim tag and signed Dickert to a five-year contract.
Since then, he's been all work and no play with getting the Cougars ready for the upcoming season.
"The new Wazzu hopefully is going to be about stability, and our players need stability and they need continuity," Dickert said. "There's a lot to having that team mentality that each and every one of our guys know they're playing for the man next to them."
Unfortunately for the Cougars, quarterback Jayden de Laura entered the transfer portal back in January. He was the Pac-12's Offensive Freshman of the Year, and now he's at Arizona. Dickert did a great job filling de Laura's void though.
He lured in gunslinger Cameron Ward, who won the Jerry Rice Award as the best freshman in FCS during the 2021 spring season at Incarnate Word. Ward threw for 6,908 yards, 71 touchdowns and 14 interceptions over the past two seasons with the Cardinals. Not to mention he chose Dickert and Washington State over Lane Kiffin and Ole Miss.
"It's amazing to see his development last year at UIW to what I saw in the spring," Dickert said. "That's that classic year one to year two quarterback jump, and I'm excited to help him throughout his journey."
Ward has a quick release and will have a plethora of receivers to spread the ball around to. Wideouts De'Zhaun Stribling, Donovan Ollie and Lincoln Victor combined for 92 receptions, 1,068 receiving yards and eight touchdowns catches last season. Ward also threw two touchdowns during the first half of Washington State's spring game. Which is why Dickert plans on utilizing the Cougars' aerial attack, but wants to run the ball too.
"You got to have the ability to play at any tempo," the 38-year old coach said. "You have to have the ability to keep the defense off balance, and that will be a process as we go throughout our new journey, but That's the vision I've always had of offensive football. "
On the defensive side of the ball the Cougars should be strong up front. After all, the team return all four starters on the defensive line. Edge rushers Ron Stone, and Brennan Jackson combined for a jaw-dropping, 152 tackles, including 14 for loss and 4.5 sacks last year. On the interior Washington State has some run stuffers in Antonio Pule and Amir Mujahid. The duo combined for 30 stops, and will be looking to dominate the trenches again this fall.
Dickert is a defensive-minded coach, so he plans on amplifying the intensity. With fall camp in session the coach is searching for leaders. He's optimistic about the state of the program, and won't stop grinding until the Cougars are back to one of the top teams in the Pac-12 North.
"When I say represent Washington State football program, I have an opportunity to represent our coaches, their families, our administration, our strength coaches, nutritionists, equipment people, cooks and chefs, amazing faculty and alumni and our special fans."