Kalen DeBoer looking to revive a west coast powerhouse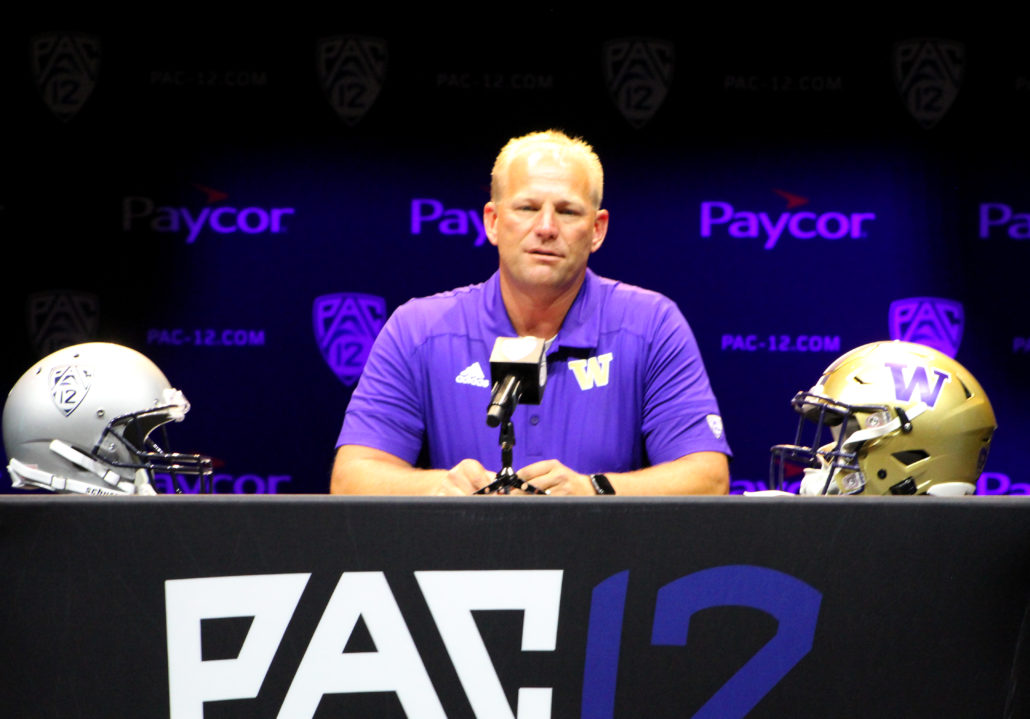 LOS ANGELES — Washington is a mirror of the program that won the Pac-12 Title and played in the Rose Bowl four year ago.
Not only have the Huskies suffered through a 15-14 record since then, but they're also on their third head coach in the last four seasons. The talent that Chris Petersen filled the cupboard with is bare now, and Jimmy Lake didn't have enough time to make a splash in recruiting.
However, it's the start of the Kalen DeBoer era in Seattle, and the former Fresno State coach is ready to wake up the sleeping giant program. There has also been a shift in power in the Pac-12, with the South fielding better teams as of late. So DeBoer understands that he has his work cut out for him, with trying to rebuild the Huskies back to the glory days of Petersen.
Not to mention the players who remained on the roster through all of the turnover with the staff, are looking for something solid to build on.
"You got some guys that have had multiple position coaches," DeBoer. "If there's anything that's been hard, it's just really understanding that these guys have been through a lot."
One of DeBoer's top priorities is establishing trust with those players and rewarding their loyalty with victories on the field. And he's basically going to have to start from scratch. After all, Washington ended last season on a four-game losing streak, which is currently the second-longest in the league.
The Huskies were abysmal on offense, and one of the worst in the conference at running the ball. Turnovers were also a major issue. DeBoer is an offensive-minded coach who's looking to change that narrative. Fresno State led the Mountain West and finished 14th in the FBS in total offense in 2021. Washington fans are hoping DeBoer will have that same type of impact with their team this fall.
DeBoer does have All-Pac-12 offensive lineman Jaxson Kirkland to build his offense around. Former Indiana quarterback Michael Penix Jr. has caught DeBoers' attention since spring ball. Penix was a stud dual-threat gunslinger with the Hoosiers, but his career has been plagued by injuries thus far. DeBoer has history with Penix during his time at Indiana, and plans on keeping him healthy this time around.
"Systematically he (Penix) understands what we do and that was an easy transition for him during spring ball," he said. "You see him being able to coach guys up and being a little more confident in that."
Rebuilding on defense will be just as challenging for DeBoer. Washington will have a plethora new faces. The defensive line only returns one starter, as well as the linebacker corp. That's not a good sign, considering the Huskies finished 11th in the Pac-12 and 108th in the nation against the run.
Regardless, the secondary is experienced, and Washington is dubbed the west coast 'DBU' by many. DeBoer is glad to have ballhawks like Alex Cook, Asa Turner and Mish Powell back. He'll be counting on their experience, leadership and production.
"Obviously it's a new system, but they've really picked up on it," the 47-year old coach said. "They're very intelligent players, so I'm excited to see them along with our havoc that we're going to cause up front and what we are going to do defensively."
Now that fall camp is in session the Huskies are all dialed in. DeBoer is trying to identify leaders and put his squad in pressure situations to see how they respond to adversity. There's no denying Washington is flying under the radar. The Huskies were picked sixth in the Pac-12 media members preseason poll last month.
That's more than enough motivation for DeBoer and his players over the next three weeks.
"I think every day we continue to grow and to have a mindset we're gaining or confidence and belief in what we're accomplishing, doing, who we can be down the road."