Herm Edwards' Sun Devils starting over from scratch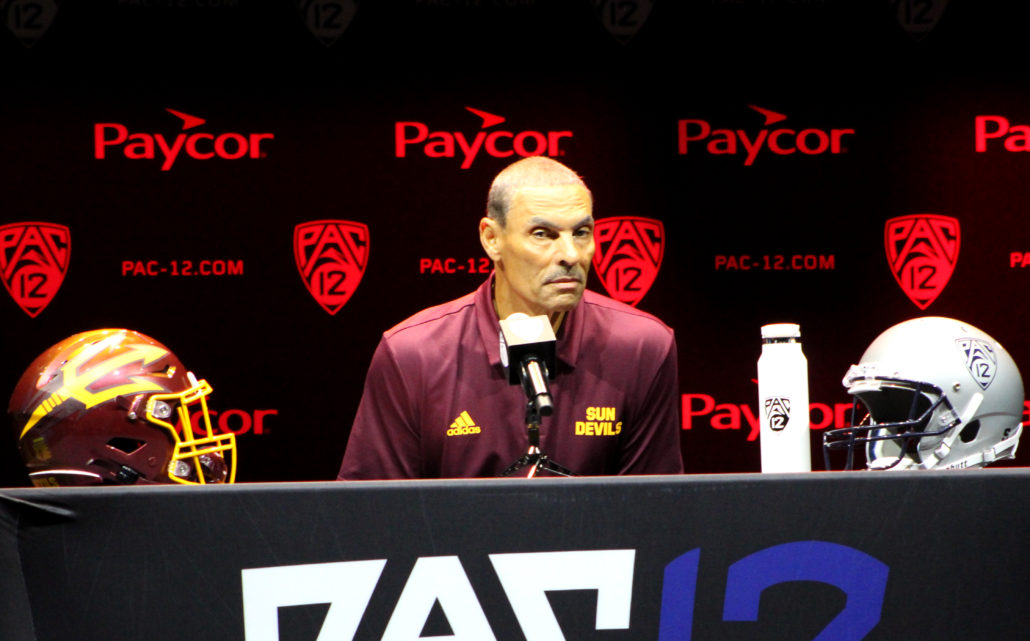 LOS ANGELES — The Arizona State Coach raised some eyebrows when he revamped his roster and staff during the offseason.
It's something Herm Edwards had to do, considering he was placed under the microscope for major recruiting violations. Edwards parted ways with Offensive Coordinator Zak Hill and Defensive Coordinator Antonio Pierce. Not to mention he lost three-year starter Jayden Daniels to the transfer portal, and 1,000-yard rusher Rachaad White to the NFL.
However, Edwards replaced Hill with Glenn Thomas, who spent the past two seasons at UNLV. Thomas will be Edwards third Offensive Coordinator in the last five years, and will be installing a pro-style scheme. Edwards also promoted Interim Defensive Back Coach Donnie Henderson as his new Defensive Coordinator.
The fifth-year coach landed former Florida quarterback Emory Jones from the transfer portal in hopes of keeping the wheels rolling on offense.
"Our culture that has been probably in place for five years is that we have a toughness about ourselves," Edwards said. "That's not going to change because it's coach fed, but it's player led."
Fall camp is going to be intriguing for Edwards and his staff as they prepare to identify leaders among all the new faces on the roster. Learning a new scheme on both sides of the ball, could present some challenges for new teammates. And Edwards understands mistakes will happen and there'll be a learning curve.
"Right now it seems to me from afar when I watch them gel, watched some of them in the spring, now we've added some more, a very tight-knit group of guys in my opinion, what I've seen, he said." "But the point is, how will they play together, how will they collectively come together."
Despite all of the recruiting violation allegations, Arizona State is trying to build off last year's momentum. The Sun Devils won five of their first six games, and three of their last five. Edwards himself has had a successful tenure with the program, going 25-18, including a 17-14 mark against Pac-12 opponents. He has yet to suffer a losing season with Sun Devils too.
Now Edwards is facing a pivotal season, and he's not out of the woods yet for the recruiting violations. Regardless, he's excited about the new players on his roster, especially Jones in the quarterback room. He's also welcoming the competition, and gunslingers Trenton Bourguet and Paul Tyson will push Jones throughout fall camp.
"It will be interesting at that position how that boils out," he said. "There will be some competition, but you got to make a decision sooner than later at that position because it's probably the most important position on any football team at any level."
Defensively Arizona State is expected to take a big step back. Which shouldn't come as a surprise after the Sun Devils finished first in the Pac-12 in total defense. The front seven returns a few starters, but the secondary is completely depleted. Edwards isn't bothered by it though, because he has confidence that his staff will plug the players in the right places to be successful.
Arizona State was picked No. 10 in the Pac-12 preseason media poll released last month. Regardless, there's one aspect about the team that won't change in Herman's eyes, and that's playing to the whistle blows.
"It's always been compete, just compete, as hard as you can compete, then you can live with the result."