Jon Heacock's recipe behind Cyclones' defensive success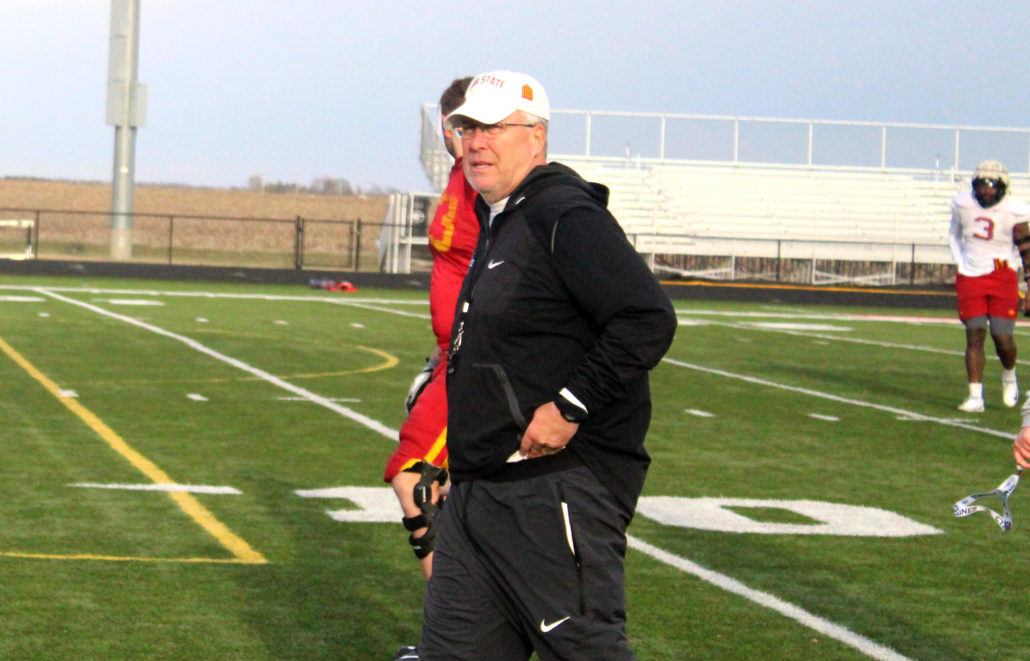 AMES, Ia. — Iowa State's longtime Defensive Coordinator has a coaching resume that dates back to 1983, yet he's proving an old dog can learn new tricks.
Jon Heacock annually fields elite defenses for the Cyclones and the numbers don't lie. Iowa State finished second in the Big 12 and ninth in the FBS in total defense last year. Over the past four seasons Heacock's defenses ranked no worse than third in the league in points allowed per game.
The accolades his players have collected along the way are also mind-boggling. Former linebacker Mike Rose was the Big 12's Defensive Player of the Year in 2020. Edge rusher Will McDonald was the league's co-Defensive Lineman of the Year in 2021. And now McDonald is the Big 12's preseason Defensive Player of the Year.
Not to mention defensive tackle Eyioma Uwazurike went from being a former three-star prospect to a fourth round pick in this year's NFL Draft. It's all just a testament to the foundation Matt Campbell has cemented in Ames.
Campbell's staff is the epitome of loyalty and longevity too. Heacock was Toledo's Defensive Coordinator during Campbell's final two seasons with the program, and he followed him to Iowa State. The two obviously have the same vision, and everything they're doing has the Cyclones trending up. Peacock is just grateful to be going strong after all these years.
"It's been good, we had a great experience at Toledo, I was blessed to have the opportunity to come along, and I like the atmosphere," Heacock said. "I like walking in the hallways everyday, I'm going on my 40th season and I appreciate the work ethic and culture that we have amongst our coaches, as well as our players."
This will be Heackock's seventh season orchestrating Iowa State's defense, and he's looking to keep the wheels rolling. Now that fall camp is in session, he's trying to replace Rose's production in the linebacker corp, and Greg Eisworth's experience in the secondary.
Heacock is confident senior linebackers O'Rien Vance and Gerry Vaughn are more than capable of carrying the workload. After all, the two combined for 81 tackles, including eight for loss and 2.5 sacks last season. Heacock is expecting to use two players to fill Eisworth's void, because he played the safety position everywhere. Senior Anthony Johnson is embracing Eisworth's role in the secondary. Which will be important if the Cyclones want lead the Big 12 in pass defense for a second-straight year.
Still, the cherry on top for Heacock is having McDonald's presence in the trenches. Not only will McDonald require a lot of attention, but it will open up opportunities for other Cyclone defenders to make plays. That's why Heacock is keeping his foot on the pedal with the intensity in practice.
"You have to play defense at some point to have success in any program, at any level, in really any sport," he said. "You got to be able to stop some guys, and I think we've been able to find some ways to do that."
When the Big 12 became known as a conference of prolific offenses and scoring, it was the Cyclones that stuck to their identity, which was great defense. It's safe to say, the formula has paid off for all parties involved. The narrative Heacock wants to change is starting slow out of the gates. Iowa State has a track history of sluggish starts, and usually plays down to its' competition in the first game of the season. So Heacock is addressing the issue and Campbell evaluates everything.
"I think it's how we approach summer practice, and the idea in all my years is to get better at the end of the season than you were at the beginning," the 61-year old coach said. "I think there's a fine line of being overly prepared, and too emotional, then all of a sudden it goes downhill from there."
Which is why Heacock believes it's important to identify leaders in fall camp, who'll keep the youngsters from making the same mistakes, so history won't repeat itself. Regardless, everything falls back on the coaches, so they constantly have to find new ways to channel their players' energy.
As successful as the Cyclones have been throughout Campbell's tenure, Heacock feels they still haven't reached the mountaintop. And the hunger for more is what keeps his old soul young.
"That's the challenge every year is to be the best in every category, best in our conference, and we've hit a few of those along the way, thank goodness."