Will McDonald cementing stellar legacy with Cyclones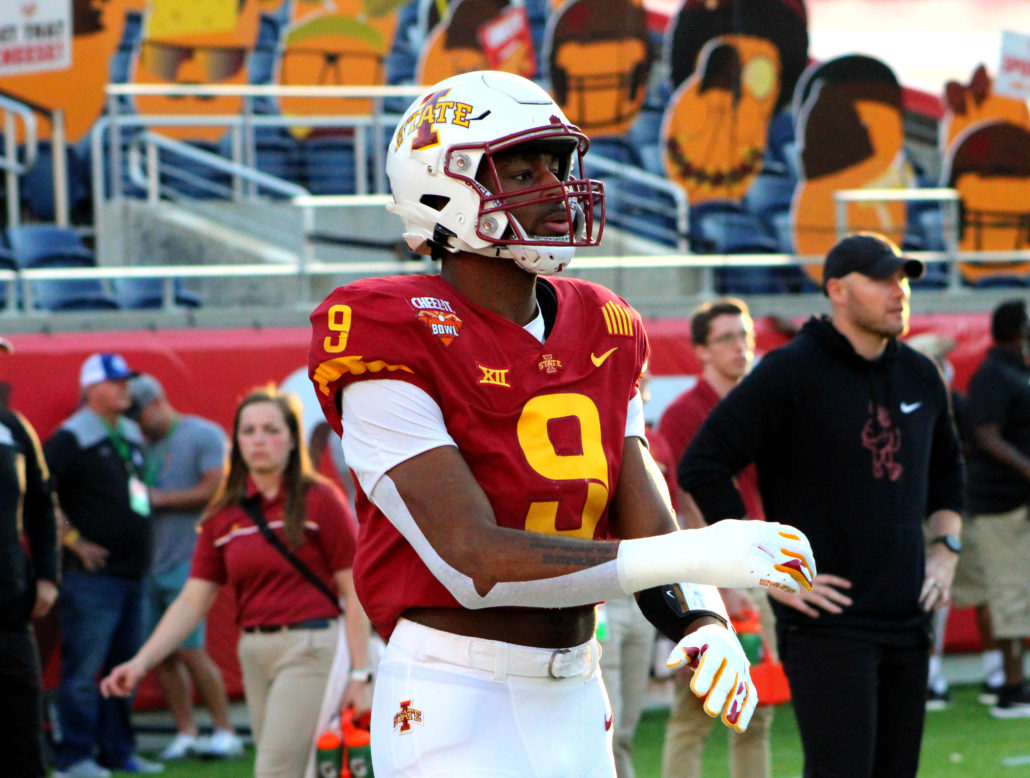 AMES, Ia. — He's the most feared defender in the Big 12, who's approaching a highly-anticipated senior season at Iowa State.
There's no mystery as to why Will McDonald's name ring bells across the conference. After all, he eats quarterbacks for breakfast on Autumn Saturdays. So much so, that he set a single-season school record for sacks in 2021. McDonald is also the Cyclones' career leader in sacks, and capped off his junior year with third-team, AP All-America honors.
The accolades continue to pile up for the Wisconsin native heading into fall camp. McDonald was named the Big 12's preseason Defensive Player of the Year, something he didn't find out about until two weeks ago. He was sort of shocked about the recognition, but it was a reminder of his long journey, and sacrifices he's made along the way.
"Just having that award means a lot, with how I fought, all the hard things I worked for and tried to get better at everyday," McDonald said. "It was a really good award, one of the best awards I ever got, and I'm very humble about it.'
McDonald is flattered by it all, but knows he wouldn't have the notoriety without his teammates. The former three-star prospect really didn't have anything to prove by returning for another season. However, he wants to help the Cyclones win a Big 12 Title and mentor the younger defenders. Most importantly, McDonald will earn his Bachelor's in Liberal Arts this fall. It's a milestone for him and his loved ones, considering he'll be the first out his family to earn a degree.
Coach Matt Campbell is very proud of McDonald's accomplishments. He knows the blood, sweat and tears McDonald put into being the ideal student-athlete on and off the field.
"He's just really consistently getting himself to be one of the best defensive linemen in the country," Campbell said. "He (McDonald) felt like there was still room for growth and opportunity in some of those areas."
No doubt McDonald is the big man on campus, but personality wise he's more like a gentle giant. With his laid back personality, soft-spoken-voice and skateboard kid swagger, people wouldn't even know McDonald makes quarterbacks eat grass for a living.
He also listens to jazz music when it's game time, because it soothes his soul and relaxes the mind. McDonald compares his pass-rushing skills to the Las Vegas Raiders' edge rusher Mason Crosby. He loves the way Crosby moves, his twitching and flexibility. Defensive ends have to be the enforcers up front and set the tone in the trenches, and McDonald is confident he checks all of those boxes.
The 23-year old's experience, leadership and production is irreplaceable, and he often does more than what he's asked. Setting the example and mentoring the youngsters is what McDonald takes a ton of pride in.
"I try to give good energy, try to be a leader on and off the field with helping young fellas get right," he said. "Helping them through the playbook and throughout life, just making sure they're taking care of themselves."
Once upon time McDonald was in their shoes. The young, raw talent, in need of direction. Fortunately for McDonald JaQuan Bailey took him under his wing and showed him the ropes on what it takes to be a Cyclone. He credits defensive linemen like Bailey and Roy Lima for everything they did for him as an underclassmen. McDonald strongly believes they molded him into the player he is today.
Now he's just making sure the legacy continues with new heads on the roster. Campbell limited McDonald in spring ball as a safety precaution. Summer went according to plan, except for the fact that the edge rusher was sick for a couple of weeks and dropped down to 230 pounds. McDonald is feeling better now though, and plans to bulk back up to 240 pounds on his six-foot-three frame by the end of the week. And there's nothing like Iowa State's strength and conditioning.
Campbell likes McDonald's trimmed-down new look though, and believes it's going to make him more explosive and fluid in the hips.
"Physically he looks as good as he looked since he's been here," the 42-year old coach said.
Defenders Mike Rose and Greg Eisworth are no longer on the roster. So McDonald will be the one opposing Offensive Coordinators will be game planning around every week. He doesn't mind it though, because it's going to open up opportunities for his teammates to make plays. And if that's a sacrifice McDonald has to take every play, than he's all for it.
"I put my team in the best position to win games, and get to the Championship and win it, so that's what we're trying to do this year."