C.J. Stroud enhancing Buckeyes' quarterback legacy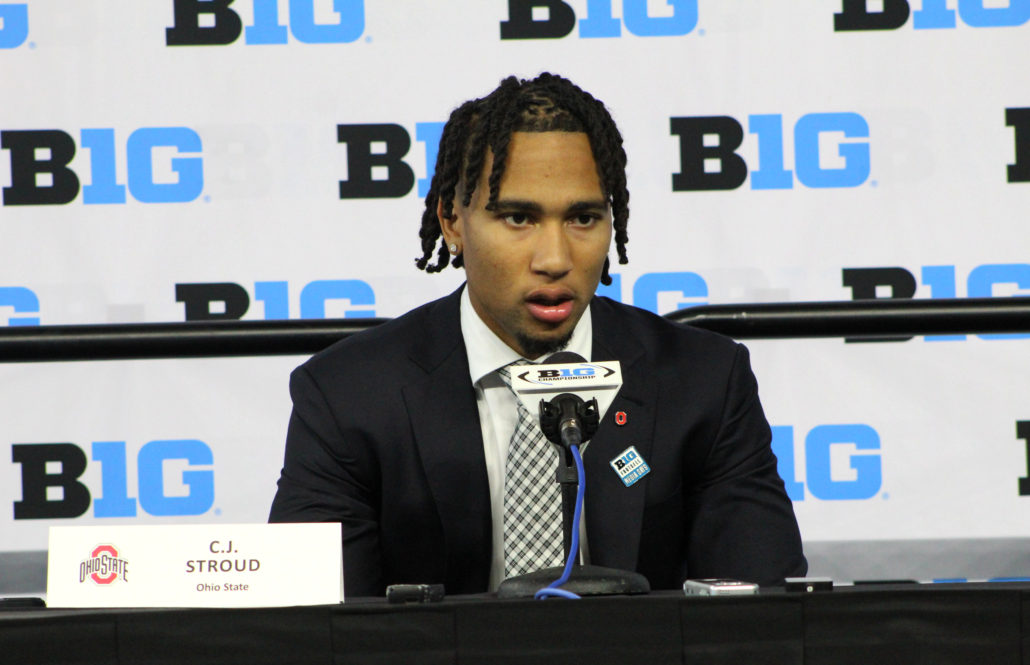 INDIANAPOLIS — The Ohio State gunslinger finished fourth in the Heisman voting last season, and he's just cracking the surface of his potential.
The Buckeyes have a long list of elite signal-callers, and C.J. Stroud has the potential to be one of the best. After all, he was named the Big Ten's Quarterback of the Year in his first season as a full-time starter. Not to mention Stroud led the Power Five in passing efficiency, which was better than Heisman Trophy winner Bryce Young.
Some NFL analysts even had him projected as a lottery pick in this year's Draft had Stroud been eligible. Ohio State fans are wondering what the Californian has in store for an encore. Going undefeated in non-conference play, beating Michigan at the Horseshoe, winning a Big Ten Title and clinching a Playoff berth would be unrealistic at most programs, but not Ohio State.
Stroud knows he has a standard to live up to, and all of his predecessors laid the foundation. There's a reason Ohio State has been dubbed Quarterback U. It's tough to argue against that when the program has produced the likes of Troy Smith, JT Barrett, Turrell Pryor, Justin Fields, Braxton Miller and the late Dwayne Haskins. And carrying the torch and walking the walk is what he plans on doing.  There's no denying Stroud takes the position seriously. He even wore Haskin's jersey during Ohio State's spring game.
It takes a lot of swagger, leadership and skills to be the quarterback of The Ohio State University. Some players aren't built for what comes with the territory of playing the position. The pressure of living up to the expectations, the fans and most importantly, the victories is what separates being a Buckeye from everyone else.
Stroud has checked all of those boxes, but he still left a lot on the table. Ohio State fans are expecting Big Ten Title and Playoffs or bust. Great quarterbacks makes other around them better and Stroud amplifies the Buckeyes' offense in the huddle. His teammates respect him and feeds off the energy he brings.
Stroud is also a very charming individual with his teammates, coaches and the Buckeye community. A chameleon at times with the way he adapts to different people and environments. As much as Stroud is phenomenal on the field, he's the same in his personal life as a student-athlete. The 20-year old is a man of faith and prides himself on keeping it real with everyone.
"I think a quarterback is a leader on and off the field, and I feel like off the field is more important," Stroud said. "We build trust, and leadership is all about trust, so if I have trust in my guys, they'll do anything for me."
With wide receivers Garrett Wilson and Chris Olave off to the NFL, some are questioning if Stroud can put up video game numbers again. Everyone is wondering where the aerial production is going to come from, after the duo caught 135 passes last year.
However, Stroud has arguably the country's best wideout in Jaxon Smith-Njigba in his arsenal. The Texas native set single-season school records for receptions and receiving yards in 2021. Stroud's No. 1 priority this time around is to utilize the weapons around him. Handing the ball off to TreVeyon Henderson, who's one of the Big Ten's top rushers, will keep defenses honest, and he's lethal at catching balls out of the backfield.
"Being myself is good enough, not doing too much or being extra trying to make crazy plays," he said. "Doing the right things the right way, and make a play when it's time to make a play."
The former four-star prospect has learned and moved on from the loss to the Wolverines. He also gained 30 pounds of muscle since he's been on campus. Now the hard work starts for Stroud showing the rest of the nation that last season's success was no fluke. Coach Ryan Day has been in awe of Stroud's maturation process, plus the fact that he set the bar pretty high.
"Going into last year, it's amazing at this time he had not thrown a college football pass, grew as the season went on to a Heisman Trophy finalist," Day said. "This off-season, he's really had an edge to him and he's done a great job with his leadership."
Stroud embraces being  a loyal teammate, and he's always having cookouts for the players, along with family and friends at his house. Cooking is Stroud's other passion and another way he bonds with his fellow Buckeyes. He prefers them to build chemistry together off the field so they'll be on the same page on the gridiron. And Ohio State opens up the season against Notre Dame, so motivation shouldn't be an issue for Stroud.