Kevin Warren and Mel Tucker grateful after Selma pilgrimage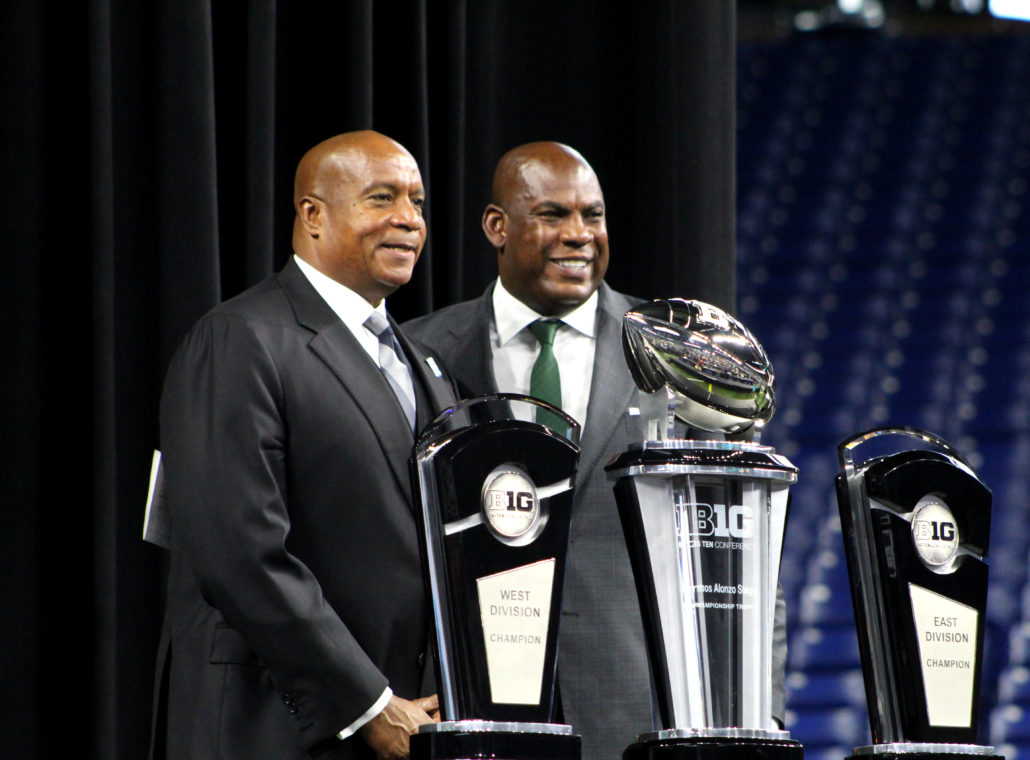 INDIANAPOLIS — When the Big Ten Commissioner and Michigan State's head coach took the podium at Media Days, they dove deep into American history.
Kevin Warren was proud to tell reporters about his experience with Mel Tucker during their march from Selma to Montgomery two weeks prior. It was part of the Big Life Series, focusing on educating the new generation about the landmark event that took place in 1965.
The two weren't alone in their conquest, as they were accompanied by several student-athletes, government officials, and local residents. Voting in the south was so hard for African Americans back then, and often resulted in violence and destruction.
Fast forward nearly 60 years later, the country is still evolving and African Americans are making an impact in voting. It's a gift that every law-abiding American has a right to once they turn 18. Dr. Martin Luther King lost his life for the cause of bringing about change. King's non-violent approach through the Civil Rights Movement was similar to Mahatma Gandhi's quest for India's independence over a century ago.
The Civil Rights Movement was an inspiration to millions of Americans of all races. And Warren recognizes how the legacy still lives on today. He and Tucker are both African American, with roots to the south also. Warren became the Big Ten's first African American Commissioner in 2019, and Tucker is the Spartans' first African American coach. Not to mention the Big Ten currently leads all Power Five conferences, with four African-American head coaches.
It was evident the event brought the Commissioner and the coach closer together. Warren has the utmost respect for Tucker as a leader of student-athletes, a father and a man.  Tucker was also named the Big Ten's Coach of the Year in 2021.
"One of the biggest things about Coach Tucker, he participated in our recent trip from Montgomery to Selma, and it was a life-changing experience," Warren said.
Tucker mentioned how Warren came up with the idea a couple of years ago when he took the job. It's not often that sports get mixed in with politics, especially in the Big Ten. So Tucker knew how sentimental the march would be for him.
"I didn't know as much as I thought that I knew about the civil rights movement and the fight for the right to vote, slavery, reconstruction, Jim Crow, mass incarcerations," Tucker said. "Just a tremendous education, for me it was a life-changing experience."
After Americans from around the country watched as hundreds of Civil Rights workers were violently assaulted on  Edmund Pettus Bridge on Bloody Sunday, it ignited change. The bridge itself is controversial and drenched in southern confederacy. After all, it was named after a Grand Dragon of the Ku Klux Klan.
There has been legal action to have Pettus' name removed from the bridge, but Alabama State Law complicates the matter.
Still, that didn't stop Warren and Tucker from raising awareness and embarking on history. As Collegiate Athletics springboards into the future, change continues to happen for student-athletes. Which is why it's important that every American should know their history, so the past never repeats itself.