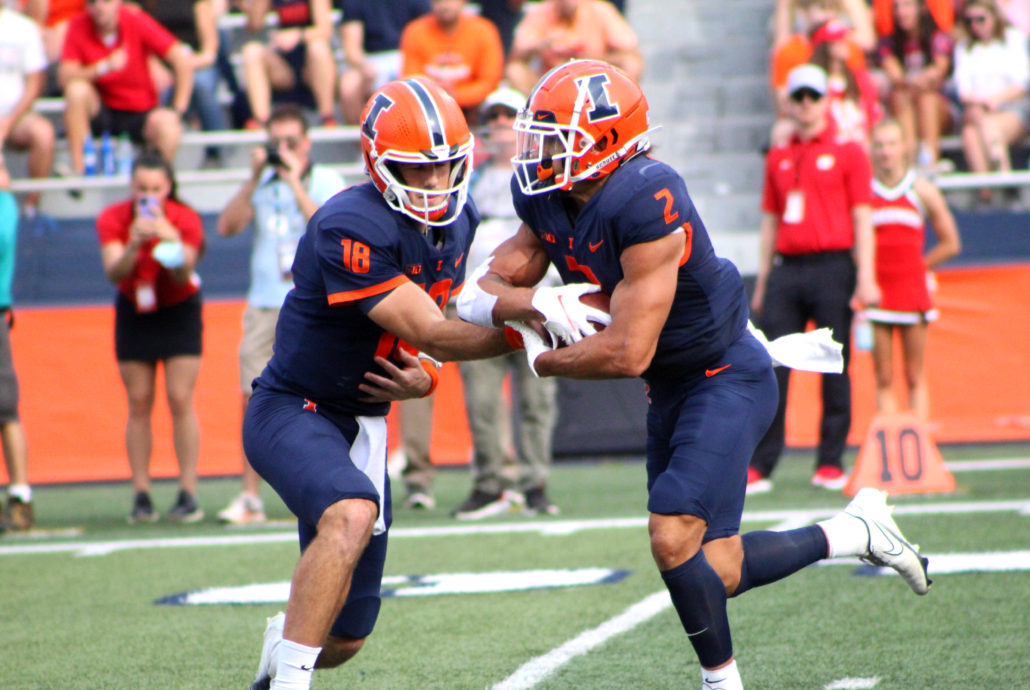 INDIANAPOLIS — Last season Chase Brown became Illinois' first 1,000-yard rusher since 2018.
It was a feat that looked far-fetched through the first few games as Brown dealt with shoulder injuries. Coach Bret Bielema has a history of producing great running backs, and admires Brown's journey of overcoming obstacles to becoming one of the Big Ten's best players.
The Fighting Illini had a crowded backfield at first though. Brown had to share the workload with fellow rushers Mike Epstein, Josh McCray and Reggie Love. However, he separated himself from the rest of the pack in the victory over Charlotte. The Canadian showed he was a battering ram after he carried the ball 26 times for a career-high, 257 yards and two touchdowns.
It was a jaw-dropping performance, and the most rushing yards in a single game by an Illinois running back since Howard Griffin. None of it surprised Bielema though, because he witnessed how committed and dedicated Brown had become through the process.
"It was early on that I could see Chase had an exceptional skill set," Bielema said. "You just watch him workout, he bends, he balances, but great running backs are defined by how they react to plays."
Brown proved his outing was no fluke when Illinois traveled to Happy Valley to play Penn State. The 5-foot-11, 205-pounder flat-out steamrolled the Nittany Lions' defense in the overtime win. Brown carried the ball 33 times, which was also a career-high, and finished with 223 yards on the ground. His spectacular performance raised eyebrows all across the Big Ten. Brown clearly made a statement and everyone knew he was a force to be reckoned with.
After all, he's all brawn, with a physique that could land him roles in superhero movies. Brown and his twin brother Sydney, dominate their respective positions. Bielema believes that's because of all their hard work on and off the field.
"Right now he's put a huge amount of emphasis on the makeup of his body," the 52-year old coach said. "How he trains, how he recovers, I mean him and Sydney do yoga and everything in-between to keep their bodies in shape."
With fall camp in session, Brown is looking to build on his All-Big Ten campaign from a year ago. His No. 1 priority is to stay healthy, but sometimes that's hard to do with his physical style of play. Fans are wondering if he can top his 100.5 rushing yards per game like he did in 2021.
The former three-star prospect has an opportunity to become Illinois' first back-to-back 1,000-yard rusher since Robert Holcombe accomplished that feat in 1996-97. Brown is flattered by all of it, but knows he still has work to do on the gridiron.
"I definitely see stuff like that pop up on my Twitter all the time," Brown said. "I'm aware of all these opportunities and records I can set, but what I'm looking for the most is being better in week 12 than we were in week one, and really working on my game this fall camp."
The Fighting Illini are one of two Big Ten teams in action for week zero. The countdown to gameday has already started, and Bielema likes where the offense is at. New quarterback Tommy DeVito has been a smooth transition thus far. Wide receiver Isaiah Williams is dangerous in the slot, and Brown is the workhorse. Bielema believes that's a great recipe for success this fall. And he's excited to see Brown punish would-be tacklers on the field with his physicality.
"I think it was easy to see him emerge, and the best part is, I don't think it's even close to what it's going to become."