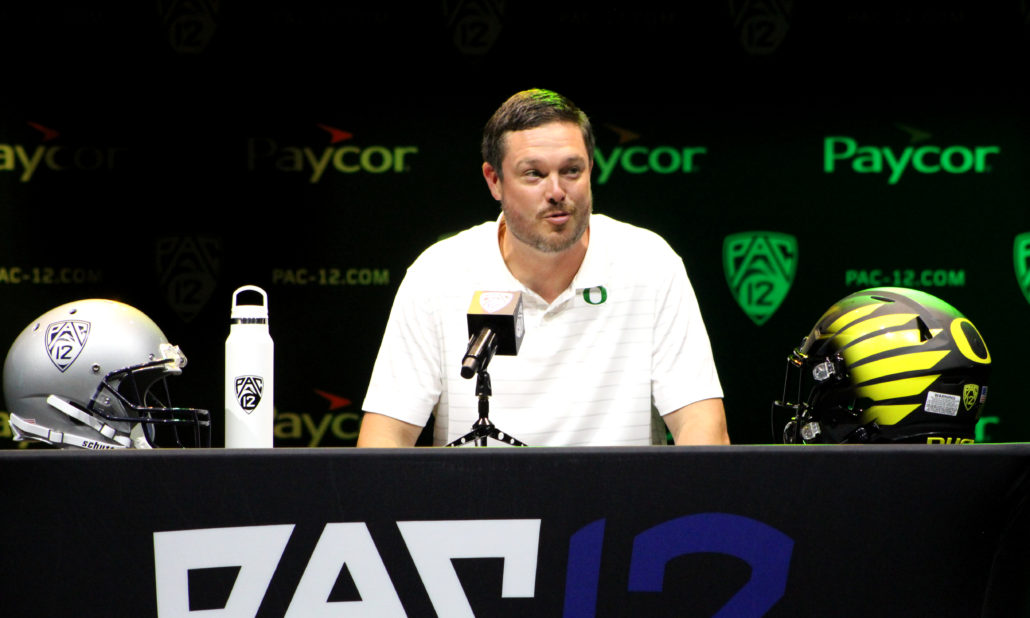 LOS ANGELES — He's taking over a west coast powerhouse, that has passionate fans, top notch facilities and dubbed Nike U for a reason.
However, Dan Lanning had to accept the roses with thorns when he landed in Eugene to lead Oregon. The first game of his tenure will be against the reigning National Champs. It's going to be somewhat bittersweet, because Lanning will be battling against his former team and mentor.
Lanning was Georgia's Defensive Coordinator for the past two seasons under Kirby Smart and they all reached the mountaintop together this past January. Fast forward nearly eight months later and everything has flipped. The Ducks want to be neck-to-neck with the Bulldogs when it comes to recruiting and national credibility, but it all starts with winning on the field.
Now he has a perfect opportunity to make an immediate splash for Oregon's 2022 campaign. Lanning and his players understand the magnitude of opening up the season against a high-profile opponent. The Bulldogs will likely be a top-three team, and despite losing a plethora of players to the NFL Draft, they still have plenty of firepower returning.
"I know our players are certainly excited to be on a national stage early and get to play obviously an elite opponent in Georgia that we're really familiar with," Lanning said. "That being said, we're really focused on right now, and you can't play game one until you have practice one, so that's our next approach."
Which is why Lanning is anticipating an intense fall camp. After all, the epic clash will check all of the boxes, in terms of recruiting, television ratings and conference bragging rights. Oregon hasn't fared well against SEC foes since the past decade. As a matter of fact the Ducks are 2-3 against the almighty league. Two of those victories were over Tennessee, but the losses were to LSU and Auburn.
Lanning wants to change that narrative, and he'll have his work cut out for him. Mario Cristobal didn't leave the cupboard bare for Lanning. The Kansas City native has plenty of talent to work with because Cristobal recruited like a monster. It also helps that his quarterback Bo Nix is very familiar with the style, speed and physicality of the SEC, considering he played the past three years at Auburn.
Of course no one will be giving the Ducks a chance in the matchup, but it's still any given Saturday. And no one knows that better than Lanning himself.
"Our goal is to win every single game at the University of Oregon," he said. "Certainly it's an important game, just like every game's important."
If the Ducks can somehow pull off the upset it'll be monumental for the Pac-12's national credibility. The conference hasn't had a team in the Playoffs in the past five seasons, so it needs a great performance from Oregon. Utah will also be playing Florida at the Swamp, which means the Pac-12 could actually kill two birds with one stone.
Momentum shouldn't be an issue because the players for sure had this game marked on their calendars for quite some time. A victory for the Ducks in Atlanta means a top-four ranking and a clear-cut path to the Playoffs. And there's nothing like a team controlling their own destiny. In Lanning's eyes though, it's just going to be another game, and regardless of the outcome, there'll be 11 more to deal with afterwards.
"Oregon, like I said, is a national brand and it's fun to be in a place where you get to play premier opponents like Georgia."